El Galleon Restaurant
Aug 31st, 2009 | By
Lindsay
| Category:
This and That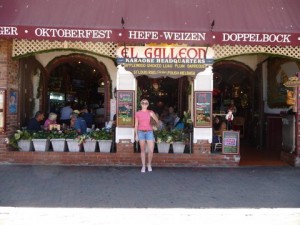 Another Catalina Island stalking location I found thanks to Robert Wagner's fabulous autobiography, Pieces of My Heart, was the restaurant El Galleon where Natalie Wood ate one of her last meals.  According to the book, on November 27, 1981, shortly after docking their boat, Splendour, at Avalon Harbor on Catalina Island, Natalie Wood, Robert Wagner, aka "RJ", and their guest Christopher Walken went ashore to do some shopping.  Later that evening, the threesome headed to El Galleon Restaurant, which has been a Catalina Island tradition since 1967, for some margaritas and beers.  After returning to the Splendour  later that night, RJ and Natalie got into a fight and, as I blogged about last week, she asked the captain to take her ashore so she could spend the night alone at the island's Pavilion Lodge.  The next day, after Natalie returned, Robert had the Splendour moved to Two Harbors, on the other side of the island, to avoid some brewing stormy weather.  At around 3 pm, while RJ napped aboard the yacht, Wood and Walken headed ashore alone to grab a bite to eat and kick back some cocktails at Doug's Harbor Reef Saloon.  When RJ awoke a couple of hours later, he was highly annoyed at the situation and headed ashore himself.  At around 5 pm, the threesome ate dinner together in the dining room of Doug's Harbor Reef Restaurant.  The meal would be Natalie's last.  Five hours later, the fairly tipsy threesome headed back to the Splendour  where a heated fight broke out between RJ and Walken.  Voices were raised and at one point Wagner threw a wine bottle against a table where it shattered.  Natalie retired to her stateroom sometime during the arguement and was, sadly, never seen alive again.  At around 7:45 the following morning, her body was found drowned in a nearby harbor.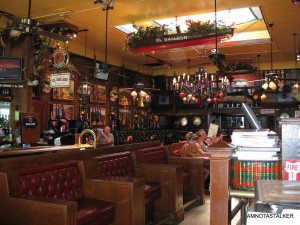 So, while visiting Catalina Island this past week, stalking Doug's Harbor Reef Restaurant where Natalie ate her last meal was at the very top of my stalking agenda.  Unfortunately, though, being that the restaurant is located on the complete opposite side of the island from where we were staying, no one in my family wanted to travel over there.  🙁  So, I had to settle for instead stalking El Galleon, where Wood, Walken, and Wagner ate dinner the night before Natalie's death.  Ironically enough, while renting a golf cart one day, I happened to ask the owner of the Island Rentals golf cart company if he knew anything about the death of Natalie Wood.  It turns out that he was born and raised on the island and knew the owners of El Galleon quite well.  He told me that Natalie and RJ were regulars at the New Orleans themed restaurant and that the night before her death she purchased a painting from one of the local art shops which she brought with her to dinner.  Because it was raining, Natalie asked the owner of the restaurant to wrap up the painting for her so that it wouldn't get damaged on the way to the boat.  The owner happily obliged and that was the last time she ever saw Natalie.  🙁  According to the Island Rentals guy, numerous celebs have popped into El Galleon over the years, including Ed McMahon (who even sung karaoke there!), and John Wayne.
And, while we didn't have a chance to dine at El Galleon during this trip, the last time my fiance and I visited Catalina Island back in 2005 we grabbed a cocktail at the restaurant and had a blast while there!  El Galleon features nightly karaoke – which just happens to be my very favorite past-time 🙂 – so, of course, I just had to get a few songs in while there.  Needless to say my fiance was not pleased.  LOL  Besides karaoke, the restaurant also boasts an outdoor patio with ocean views, a semi-private banquet room, and a HUGE menu featuring live Maine and local lobster, applewood smoked BBQ ribs, USDA corn fed steaks, rack of lamb, fresh abalone, and – my personal fave – chicken strips!  I highly recommend stalking El Galleon – as much for the yummy food as the fun, laidback, island-style atmosphere!  🙂
Until next time, Happy Stalking!  🙂
Stalk It: El Galleon restaurant is located at 411 Crescent Avenue in Avalon on Catalina Island.  You can visit their website here.  Harbor Reef Restaurant, where Natalie Wood ate her last meal, is located in Catalina's Isthmus Cove .  You can visit their website here.
11894