The New Wilson House on 90210
Sep 14th, 2009 | By
Lindsay
| Category:
90210 & Beverly Hills, 90210 Filming Locations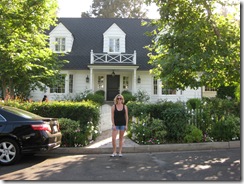 I can't even believe I am about to say what I am about to say, but ever since watching Tuesday night's season premiere, I am absolutely, one hundred percent hooked on the new 90210.  While the first season of the show left much to be desired, this past week's episode was nothing short of A-MA-ZING.  So loved it!! Melrose Place on the other hand was absolutely craptastic and I can honestly say I'll never again be tuning in to watch.  I didn't have high hopes for that show to begin with. though, being that it starred Ashley Simpson, but it even exceeded my extremely low expectations.  But I digress.  Anyway, after watching Tuesday night's season premiere, I have to say that I honestly think 90210 is back, baby!  🙂  The episode was appropriately titled "To New Beginnings" – and a new beginning it definitely was!  Especially locations wise.  They should be calling it 90210 v. 2.0, v. 2.0  because thanks to new executive producer Rebecca Sinclair, who was brought in last season to revamp the show (how a show that's only been on the air one season needs a revamping is beyond me!), there is a new Beverly Hills Beach Club (the Hyatt Regency Huntington Beach Resort and Spa), a new West Beverly High (Mount St. Mary's College in Brentwood), and, best of all, a new Wilson house to stalk!  YAY!   So, while watching Tuesday night's show, I texted Mike, from MovieShotsLA, and said "We have GOT to find the new 90210 house!"  And, sure enough, it wasn't long before we did!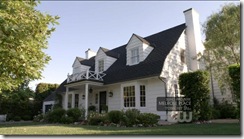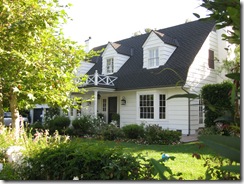 Mike and I had both immediately recognized the new school standing in for West Beverly High as Mount Saint Mary's College in Brentwood, which also stood in for Harbor High School on fave show The O.C.  And, being that the new Wilson house also looked very much like a Brentwood area home, Mike was fairly certain that it would be located somewhere near the school.  And, sure enough, it was.  So, of course, as soon as Mike texted me the address, I immediately dragged my fiancé right out to stalk it.  🙂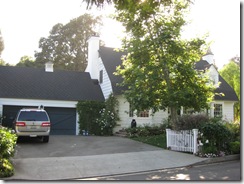 Even though it's got nothing on Casa Walsh, the new 90210  house is super cute in person. 🙂  It's appearance is quite deceiving, though, as from the outside it appears to be rather small, but according to Zillow it actually has 4 bedrooms and 5 bathrooms and measures a whopping 4,951 square feet.  That's HUGE!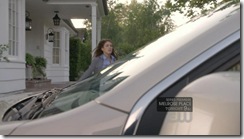 The Wilson home popped up several times during the season premiere, including the scene when Annie, freaking out after learning that her hit and run victim has passed away, runs out the front door and begs Dixon to take her for a ride.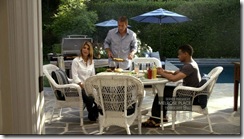 A scene also took place in the home's real life backyard – which you can see photographs of here.
I can't tell you how exciting it was to be stalking the new 90210  house just days after the show aired.  🙂  I have a feeling the home will be popping up quite often in the many episodes to come.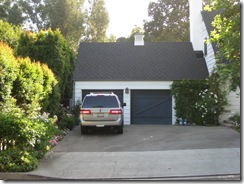 Oh, and note to producers – a basketball hoop really needs to be installed above the garage of the new Wilson home, ala Casa Walsh.  I mean, it's just not 90210 without a basketball hoop!  🙂
Until next time, Happy Stalking!  🙂
Stalk It: The Wilson's new house on 90210 is located at 325 Homewood Road in the Brentwood area of Los Angeles.
12450