Jason Segel's I Love You, Man House
Sep 15th, 2009 | By
Lindsay
| Category:
Movie Locations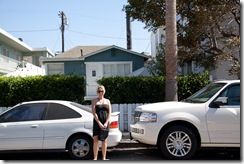 One location I have been wanting to stalk for what seems like forever now is Jason Segel's (aka Sydney Fife's) Venice Beach area house and "Man Cave'" from fave movie I Love You, Man.  Fellow stalker Owen actually tracked down this location for me MONTHS ago, but since I rarely get out to the Venice area, I had yet to stalk it.  So, last weekend, my fiancé and I – armed with a notebook full of Venice area locations – finally made the pilgrimage out to L.A.'s West Side to stalk Sydney's house.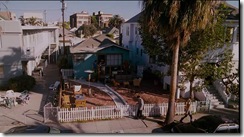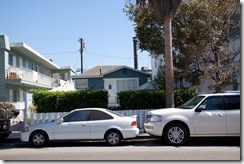 In I Love You, Man, Sydney Fife lives in an adorable little beach bungalow just a few steps away from the Venice Beach Boardwalk and the Pacific Ocean.  And I absolutely fell in love with the place as soon as I laid eyes on it in the movie.   But I am sad to report that the house actually looks much different in person than it did in I Love You, Man.  In fact, even though it's hardly been a year since filming took place, had Owen not given me the address, I could have easily walked right by the home without even recognizing it.  🙁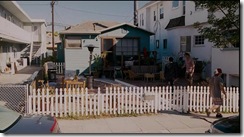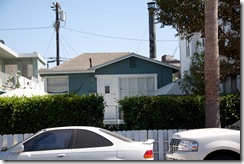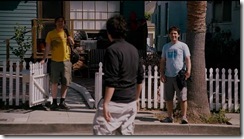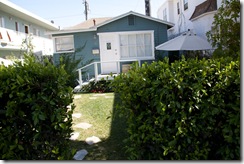 As you can see in the above photographs and screen captures, changes to the house include the paint color (which I actually think was a lot cuter in the movie), the addition of two sets of hedges and a new lawn to the front yard, and the removal of the cement walkway leading up to the home's front door.  I am guessing though, that before the movie was filmed, the house looked pretty much the same as it does today and that producers made all of the above mentioned alterations solely for the filming and then returned the home to its original state after the movie was wrapped.  It sure seems like a whole bunch of work to go through, though, and makes me wonder why producers just didn't find a different house that more closely fit their needs to use in the movie.  But that's Hollywood for you.  🙂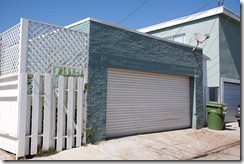 While stalking the house, my fiancé and I, of course, had to go around back to check out the garage area which housed Jason Segal's "Man Cave" in the movie.  Sadly, though, the garage has also changed considerably since the filming of I Love You, Man.  Besides the change in paint color, a new garage door and side fence have been added since the movie was filmed.
But here's the good news!  Apparently, in real life, Jason Segel's I Love You, Man house is not really a home at all, but a fitness center and gym named Optimum Fitness.  So, this is one stalking location that looks like it is – for the most part – open to the public!  🙂  And, best of all, if you sign up here, your first class there is free!!  🙂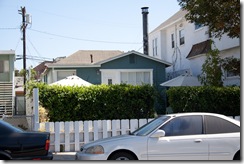 On an "Only in L.A." side note – According to Zillow, Sidney Fife's one bedroom, one bath house measures only 666 square feet (that's smaller than my apartment!), yet it sold for a whopping $1,125,000 in April of 2008!  You gotta love L.A.!  🙂
Until next time, Happy Stalking!  🙂
Stalk It: Jason Segel's house from I Love You, Man – aka Optimum Fitness gym –  is located at 26 Rose Avenue in Venice.  You can visit the Optimum Fitness website and sign up for a free class here.
12542