Jaime Pressly's I Love You, Man House
Sep 22nd, 2009 | By
Lindsay
| Category:
Movie Locations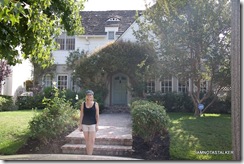 A few months back, I asked fellow stalker Owen for some help in tracking down all of the filming locations from fave movie I Love You, Man.  The spot I was most interested in stalking was the charming little house belonging to Denise (aka Jaime Pressly) and her brutish husband Barry (aka Jon Favreau) in the flick. Ever since seeing the movie this past March, I have been absolutely obsessed with that house.  It is just so darn cute!  And I was one hundred percent convinced that it was located somewhere in the Pasadena area.  For some reason, it just looked like a Pasadena-style home to me.  In fact, I would have bet my bottom dollar on it!  So, you can imagine my surprise when I got a text back from Owen saying that he had contacted an I Love You, Man  crew member who told him that the house was actually located in . . . Hollywood!  I absolutely could not believe it!  Hollywood probably would have been just about the last place on earth I would have searched for that house.  LOL  It's a good thing I had Owen on the case, as I'm fairly certain this is one location I never would have found without him.  So, this past weekend, with the address in hand, I dragged my fiancé out to finally stalk the home.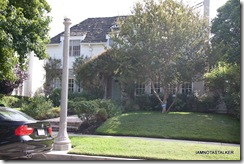 Well, that's not exactly the whole story.  Truth be told, this is one location that I actually had to stalk twice!  LOL  A few weeks ago, my dad asked me if I would drive him to a doctor's appointment which just happened to be right near the I Love You, Man house.  I told him I'd be happy to, as long as we could do some stalking along the way.  He, of course, said "no", but, because I thought he was just joking around, I dragged him out to the house anyway. Well, as it turns out, he wasn't joking around – AT ALL – and was not especially happy with me once I pulled up to the house.  In fact, I believe his exact words were, "Where the hell are we and why are you stopping the car????"  LOL LOL LOL  Karma came back to bite me, though, because when I pulled my camera out of my purse to snap a few photographs of the house, I realized that it felt rather light and my mind immediately flashed back to the camera battery that I had plugged into the charger the night before and had forgotten to put back in the morning.  UGH!  So, this past weekend, I returned to the house yet again, this time with my fiancé – and camera battery – in tow.  🙂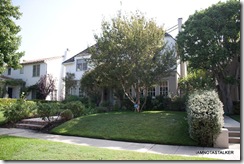 I am very happy to report that Jaime Pressly's I Love You, Man  house is absolutely ADORABLE in person– even cuter than it appeared onscreen.  I'd even say it was worth all the trouble I had to go to to get to it.  LOL  The house definitely has a fairy tale/storybook style feel to it and is a little bit reminiscent of Hilary Duff's house from fave movie A Cinderella Story.  So love it!  Because it is so cute, I'm actually very surprised that it hasn't been featured in even more productions.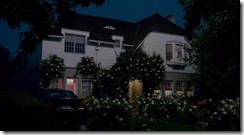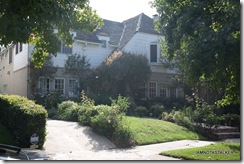 The exterior of the house is actually only featured in two very brief scenes in the movie.  It first shows up as the site of Jon Favreau's infamous poker night party, where his "Boat Race" beer drinking game ends very badly.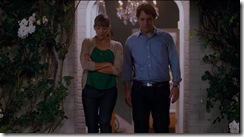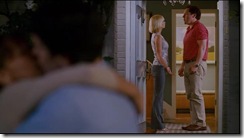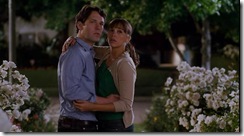 The front porch of the house next shows up as the place where Rashida Jones and Paul Rudd make up after calling off their engagement towards the end of the flick.  And from how it appears in that scene, I believe the real interior of the house was also used for some of the filming.
I highly recommend stalking Jaime Pressly's I Love You, Man  house as it is just so darn cute in person.  Just remember to bring your camera battery!  😉
Big THANK YOU to Owen for finding this location!  🙂 
Until next time, Happy Stalking!  🙂
Stalk It:  Jaime Pressly's house from I Love You, Man is located at 532 North Las Palmas Avenue in Hollywood.
12773