Central Park's Gapstow Bridge
Oct 7th, 2009 | By
Lindsay
| Category:
Sex and the City Filming Locations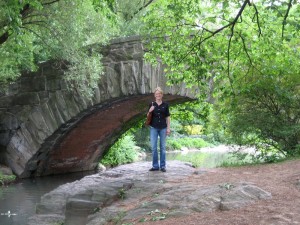 One of my favorite places in all of New York is the tiny, little bridge known as Gapstow Bridge.  Actually, I take that back.  I think it's far more accurate to say that the bridge is one of my favorite places in the entire world.   🙂   I am so enamored with it, in fact, that my entire family now refers to it as "Lindsay's Bridge".  🙂  Gapstow Bridge and its surroundings are so incredibly picturesque and romantic that I've taken about three hundred photographs of it on my various trips to the Big Apple and I go out of my way to visit it at least once each day while in Manhattan.  It's just one of those places that has the ability to calm me and warm me all at the same time.  I just can't get enough of it.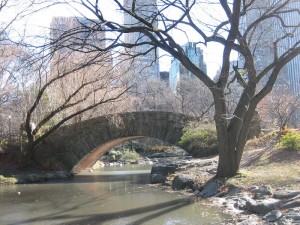 Part of what makes Gapstow Bridge so beautiful is its surroundings.  The bridge spans the northeast corner of the Central Park Pond and overlooks the beautiful Plaza Hotel to the South, Wollman Rink to the North, and the skyscrapers of the Upper West Side to the West.  Believe me when I say that there is no other place like it in the entire world.   I can't be sure where Heaven is located, but I'm pretty certain it has a view of Gapstow Bridge.  🙂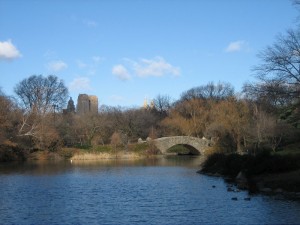 The bridge was first built in 1874 by prominent New York architect Jacob Wrey Mould, who also designed Central Park's Bethesda Fountain and Belvedere Castle.   The bridge was originally built out of wood with intricate cast iron railings, but sadly, due to years of wear and tear, the entire thing had to be completely replaced in 1896.  The Gapstow Bridge that stands today was designed by Howard & Caudwell, is made out of a sturdy, medium-grade rock known as schist, measures 12 feet tall, and has a span of 44 feet.  It truly looks like something straight out of a movie.  And, as a matter of  fact, it is!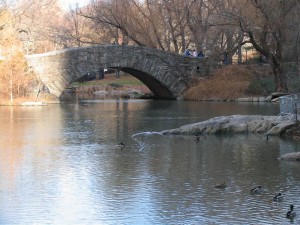 Because Gapstow Bridge is so incredibly picturesque and unique, it's no surprise that it is one of the most photographed places in all of Manhattan and has, of course, appeared in countless movie and television productions – many more so than I could ever account for here.  But just to name a few . . .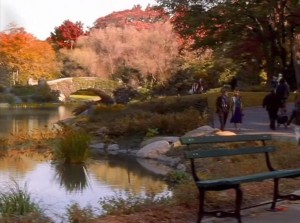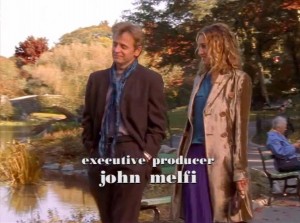 The bridge, of course, appeared in an episode of the quintessential New York series Sex and the City.  In the Season 6 episode which was entitled "Let There Be Light", Carrie and new love Aleksandr Petrovsky sit and eat chocolates on a Central Park bench with the Gapstow Bridge in the background.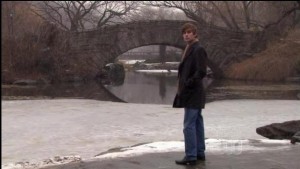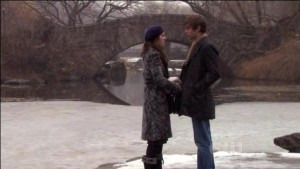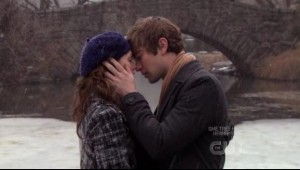 Gapstow Bridge was also the site of Nate and Blair's reunion kiss in the Season 2 episode of Gossip Girl entitled "Remains of the J".  In the episode, Dorota mentions that the bridge is Blair's favorite spot in all of New York.  I knew there was a reason why she was my favorite GG character.  🙂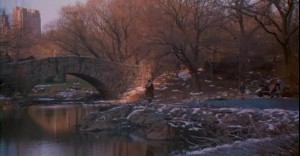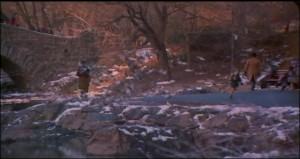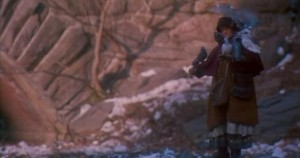 In Home Alone 2: Lost In New York, the bridge is the place where Kevin McCallister first encounters the Pigeon Lady.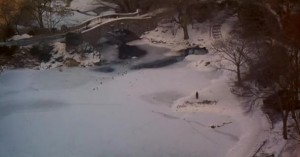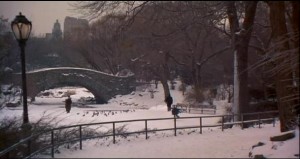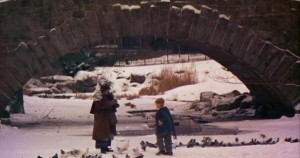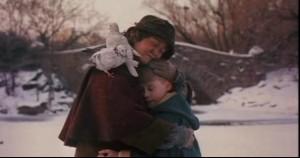 It is also the spot where, on Christmas morning, Kevin gives her one of his turtle dove ornaments and tells her "I won't forget you.  Trust me."  I swear no matter how many times I see that scene, it always manages to bring a tear to my eye.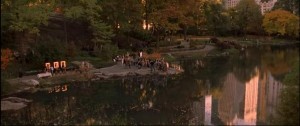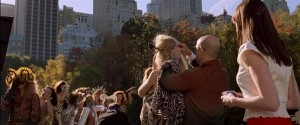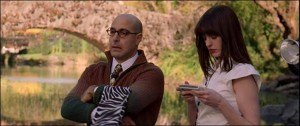 In the movie The Devil Wears Prada, the Runway Magazine "Urban Jungle" photo shoot takes place right in front of Gapstow Bridge.  In the first screen capture pictured above, the camera is situated just above my bridge, facing South.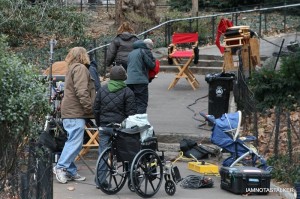 While visiting New York last December, my family and I happened to run into the production crew for the television series Rescue Me filming on my bridge!   Unfortunately, they were just wrapping up when we got there, so we didn't get to see any of the actual filming or any of the show's stars.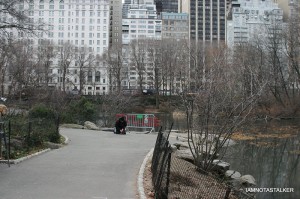 According to one of the crew members, though, the scene involved two guest stars having a conversation right in front of the Gapstow Bridge.  The above photograph shows one of the crew members removing the actors' "marks" off of the pavement and thus denotes the exact spot where filming took place.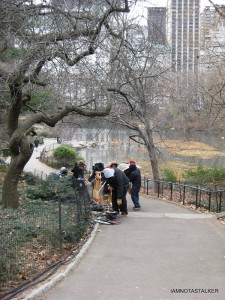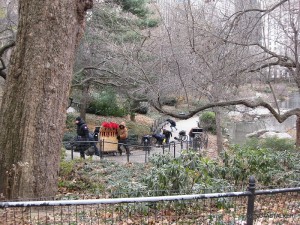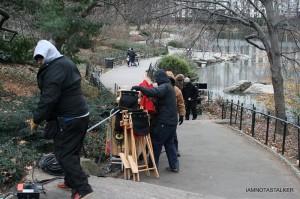 The day we happened upon the filming was an EXTREMELY cold winter day in New York.  If I remember correctly, temperatures were a record low for that year.    The poor crew members were freezing their buns off, especially when they had to remove their gloves in order to fiddle with something on a piece of equipment.  I felt so bad for them, as they all looked absolutely miserable. 🙁  But, even in the extreme cold, they still could NOT have been nicer and answered all of my silly questions about the filming.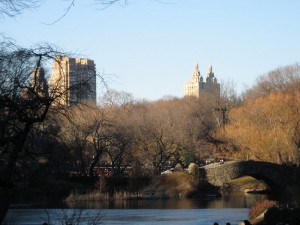 It's a sad truth that most movie locations look better onscreen than they do in real life.  It's the magic of the camera and all the set dressing, I suppose, or the bigger than life quality that being in a movie gives to something that's behind it.   Gapstow Bridge is one of the rare exceptions to that rule.  It's even prettier and more picturesque in person than I've ever seen it come across onscreen and I can't recommend stalking it enough!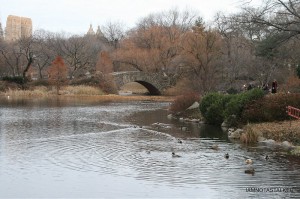 Until next time, Happy Stalking!  🙂
Stalk It: Gapstow Bridge is located in the Southeast corner of Central Park in Manhattan.  The best way to reach it is by entering the Park at the corner of Central Park South and Fifth Avenue and following the path that runs along the perimeter of the Pond.
12328