A Haircut With Nicole from Shear Genius
Nov 17th, 2009 | By
Lindsay
| Category:
This and That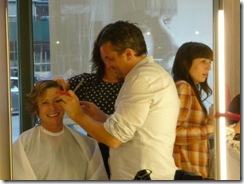 This year, while visiting New York, my mom, of course, booked her annual haircut appointment with famed stylist Nick Arrojo, from the TLC makeover show What Not To Wear.   As I first blogged back in December of 2007, for years my mom has been absolutely obsessed with the hair guru and had long dreamed of booking a session with him.  So, for her birthday two years ago, the whole family got together and surprised her with an appointment with Nick during our annual New York vacation.  Well, Nick's cut turned out so incredibly fabulous that my mom won't even consider visiting the Big Apple now without also making an appointment with him.  It has become one of our annual New York traditions!  🙂  And, of course, this year was no different!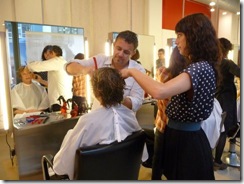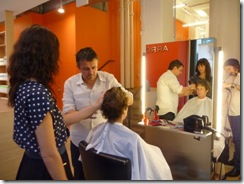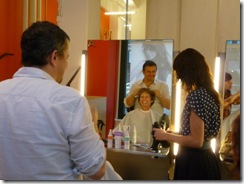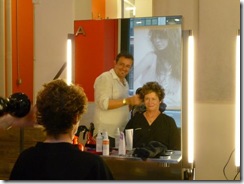 I've said it before, and I'll say it again – Nick Arrojo is absolutely AMAZING.  I don't know what it is, but he must have some magic dust in that razor of his, because my mom's hair always turns out absolutely incredible whenever he cuts it.  Sadly, we have yet to find a stylist in LA who can even come close to doing whatever it is he does to my mom's hair.  Some people just have an innate talent, I guess, and Nick is definitely one of those people!  Not only that, but he has to be one of the nicest guys I've ever met.  He is a total sweetheart and he always makes my mom feel like a movie star when she visits the salon.  I honestly can't say enough about the guy – he's simply FABULOUS – and I can't recommend booking an appointment with him enough!  Even at $500 a cut – which is truly outrageous – he's worth every single penny!  Which is why I can't believe that he's no longer appearing on What Not To Wear.  For some incredibly odd reason, Nick was replaced this season by celebrity stylist Ted Gibson, who, in my humble opinion, is just plain BLAH!  And the fact that Ted is a former stylist of that little homewrecker Angelina Jolie only adds to my dislike of the guy.  UGH!  Even though, due to Nick's absence, my mom no longer watches What Not To Wear, I can pretty much guarantee that no matter what happens with the show, she will still be returning to Nick for a haircut year after year.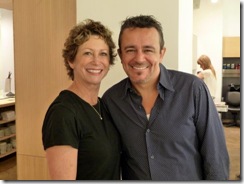 Oh, and here's my mom's new 'do!  🙂  Unfortunately, it's not the best picture of it, though, because just prior to it being taken, she got caught in the rain and her hair, like mine, does not do well in inclement weather.  🙁
Those of you who read my blog regularly know that last year while visiting New York I was lucky enough to get my hair cut by Nick's former assistant and Shear Genius Season 2 Second Runner-Up Nicole Obert and she did an absolutely amazing job!!!!  And while I really wanted to book another appointment with her during this year's New York vacation, the Grim Cheaper talked me out of it.  🙁  I swear, why I listen to him I'll never know!!!  LOL  Anyway, during my mom's appointment, my fiancé, fellow stalker Owen, and I stopped in to Arrojo Studio so that I could say hi to Nick and Nicole and, let me tell you, Nicole gave me quite the talking-to!!!  She was very disappointed that I had not booked an appointment with her this year despite the Grim Cheaper's many objections.  And, as fate would have it, Nicole just so happened to have an opening in her following day's schedule.  So, I, of course, immediately snatched said opening right up.  🙂  Being that I had just gotten a haircut about ten days prior to leaving for New York, the Grim Cheaper was NOT at all happy about that decision.  LOL LOL LOL  He kept saying, "Didn't you JUST get a haircut???"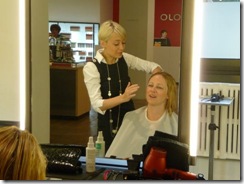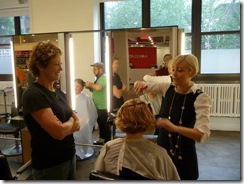 So, bright and early the following morning, my parents, my fiancé, and I all headed down to SoHo so that I could once again get my hair cut by Nicole.  And, let me tell you, I had an absolute blast!!!! Nicole is so much fun to spend time with that I'm fairly certain I would book an appointment with her even if I didn't like the way she cut hair, just so that I could hang out with her for an hour or so.  🙂  She's really that much fun!  Like me, Nicole just recently got engaged, so the two of us spent a lot of time talking about wedding planning.  And, let me just say here that Nicole's ring, which was designed by her fiancé and features a huge rock flanked by two butterflies made entirely out of diamonds,  is absolutely amazing!!!  I LOVED it.  Oh, and I just about died when Nicole told me that she had run into Cynthia Nixon, aka Miranda from Sex and the City, a few days beforehand on a New York City subway!  She said she immediately thought of me when she saw her.  Love it!  🙂  And how incredibly cool is it that CYNTHIA NIXON actually rides the subway???? Also LOVE IT!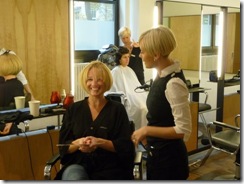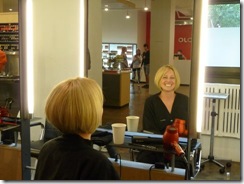 Nicole ended up cutting quite a bit of length off my hair and once again gave me a whole new look that was completely different from last year's whole new look!  🙂  I find it incredible that she was able to create two such varying and unique haircuts the past two years when she really didn't have that much to work with being that my hair was already short!   I honestly don't know how she does it!  Needless to say, my hair turned out absolutely ADORABLE.  I LOVE it.  Nicole somehow always manages to make me look so much hipper and edgier than I normally do!  And, amazingly enough, while last year's cut was pretty hard for me to style on my own, this year's was incredibly easy.  I can safely say that it is the easiest-to-maintain haircut I've ever had in my life!  In fact, my new 'do is so simple to style that my getting-ready time each morning has literally been cut in half!  So LOVE that!  I did have to purchase a new flat-iron because of it, though, much to the Grim Cheaper's chagrin.  When I came home with it, he said "Wow, this haircut is the gift that just keeps on giving, isn't it?"  LOL LOL LOL  But even though the GC is not a fan of my new 'do, everyone else in my life is.  The compliments on it have been literally non-stop.  🙂  Oh, how I wish I could go to Nicole regularly.  🙁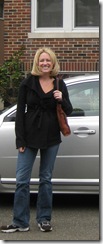 Before . . .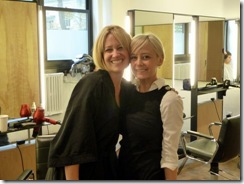 . . . and after. 
I honestly cannot recommend booking an appointment with either Nick or Nicole enough!!!!  They are both incredible stylists and my mom and I feel so fortunate to have found them!
Until next time, Happy Stalking!  🙂
Stalk It: Arrojo Studio is located at 180 Varick Street in New York's SoHo neighborhood.  To book an appointment with Nick or Nicole, you can call (212)242-7786.  You can also visit the Arrojo Studio website here.  Haircuts with Nick cost $500, but he often runs specials, announced via his website, where you can book them for around $350.  A haircut with Nicole will only set you back $68. 
14291