Whitney Port's Apartment from "The City"
Nov 18th, 2009 | By
Lindsay
| Category:
TV Locations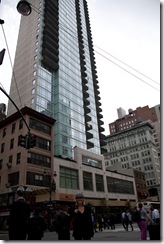 As fate would have it, last year's New York vacation ended just a few weeks prior to the series premiere of the MTV Hills spin-off entitled The City.  That, of course, meant that I had to wait almost an entire year to stalk any of the locations featured on the new show.  🙁  And, while I have to admit that I don't even really like the series all that much, at the top of this year's NYC stalking list were quite a few locales used on it.  One of the locations I most wanted to stalk was the building where series' heroine/burgeoning fashion designer Whitney Port supposedly lived during Season One.  But, of course, as is often the case on The City, things weren't quite as cut and dry as they seemed.  Thanks to fellow stalker Virginie, who posted a comment on my site back in January with a link to this article from the blog Curbed, I found out that the building shown as Whitney's on the show isn't where the reality starlet actually lived.   So much for The City being a "reality" show.  LOL  But even though Whitney didn't actually live in the building featured on the series, because the place is a filming location, I, of course, still had to stalk it!  🙂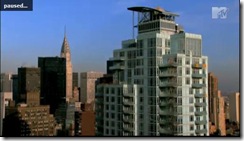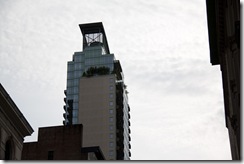 The building where "Whit" supposedly lived on The City is ultra-tall, ultra-modern, ultra-luxurious, and just oh-so-New-York!  And, thanks to the dwelling's quintessential New York feel, it's not very hard to see why producers chose to use it as the residence of the girl Page Six Magazine dubbed as "The New Carrie Bradshaw".  The building is the ideal home for a modern-girl-about-town.  And I would just about give my left foot to live there!  🙂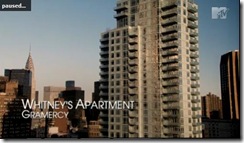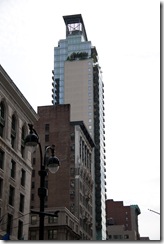 Ironically enough, though, Whitney wasn't too keen on the place when she first toured it with then-boyfriend Jay Lyons in the Season One episode entitled "The L Word".  Upon first seeing the apartment, Whitney said, "I kind of envisioned myself whenever I moved here that I would be, like, in one of those shorter brick buildings."  Um, you mean, like, a brownstone, Whitney?  LOL LOL LOL  Boyfriend Jay changed her mind, though, and later in that same episode Whit became a resident of the building, where she remained through the show's first season.  Or so MTV would have you believe.  But we know different, don't we?  🙂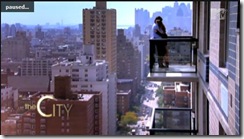 As you can see in the above screen capture, the balcony of Whitney's apartment doesn't look at all like the balconies of the building shown in the show's exterior shots, which is how the bloggers over at Curbed were able to figure out that MTV was trying to pull the wool over its viewers eyes.  The building Whitney actually lived in is located less than a mile away from her "fake" building and is called the Elektra.  Sadly, I was not able to stalk that location during this year's trip, though.  🙁  And, as fate would have it, during The City's Second Season, which just premiered last month, Whitney moved out of her hi-rise digs and into a "shorter, brick building" somewhere in Greenwich Village.  And while I have not figured out the exact location of that spot yet, I definitely plan to stalk it during next year's New York trip.   🙂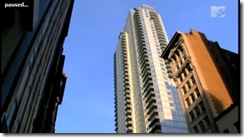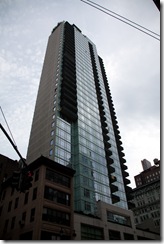 Whitney's "fake" building, which was designed by architect Stephen B. Jacobs, is fairly new to the New York skyline.  The property was just recently completed in 2006 and is comprised of 390,000 square feet of living space which is divided into 250 individual condominium units.  The building features a 24-hour doorman, a concierge, a lobby, a garage, a business center, a gym, a yoga room, a massage room (and here I don't even know what a massage room is!), a sauna, a residents' lounge complete with fireplace, a children's playroom, a conference room, and an indoor pool and spa.  Individual apartments in the building boast floor to ceiling windows, marble baths, hardwood floors, sweeping views, and private balconies.
A side note about my photographs – I accidentally took the above pictures from the opposite end of Fifth Avenue from where the The City's set-up shots were taken.  If you want to snap a pic from the exact spot where the screen captures were taken, head over to the corner of Fifth Avenue and West 32nd Street.  🙂
Until next time, Happy Stalking!  🙂
Stalk It: Whitney Port's "fake" apartment building from The City is located at 325 Fifth Avenue.  In reality, Whitney lived at a building named The Elektra, which is located at 290 Third Avenue.
14314