Scout Bar from "Sex and the City"
Nov 19th, 2009 | By
Lindsay
| Category:
Sex and the City Filming Locations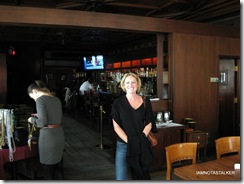 Yet another Sex and the City location that I stalked while in New York last month was O'Nieals Grand Street Bar, which stood in for Scout, the watering hole owned by Carrie and Miranda's ex-boyfriends, Aidan and Steve, on the show.  And even though I had actually stalked this location during last year's New York vacation and also blogged about it, because I had not been able to venture inside, it was a place I had always planned on returning to.  So, since my good friend Steffi, who is an even bigger fan of Sex and the City than I am (if that's at all possible) and who has always loved the character of Aidan, accompanied me to New York this year, I decided there was no time like the present!  On this particular occasion, though, nothing was going to stop me from journeying inside!  🙂  And, let me tell you, I am so glad I did, because O'Nieals' interior is nothing short of magnificent.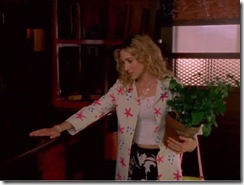 One look around O'Nieal's dark Mahogany interior and it's easy to see why producers chose to use it as the bar that Carrie's furniture designing former boyfriend built.  Upon seeing Scout for the first time on the show, Carrie says "There was no sign of him, but he was everywhere.  In the mahogany bar, wood floors, carved ceiling.  The whole place looked and felt just like Aidan."  And in real life, that same sentiment is true – the place truly does look and feel just like the character played by John Corbett.  So much so, in fact, that it's hard to believe the bar wasn't a set built by production designers specifically for the series.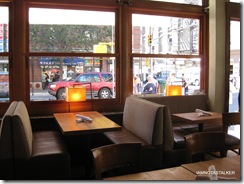 O'Nieal's decor consists almost entirely of dark, shiny, hand-carved wood and, let me tell you, it is absolutely gorgeous.  But my favorite part of the bar had to be its amazingly intricate ceiling, which unfortunately I just could not get a very good photograph of.  🙁  But take my word for it, the ceiling is beautiful.  O'Nieals has a definite old New York vibe to it and, I am happy to report, looks exactly the same in person as it did onscreen in Sex and the City.  The staff also could NOT have been nicer and allowed me to take all of the photographs I wanted, even though I wasn't dining at the establishment.  On a side note – Being able to take pictures inside of bars and restaurants is just one of the many reasons that I love New York so much.  In L.A., unfortunately, there are many venues that don't allow any sort of interior photography.  And, while part of me understands an establishment's desire to keep stalkers like myself from taking pictures of their celebrity patrons, for the most part I think the whole thing is just plain ludicrous.  A few months back my fiancé and I grabbed some cocktails at a place called the Writers Bar in Beverly Hills.  The upscale (read: snooty) bar had numerous autographed scripts displayed on their walls and when I went to a photograph in front of one which had been signed by Julia Roberts, the manager came rushing over and demanded that I put my camera away.  Dumbfounded, I asked him why, to which he replied "We do not allow cameras here due to our high-profile clients".  LOL LOL LOL  Now, if I had been trying to take a photograph of a celebrity sitting nearby (and by the way, my fiancé and I were the only two people in the entire bar at the time), I can totally understand the manager requesting that I put my camera away.  But it was very obvious what I was taking a picture of and why and being that we had just shelled out $25 per drink, I found the whole thing highly ridiculous and my fiancé and I vowed never to return.  Which we haven't.  But thankfully, in my many visits to New York, I have NEVER EVER – not even once – been told to put my camera away – even in cases when celebrities actually were dining right next to me.  🙂  But, I digress.  Anyway, as I said before, O'Nieals is a very hip, absolutely gorgeous little spot and I HIGHLY recommend stalking it.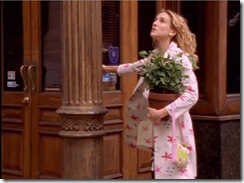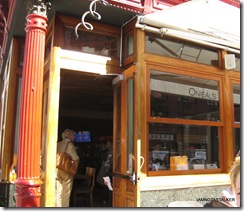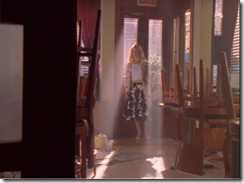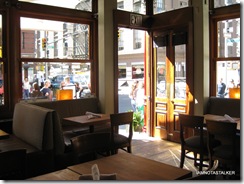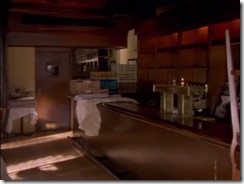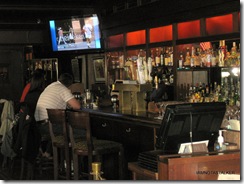 O'Nieals was featured twice on Sex and the City.  It first showed up in the Season Four episode entitled "Ghost Town", in which Carrie visits Scout to drop off a congratulatory Mulberry bush for Aidan and Steve, just before the bar is set to open.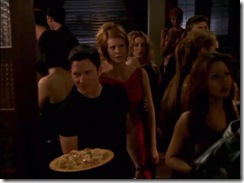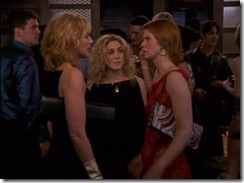 O'Nieal's shows up once again later in that same episode, when the girls attend Scout's grand opening party.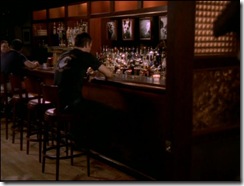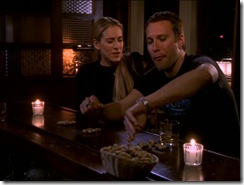 The bar was also featured in the Season Four episode entitled "Time & Punishment", in which Carrie shows up at Scout only to discover Aidan flirting with a skeezy bartender named Shana.  And, even though Steve continued to own the bar throughout the rest of Sex and the City's six year run, for some reason, it never again appeared onscreen.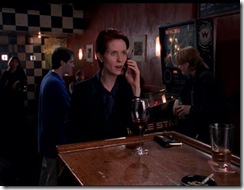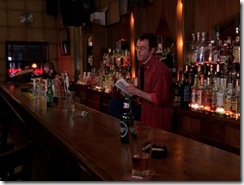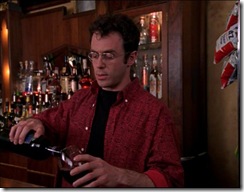 On a sad side note – While in New York, I was also dying to visit Collins Bar, the spot where Miranda first met Steve in the Season 2 episode of Sex and the City  entitled "The Man, The Myth, The Viagra" (pictured above).  Unfortunately, though, the beloved dive bar closed its doors in July of 2007 and the building that formerly housed it is in the process of being torn down to make room for a new hi-rise condominium development.  Such a bummer!!!!  You can see some great pictures of the former Collins Bar here and here, though.  
Until next time, Happy Stalking!  🙂
Stalk It: Scout, aka O'Nieals Grand Street Bar, is located at 174 Grand Street in New York's SoHo area.  You can visit their website here.  Collins Bar was formerly located at 735 Eighth Avenue, near Time's Square.
14355