Priscilla's Coffee Tea & Gifts
Dec 3rd, 2009 | By
Lindsay
| Category:
TV Locations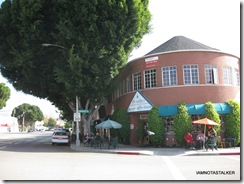 Many years ago, I was enrolled in an acting school in Burbank that was located just down the street from a little coffee shop named Priscilla's Coffee Tea & Gifts.  I logged quite a bit of time at the coffee house, as my classmates and I would often grab a coffee and hang out there before and after class.  So, when the place popped up in an episode of Desperate Housewives a few weeks ago, I literally almost fell out of my chair!   Since I hadn't been to Priscilla's in almost eight years – and because I'm always on the lookout for any excuse to visit a coffee house – I decided I just had to stalk the place.  So, yesterday I headed out to Burbank – laptop in hand – to spend the morning blogging and drinking coffee at Priscilla's.  And, let me tell you, the place was absolutely JAM PACKED when I arrived.  There literally wasn't an empty seat in the entire house.  I was shocked that the the place would be so crowded on a weekday morning, but that's a definite testament to how good Priscilla's coffee is.  🙂  Anyway, after ordering my iced latte, I retreated to a nearby corner and waited around for a table to open up.  Well, I wasn't standing there more than 45 seconds when an extremely kind gentleman walked up and offered to share his table with me!!  How incredibly nice is that?  I almost couldn't believe it, as people in L.A. aren't usually that overtly friendly.  But, from what I noticed yesterday, that's just par for the course at Priscilla's – people there are just plain nice!  🙂  So, my new friend and I sat there for a while – me blogging away on my laptop, him studying his lines for an upcoming addition, both of us enjoying some extremely good coffee.  🙂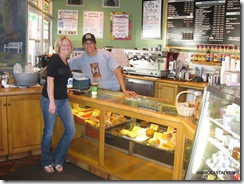 Surprisingly enough, when I used to hang out at Priscilla's many years back, I wasn't a coffee drinker.  In fact, until yesterday morning, I had never actually tasted any of Priscilla's coffee and I honestly didn't have high hopes that the place would compare to my beloved Starbucks.  So, you can imagine my surprise when I tasted my latte yesterday morning and discovered it was JUST as good as Starbucks, if not better!  It was so tasty, in fact, that as soon as I finished my first cup, I got in line to order another!  LOL   And it was while I was waiting for my second drink that I asked the barista if it would be alright to snap a few photos of the store.  I really wasn't sure how she would respond, because as I've mentioned before, for whatever reason, many restaurants in L.A. don't allow any sort of interior photography.  Well, not only did she tell me it was OK to snap pictures, but she also asked if I wanted her to take a photograph of me in the shop!!!!!  I mean could this place be any greater????  The above photo is the one she took, and the other barista on duty even agreed to pose with me for it!  LOVE IT!  🙂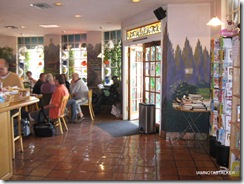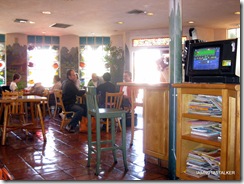 Priscilla's Coffee Tea & Gifts has actually been in business since the early 1970s, at which time it was operated out of a former gas station.  In 1993, due to a growing demand, the coffee house moved to a larger location on Riverside Drive in Burbank where it has remained ever since.  Besides coffee, Priscilla's also serves up teas, pastries, sandwiches, salads, and even gelato.  It's also a great place to browse as they have numerous gift items and greeting cards for sale.  And the fact that the place has free wi-fi and plays 80s music (including Michael Jackson!!!) is pretty much just icing on the cake!  🙂  Priscilla's is a SUPER cute little coffee shop and I honestly cannot recommend stalking it enough!!!!  In fact, I'm thinking of becoming a regular there!  🙂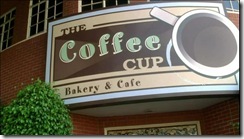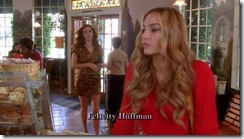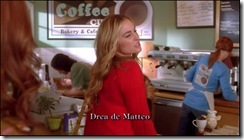 Priscilla's first popped up in the episode of Desperate Housewives  entitled "The Coffee Cup", which aired on November 15th.  Quite a few scenes from the episode took place at Priscilla's, which stood in for "The Coffee Cup Bakery & Cafe" on the show.  It first appeared in the scene in which Julie Mayer (aka Andrea Bowen) has a highly awkward encounter with her married boyfriend's wife, Angie Bolen (aka Drea de Matteo), while waiting in line for coffee.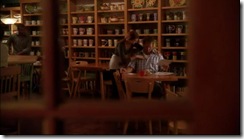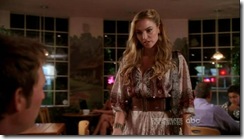 Later in the episode, Angie confronts her husband Nick (aka Jeffrey Nordling) at Priscilla's, after she sees him flirting with a Coffee Cup barista named Emily Portsmith.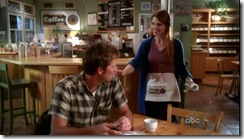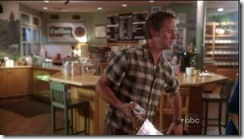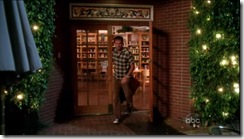 And, finally, at the very end of that episode, Priscilla's shows up once again as the spot where Nick makes a phone call to the police to let them know he is thinking of turning himself in for an as-yet unnamed crime . . .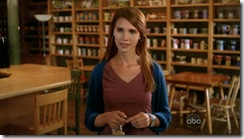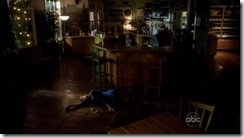 . . . and as the spot where barista Emily is strangled.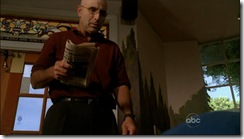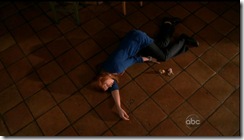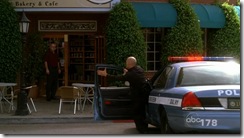 And, in the following episode, which was entitled "Would I Think of Suicide?", Priscilla's shows up yet again!  It is featured in the episode's opening scene, in which the manager of The Coffee Cup enters the store in the early morning hours only to discover Emily lying dead on the floor.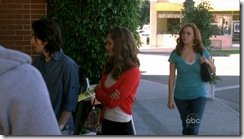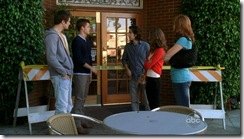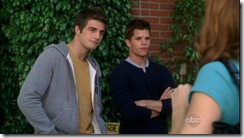 In a subsequent scene, Julie Mayer and her friends discuss Emily's death out in front of Pricilla's.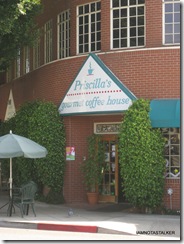 Besides being a filming location, Pricilla's is also something of a celebrity hotspot, thanks to its proximity to the area studios.  Just a few of the stars who have been spotted there recently include Jay Leno, Ben Affleck and Kevin Connolly.  Randomly enough, while I was attending acting school in Burbank, I happened to see a television show on the E! Network (for the life of me I cannot remember what it was called!) that featured paparazzi videos of celebrities performing day to day activities.  One of the videos featured an old clip of my girl Jen Aniston during the early days of Friends grabbing a cup of coffee at Priscilla's.   And, let me tell you, when I saw that video I just about had a heart attack over the fact that Jen had visited the very same coffee shop that I was hanging out in at the time!!  🙂    What can I say, the girl's got good taste!  🙂
Until next time, Happy Stalking!  🙂
Stalk It: Pricilla's Gourmet Coffee and Teas is located at 4150 Riverside Drive in Burbank.  You can visit their website here.
14695