JMJ Ranch from "Win a Date with Tad Hamilton"
Dec 4th, 2009 | By
Lindsay
| Category:
Movie Locations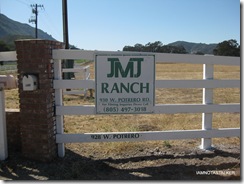 Another location that Mike, from MovieShotsLA, and I stalked during our day in the the Valley together a few months back was the Fraziers Bottom farm that movie star Tad Hamilton purchased in fave film Win a Date with Tad Hamilton.  In real life, Tad's property is named JMJ Ranch and it is not located anywhere near Fraziers Bottom, West Virginia, but about two thousand miles West in Thousand Oaks, California.  As so often happens when searching for filming sites, I actually came across this one while looking for another location entirely.  After seeing the Season One episode of The Mentalist  entitled "Carnelian Inc." earlier this year, I became absolutely obsessed with finding the ranch that was featured in it.   And it was while searching for that locale that I came across the website for JMJ Ranch and immediately recognized it as the one from Win a Date with Tad Hamilton.  YAY!  So, since Mike and I were in the area a few weeks back, we decided to drive by the property to see if it was at all accessible to the public.  And amazingly enough, it was!  Or so we thought.  LOL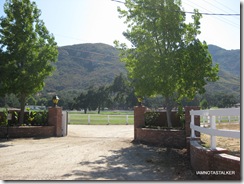 When we first pulled up to JMJ Ranch, the main gates were wide open, several people were horseback riding in the central ring, and there was no posted sign saying the area was private property.  Because I had read online that JMJ is an actual working ranch, I turned to Mike and said "OH MY GOD, I think it's actually open to the public!"  So, of course, the two of us drove right in.  And, let me tell you, I almost had a heart attack I was so excited!  🙂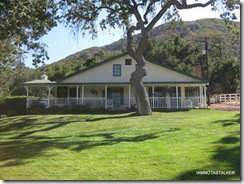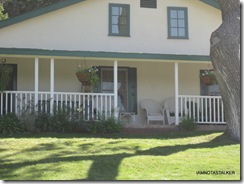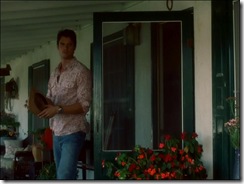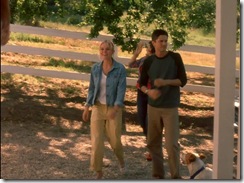 I spotted Tad's little white ranch house pretty much immediately upon entering the property and just about hyperventilated as we pulled up to it!  The fact that Josh Duhamel (aka the love of my life) had once been in the very spot I now found myself was almost too much for me to bear.  🙂  Now, I know that rumors of JD's infidelity are currently flying around Hollywood, but I honestly have to say that I just don't believe all the hype.  If the rumors do turn out to be true, though, and Josh really did cheat on his wife, then all bets are off – he'll be dead to me, just like that little homewrecker Angelina Jolie!  But in the meantime, I have to say, my heart still belongs to JD.  🙂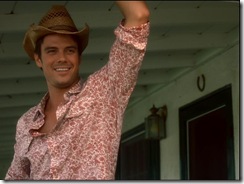 I so love the above screen capture, by the way!!  Sigh.  🙂  But I digress!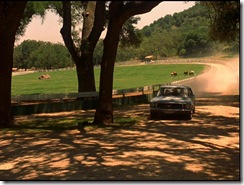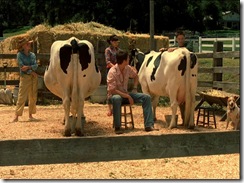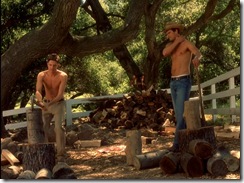 Only one brief scene from Win A Date took place at JMJ Ranch.  After announcing that he has purchased a house, or as he says "it's actually a farm, with a house, and a silo for my wheat" LOL,  Rosalie (aka Kate Bosworth), Cathy (aka Ginnifer Goodwin), and Pete (aka Topher Grace) show up to tour the property.  While there, know-it-all Pete attempts to give Tad some lessons in certain farming skills like milking a cow and chopping wood, but as it turns out, thanks to his training for various movie roles, not only does Tad know how to do said activities, but he can actually do them better than Pete.  LOL  
JMJ Ranch is actually an oft-used filming location.  Besides Win a Date, the property has also been featured in Dynasty, Dallas, Knots Landing, Cracker, Scarecrow and Mrs. King, The Fall Guy, Picket Fences, Hot Shots Part Deux, Robin Hood: Men In Tights, Route 9, and Private School.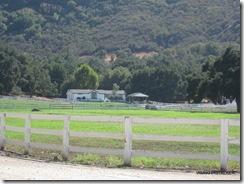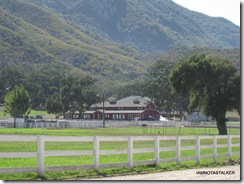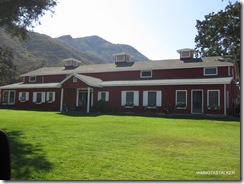 The 300 acre ranch truly is a beautiful spot, with large open fields, towering oak trees, winding roads, and rustic barns, and as we drove through the property I got to thinking that it would be the perfect spot to host a wedding.  🙂  Being that filming locations often double as wedding venues, I thought there was a pretty good chance that the ranch might also be available for special events and made a mental note to find out.  Well, after driving around for about five minutes, a very angry woman on a tractor drove up to Mike and I and informed us that we were on private property.  WHOOPSY!  We apologized profusely and explained that we had been driving by, saw the open gate, and thought the area was open to the public.  I also told the woman I was currently in the market for a wedding venue and asked if the ranch was available for such occasions.  My question was met with an emphatic "NO!" – LOL – at which point, Mike and I thanked the lady for her time and quickly left.  So, unfortunately, I can't recommend stalking JMJ Ranch as it is definitely NOT open to the public.  🙁  But at least you can live vicariously through the photographs I was able to take before being kicked off the property.  🙂
Until next time, Happy Stalking!  🙂
Stalk It: JMJ Ranch from Win a Date with Tad Hamilton  is located at 930 West Portrero Road in Thousand Oaks.  The property is not actually open to the public, so please do not trespass.  You can visit the JMJ Ranch website here. 
14726