Bullocks Wilshire – The Department Store from "Christmas Vacation"
Dec 21st, 2009 | By
Lindsay
| Category:
Movie Locations
,
My So-Called Life Filming Locations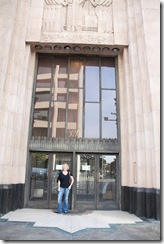 One location that I have been dying to stalk for months now is the former Bullocks Wilshire department store located just outside of Downtown Los Angeles  – a spot which has been featured in countless productions since its grand opening way back in 1929.  And, even though I am usually a big fan of immediate gratification, I waited to stalk this location until just recently as I wanted to blog about it in December, along with my other Christmas movie posts.  So, what holiday movie was the building featured in, you ask?  One of my very favorite Christmas flicks of all time – the 1989 holiday classic Christmas Vacation.   In the movie, Bullocks Wilshire stood in for the Chicago area department store where Clark Griswold (aka Chevy Chase), accompanied by his son, Rusty (aka The Big Bang Theory's Johnny Galecki), shopped for lingerie.  I found this location thanks to fellow stalker Mike, from MovieShotsLA, who, as luck would have it, just happened to be driving right by the department store on the day filming took place way back in 1989.  Once Mike noticed the production trucks, he, of course, immediately pulled over to inquire about what was being filmed and to watch some of the action.  And, let me tell you, when Mike told me about the location a few months back, I just about passed out from excitement as I had always wanted to know where that scene had taken place!  Thank you, Mike!  🙂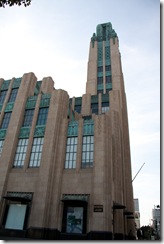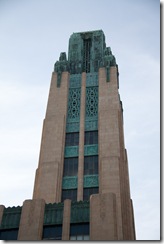 The Bullocks Wilshire building was originally built in 1929 by the father and son architecture firm of John and Donald Parkinson, a team who was also responsible for designing the Continental Building, which is better known as Los Angeles' first skyscraper, Union Station, L.A.'s City Hall and the Memorial Coliseum.  Department store magnate John G. Bullock commissioned the building in the hopes of creating the most luxurious and upscale shopping experience Angelinos had ever seen. The interior, which was designed by Eleanor Lemaire and Jock Peters, was the utmost in splendor, featuring travertine flooring, marble walls, ornate elevators, and rosewood display cases.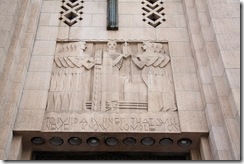 For the design of the relief located above the department store's Wilshire Boulevard entrance, which reads, "To build a business that will never known completion", Bullock looked to MGM art director Cedric Gibbons, who is best known for designing the first ever Oscar statue.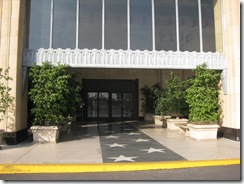 Because Bullock wanted to cater to the growing number of motorists in the L.A. area, the department store was the first in Los Angeles ever to feature a porte cochere, aka a covered driveway under which shoppers could hand over their vehicles to waiting valets.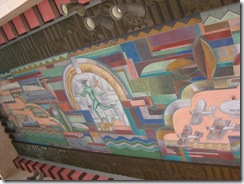 The building's most remarkable feature – in my mind, at least – has to be the highly elaborate mural painted on the ceiling of the porte cochere.  Romanian painter Herman Sachs designed the brightly colored fresco secco as a tribute to Mercury, the god of travel.  The painting features renderings of different forms of modern-day transportation, including airplanes, trains, and ships.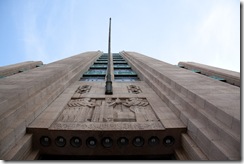 Upon its opening on September 26, 1929, the 241 foot tall Bullocks Wilshire encompassed over 230,000 square feet of retail space which included a perfume hall, a penthouse tea room, a "doggery" which sold trinkets for shoppers' furry companions, a saddle shop, a Louis XVI room, a furrier, live mannequins, a salon, and a private suite where the truly elite could shop in complete privacy, all the while sipping martinis and snacking on the finest hors d'oeuvres.  Years later, Bullock added a Chanel Room, a photography studio operated by celebrity photographer Neil Gittings, and a Ladies Custom Salon, run by future Hollywood costume designer Irene Lentz.  Thanks to Bullock's incredible attention to detail, the department store quickly became the place to see and be seen in Los Angeles.  Such stars as Mae West, Clark Gable, Greta Garbo, Alfred Hitchcock, John Wayne, and Marlene Dietrich all visited Bullocks Wilshire at one time or another.  And actresses June Lockhart and Angela Lansbury and former First Lady Patricia Nixon even worked there in their early years.  Thanks to the building's architectural detail and rich history, Bullocks Wilshire was added to the National Registry of Historic Places on May 25, 1978.  Sadly, in the late 80s, the store began a precipitous decline, eventually being sold to the Macy's chain.  A few years later, the historic building was heavily vandalized both inside and out during the riots of 1992, with looters destroying display cases, prized artifacts, and even setting fire to the property.  Bullocks Wilshire ended up closing its doors for the last time in 1993.  But its story doesn't end there.    About a year later, the property was purchased by Southwestern Law School, which had long occupied a neighboring building.  The school then set out on a ten year, $29 million restoration project which completely restored the historic building back to its original state.  For this endeavor, Southwestern Law School received a National Preservation Award from the National Trust for Historic Preservation.   Today, Bullocks Wilshire is used as a part of the Southwestern Law School campus, where, coincidentally, actor Jerry O'Connell (husband of Rebecca Romijn) is currently a student.  🙂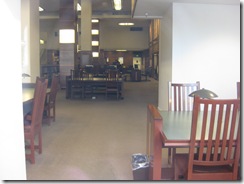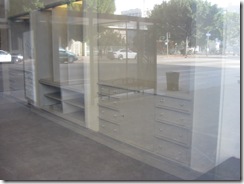 And, while the building is not actually opened to the public, while stalking the place, I ventured inside and asked the security guard on duty if I might be allowed to take a quick peek.  The guard truly could NOT have been nicer and allowed my fiancé and me to walk around the school.  Unfortunately, though, photography is not allowed indoors, so I couldn't take any pictures, other than the two pictured above, which I snapped through the building's front window.  But, take my word for it, the interior – which you can see photographs of here – is nothing short of magnificent.  Walking into Bullocks Wilshire is like stepping back in time to a more glamorous era.  The cafe, the lounge area, even the bathrooms have all been restored to their original state and I couldn't have been more excited to be seeing it all with my own two eyes.  And, even though the building is now technically a college campus, the interior still looks much as it did when it operated as an upscale department store.  I was so mesmerized with the place, in fact, that I am just dying to get my hands on a copy of this book to learn more about the building's rich history!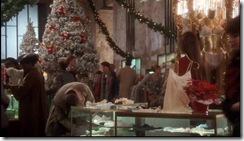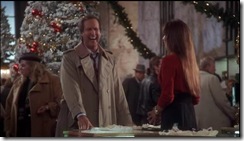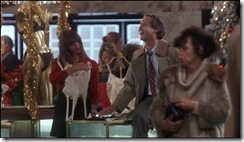 Bullocks Wilshire shows up just briefly in Christmas Vacation in the very memorable scene in which, while out shopping with his son Rusty, Clark Griswold meets and flirts with a lingerie saleswoman named Mary and utters that famous line, "It's a bit nipply out".  LOL LOL LOL When I was a Senior in high school – and I should mention here that I went to a Catholic high school – one of my classmates, Marcus, came up with the inspired idea of reading a surf report to the entire school each morning during our daily announcements.  Marcus' little experiment was going well, too, until one particularly cold morning, when he announced to the student body that the ocean "was a bit nipply" that day.  Needless to say, that was the end of that morning's announcements – and our daily surf report.  But, ever since that fateful day, even all these years later, I can't help but think of Marcus and laugh every time I watch the Christmas Vacation shopping scene.  🙂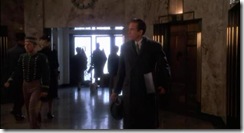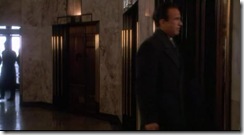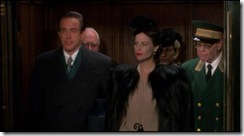 Bullocks Wilshire was also the store where Benjamin Siegel shopped at the beginning of the movie Bugsy;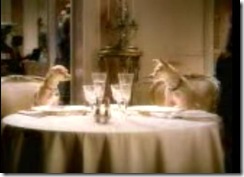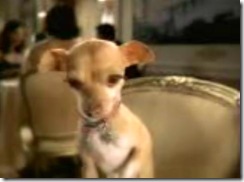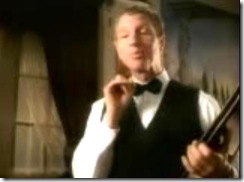 its La Directoire room was the site of the "Romantic Dinner" Taco Bell commercial featuring Gidget, the talking Chihuahua;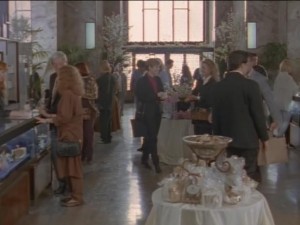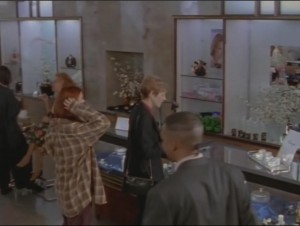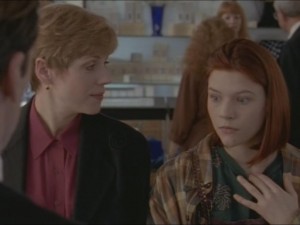 it was where Angela Chase (aka Claire Danes) shopped with her mother Patty (aka Bess Armstrong) in the Season 1 episode of My So-Called Life titled "The Zit";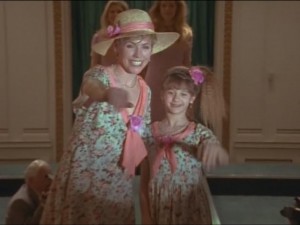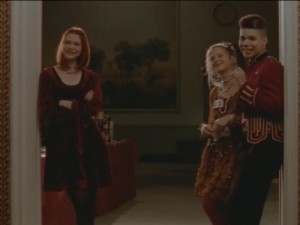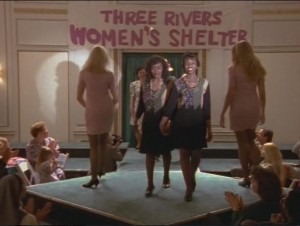 and the Louis XVI Room was where the Mother/Daughter Fashion Show was filmed in that same episode.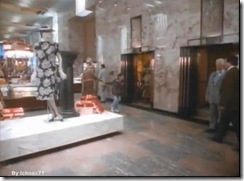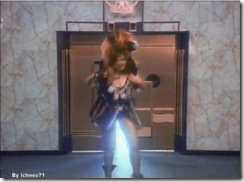 it was the location of the eponymous elevator in Aerosmith's "Love in an Elevator" music video;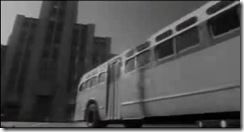 the exterior was featured briefly in Public Enemy's "By The Time I Get to Arizona" music video;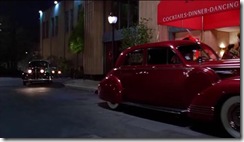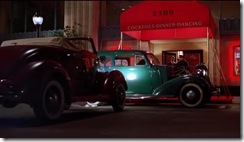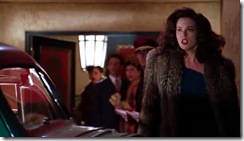 and in The Aviator, it stood in for the nightclub where Howard Hughes and Ava Gardner got attacked by Hughes' former girlfriend.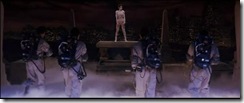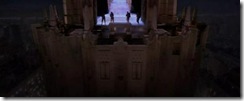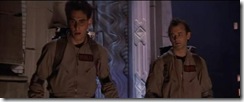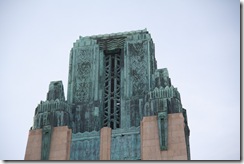 Supposedly, the final scene in Ghostbusters was filmed on the roof of Bullocks Wilshire, but as you can see in the above screen captures and photograph, the Ghostbusters roof and the Bullocks Wilshire roof look nothing alike.  And, while it's entirely possible that some close-up filming for that scene did take place on top of the Bullocks Wilshire tower, my best guess is that the entire scene was filmed on a studio soundstage somewhere in Hollywood.  Bullocks Wilshire has also been featured in the movies Topper (where it stood in for the luxurious Connecticut area Seabreeze Hotel), Tarzan's New York Adventure (where it was used as a New York hotel), Dunston Checks In (where it again stood in for a New York hotel), Fist of the North Star, On Deadly Ground, Family Plot, The Tie That Binds, Rough Magic, and in episodes of Murder, She Wrote, Judging Amy, and The Agency.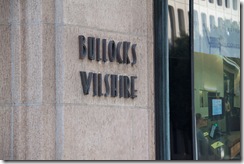 Big THANK YOU to Mike for finding this location!  🙂
On a very sad side note – My thoughts and prayers go out to Brittany Murphy's friends and loved ones today.  I can't even imagine losing someone so young, especially this close to the holidays.  🙁    Rest in peace, Brittany.
Until next time, Happy Stalking!  🙂
Stalk It: Bullocks Wilshire is located at 3050 Wilshire Boulevard in Los Angeles.  You can visit the building's official website and see interior photographs of it here.  Because Bullocks Wilshire is part of the Southwestern Law School campus, it is not open to the public. Once a year, though, tours of the property are given.  You can check the Southwestern Law School website for further tour information.
15228