Wollman Ice Skating Rink
Dec 28th, 2009 | By
Lindsay
| Category:
Movie Locations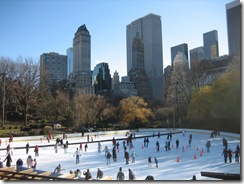 I'm sticking with my Christmas stalking theme for one more day – even though it's already December 28th – as I had originally intended to publish this post on Christmas Eve, but, unfortunately, ran out of time.  As I've said many times before, though, it's better to be late than never!   So, here goes!  One New York location that definitely belongs in any collection of Christmas movie locales is Wollman Ice Skating Rink, a spot which appeared in one of my very favorite holiday flicks of all time, Home Alone 2: Lost In New York.  I had the pleasure of skating at Wollman Rink with my fiancé back in 2004 and absolutely fell in love with the place.   With the Plaza Hotel and other New York skyscrapers towering in the background, the rink actually looks more like a picture postcard than a real life location.  If you haven't been there yourself, take my word for it, Wollman Rink is absolutely magical.  🙂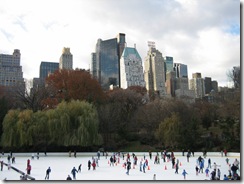 Wollman Rink was originally constructed in 1949 thanks to a $600,000 donation from New York philanthropist Kate Wollman.  Kate had the ice skating rink built in honor of her parents, Jonas and Bettie, and her four brothers, William, Morton, Henry, and Benjamin.  From the beginning, Wollman Rink was an immediate success, welcoming over 300,000 skaters in its first year alone.   Today, it is visited by an average of 4,000 skaters per day.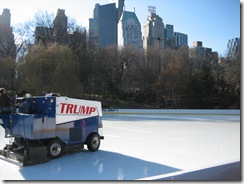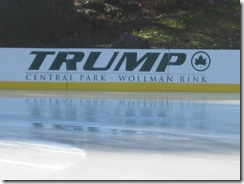 Like practically everything else in New York, Wollman Rink is currently owned and operated by real estate mogul Donald Trump, who purchased and completely rebuilt the property back in the '90s.   His name is displayed on almost every square inch of the rink, lest anyone ever forget who it belongs to.  😉  In the summer months, the rink is transformed into a small amusement park named Victorian Gardens.  Wollman Rink is not to be confused with the similarly named Kate Wollman Memorial Rink, which was constructed in Brooklyn's Prospect Park by the William J. Wollman Foundation upon Kate's death in 1955.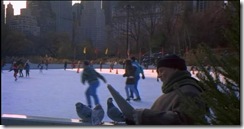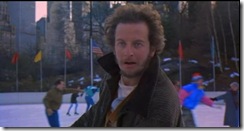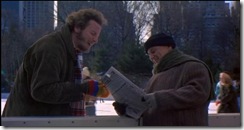 Thanks to its picturesque appearance, Wollman Rink has long been a favorite of location scouts, appearing in countless movies and television shows over the years.  In Home Alone 2: Lost In New York, Harry and Marv, aka "The Sticky Bandits", plan their robbery of Duncan's Toy Chest while skating at Wollman Rink.  Ironically enough, though, before my first visit to New York, this stalker was under the mistaken assumption that the Home Alone scene had been filmed at the famous Rockefeller Center ice staking rink.  It wasn't until I started making a stalking itinerary for my first Big Apple vacation that I realized my mistake.  As it turns out, New York has not one, but TWO cinematically historic ice skating rinks.   But I'll save the Rockefeller Center rink for a future post.  😉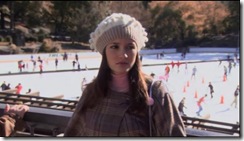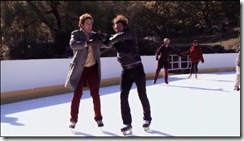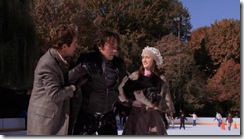 Wollman Rink also appeared in the Season One episode of Gossip Girl  entitled "Roman Holiday", in the scene in which Blair Waldorf (aka Leighton Meester), along with her mother, her father, and her father's new boyfriend go ice skating just a few days before Christmas.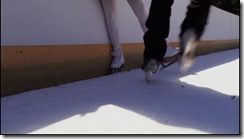 On a side note – I am absolutely IN LOVE with the skates with the hanging pink pompoms that Blair wore in that scene!!!!  I have GOT to get me a pair of those!   🙂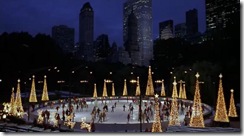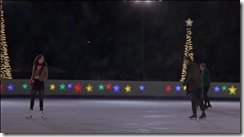 In Serendipity – one of my fave romcoms of all time! – Jonathan (aka John Cusack) and Sara (aka Kate Beckinsale) go for a late night skate at Wollman Rink after sharing a Frrrozen Hot Chocolate at Serendipity 3 Restaurant.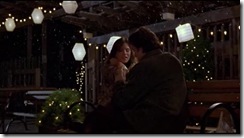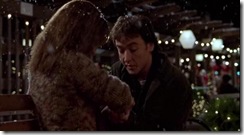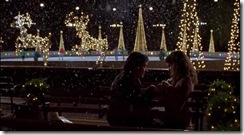 After their skate, Jonathan draws the constellation of Cassiopeia on Sara's arm while sitting on the rink's benches.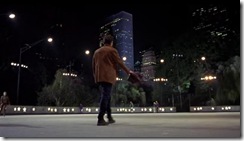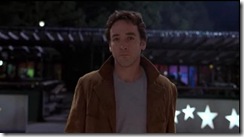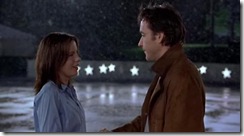 And at the end of the movie, the two star-crossed lovers finally reunite at the rink.  Wollman Rink has also been featured in Stepmom, Autumn in New York, Love Story, The January Man, The Devil's Own, Odds Against Tomorrow, Carnal Knowledge, August Rush, A Journey That Wasn't, Love and Other Impossible Pursuits, and the 2005 version of King Kong.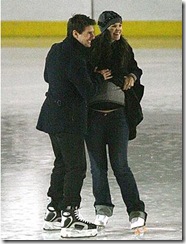 Celebrities also often visit Wollman Rink.  In December of 2005, Tom Cruise took his then-pregnant girlfriend Katie Holmes there to celebrate her 27th birthday.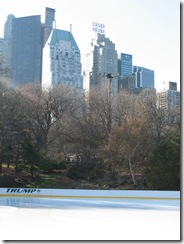 Until next time, Happy Stalking!  🙂
Stalk It: Wollman Rink is located inside Central Park, near the corner of Central Park South and 5th Avenue, in New York.  Follow the footpath from the Park's 59th Street entrance over Gapstow Bridge and the rink will be visible on the west.  Wollman Rink is open from November through March.  You can visit its official website here.
15385