The Kenaston Residence
Jan 7th, 2010 | By
Lindsay
| Category:
This and That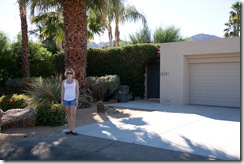 Even though I have always been one hundred percent on Team Aniston – I even have the sweatshirt to prove it  😉 – while visiting Palm Springs during Halloween weekend a few months back I became a bit obsessed with stalking the home where Brad Pitt and Angelina Jolie posed for their famous "Domestic Bliss" photo spread which appeared in the July 2005 issue of W Magazine.  It all started a few days before Halloween when I came across the following People Magazine article while doing some cyberstalking of the Palm Springs area, trying to come up with a list of desert locations to stalk.  The article mentioned that Brangelina's  controversial photoshoot – controversial because it occurred on March 25, 2005, the very same day that Jennifer Aniston filed for divorce from Brad – had taken place at a private residence located in Rancho Mirage.  And that was it for me!  The next few hours were spent trying to track down the exact location of the property where my least favorite celebrity couple had posed for their 60-page spread.  Being that I can't stand either Brad or Angelina, I have no valid explanation as to why I became so darn determined to find the house.  All I can say is that when I get on a kick, I get on a kick and there's absolutely no stopping me.  So, I was completely overjoyed when I was finally able to pinpoint the location of the house, which is known as the Kenaston Residence in real life, and I made my fiancé stop there during our drive over to Palm Springs, before we even had a chance to check into our hotel.  Not kidding.  🙂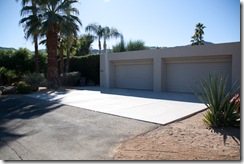 The Kenaston Residence was built in 1957 by mid-century modernist architect E. Stewart Williams for a Palm Springs resident named Roderick W. Kenaston.  Stewart Williams is perhaps best known for building Frank Sinatra's desert hideaway with the piano shaped swimming pool, which I stalked a couple of years ago and the Palm Springs Aerial Tramway's Mountaintop Station, which I have also stalked but have yet to blog about.  In 2003, after several different ownerships and re-models, a Los Angeles area art director and his wife purchased the Kenaston Residence and spent two years restoring it back to its original grandeur.  Sadly, out of the five Rancho Mirage area homes built by Stewart Williams, the Kenaston Residence is the only property that still looks the same today as it did when it was built.  The remaining homes have all either been altered or completely destroyed.  🙁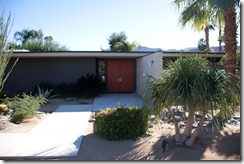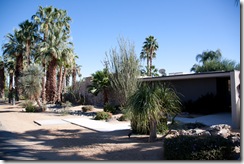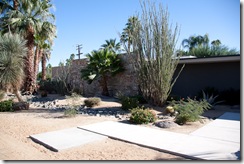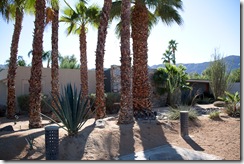 The U-shaped Kenaston Residence, which was built around a large square shaped swimming pool, features four bedrooms, 3.5 baths, over 5,000 square feet of living space, a media room, 50 palm trees!, a six car garage, an interior/exterior rock wall, a "floating fireplace", floor to ceiling glass walls, mountain views, concrete floors, and a 17 foot long living room planter.  The house was built on a half acre of land and Williams even had the remarkable foresight to situate the home facing North, so as to avoid the extreme desert temperatures.   Besides the Brangelina shoot, the Kenaston Residence has also been the site of photoshoots for Madonna, James Blunt, the band Coldplay and has been featured in Italian Elle, Luxury Living, The London Independent, and on Bravo Television.  In 2007, the home was sold to new owners for $2,350,000.  I swear, if I owned a house like that, I don't think I would ever be able to let it go.  Especially since, according to the previous owner, it earned at least $50,000 in photoshoot rental fees each year!  Cha-ching!  🙂  You can see interior photographs of the home from its 2007 real estate website here.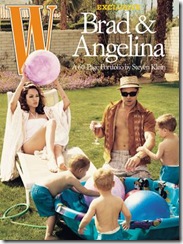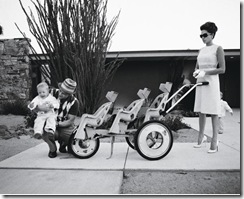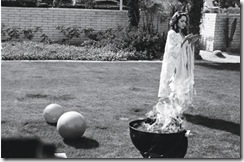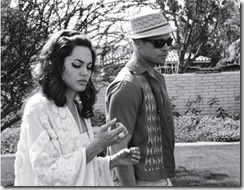 Brad and Angie's "Domestic Bliss" photo spread, which featured the couple and several children acting out scenes of an unhappy family life in the 60s, made use of the entire Kenaston Residence, both inside and out.  According to this article, because Pitt, who actually co-created and co-directed the shoot with photographer Stephen Klein, was "tired of celebrity portraiture and always up for an artistic 'jam sesh'"(UGH, gag me!), he came up with the unique idea of basing the spread on "unidentifiable malaise" in a marriage.  Speaking about what I can only assume was his union with my girl Jen, he said, "You don't know what's wrong because the marriage is everything you signed up for."  You honestly don't know what's wrong, Brad?  Um, I think your wandering eye might have had something to do with it!!  The duo's photo shoot took two full days to complete, during which time Angelina, who had brought along her then-only son Maddox, and Brad stayed in separate rooms at the Le Parker Meridien Hotel in Palm Springs.  So, I guess I am going to have to stalk the Le Parker in the near future, too.   Oh honey, I feel a trip to Palm Springs coming on!  😉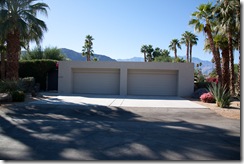 The property is actually quite unassuming and non-descript from the street.  One could easily drive right by, without realizing the rich architectural history that lies just beyond the home's walnut wood walls.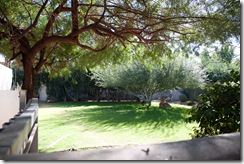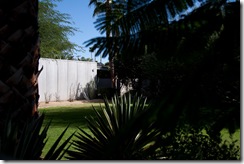 Amazingly enough, even though there is a large concrete wall surrounding the back of the property, much of the Kenaston Residence can still be seen from the street.  And because the surrounding wall is only about four feet tall, you can easily see into the backyard area, where the cover photo from Brangelina's W Magazine issue was shot, as well.   Love it!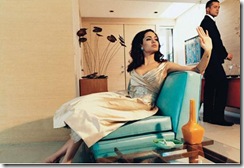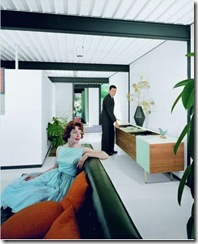 Interestingly enough, photographer Steven Klein's inspiration for the "Domestic Bliss" photo spread came from the photographs of legendary architectural photographer Julius Shulman.  One of the poses from the issue was almost a direct copy of a very famous photograph Shulman took of Case Study House #21, aka the Bailey House (pictured above).  I found this little bit of trivia out while doing some research on the Kenaston Residence and became absolutely fascinated by it, as I am a huge fan of Julius Shulman, who sadly passed away in July of this past year.  Those of you who read my blog regularly will remember the post I wrote about the tour of Case Study House #22 (aka The Stahl House) that I took in March of last year and Julius Shulman's iconic photograph which led me to stalk the house in the first place.
You can see the entire 60-page "Domestic Bliss" portfolio here.
Until next time, Happy Stalking!  🙂
Stalk It: The Kenaston Residence is located at 39-767 Desert Sun Drive in Rancho Mirage.  To get an overall view of the house, I would also recommend venturing  west on Mashie Drive and south onto Keenan Drive.  The Case Study House #21, upon which one of the Brangelina pictures was based, is located at 9036 Wonderland Park Avenue in Los Angeles.
15658