Welcome to the Very First Iamnotastalker and MovieShotsLA Filming Locations Contest!
Jan 23rd, 2010 | By
Lindsay
| Category:
This and That

Update:  Well, that was fast!  Fellow stalker Billy is the winner of our first ever contest!  Even though he has never seen an episode of SATC, he figured out the answer to our challenge in record time!  I really thought this was going to be a stumper, but I guess not!   Jenna's apartment building from 13 Going On 30 appeared in the Season 6 episode of Sex and the City  entitled "The Perfect Present".    In the episode, the girls walk by Jenna's building while on their way to Jennifer Coolidge's purse party.   Billy also figured out our bonus question – Jenna's apartment building was also used as the residence of Paul and Jamie on the series Mad About You.  Congratulations, Billy!   Mike and I will be hosting locations contests every month from now, so be on the lookout!  🙂
Our friends over at On Location Tours in New York City recently made the kind offer to donate a gift certificate good towards their popular Sex and the City Hot Spots Tour or Gossip Girl Sites Tour to be used as a prize if I ever wanted to host a contest.  Well, let me tell you, I got EXTREMELY excited after hearing this and immediately called up Mike, from MovieShotsLA, to see if he wanted to host a movie locations contest with me, which he, of course, did.  So, without further ado, welcome to the first ever Iamnotastalker and MovieShotsLA Filming Locations Contest!  🙂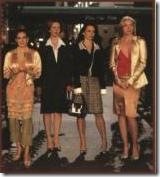 So, what does the challenge entail, you ask?  Well, a few weeks ago, while thumbing through fave book Sex and the City: Kiss and Tell, I noticed a photograph (pictured above) of Carrie and the girls standing in front of a building located at 51 Fifth Avenue, the very same building where Jenna Rink lived in fave movie 13 Going On 30.  (For those of you who own the book, the photograph is located on page 39.)   I cannot for the life of me figure out which episode of Sex and the City that particular still was taken from though.  So, your mission, should you choose to accept it: Find the episode of Sex and the City that featured 13 Going On 30 building.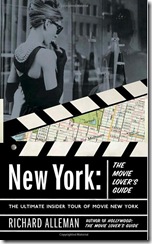 As a bonus – If you can figure out what hit 90's television series also used the 51 Fifth Avenue building as the dwelling of its two main characters, Mike and I will throw in a copy of fave stalking book New York: The Movie Lover's Guide by Richard Alleman, as well.  😉
Good luck, fellow stalkers!
And a big THANK YOU to On Location Tours for sponsoring our first ever contest event!  🙂
Until next time, Happy Stalking! 🙂
Stalk It: Send your guesses to Lindsay@iamnotastalker.com before February 6, 2010.  The On Location Tours gift certificate never expires, so you need not live in the New York area to enter – or win – the contest.  🙂
16369