The Standard Hotel Rooftop Bar in Downtown Los Angeles
Feb 2nd, 2010 | By
Lindsay
| Category:
Movie Locations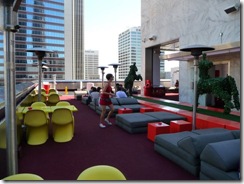 Another Fracture filming location that I recently stalked – without actually realizing it – was the Standard Hotel's Rooftop Bar in Downtown L.A.  I say "without actually realizing it" because at the time I stalked the place I had no idea it was a filming location.   I ended up there while on the way to the Los Angeles airport where I was dropping off my good friends from Switzerland who were flying home after a two week visit.  I thought it would be nice to stop for a cocktail at an L.A. hot spot before their flight took off and so I got to Googling, whereupon I found a myriad of websites all touting the amazing views that could be found at the Standard's rooftop watering hole.  So, we made a pit stop there before heading to LAX and, as fate would have it, the place turned out to be the PERFECT spot for my friends to bid their farewells to Los Angeles.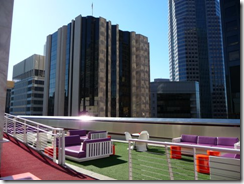 Downtown L.A.'s Standard Hotel opened up in May of 2002 and was the brainchild of famed hotelier Andre Balazs, the same man who gave us New York's Mercer Hotel, the original Standard Hotel in West Hollywood, and the updated version of Hollywood's legendary Chateau Marmont.  The twelve story building now known as the Standard was originally built in 1952 and housed the Southern California headquarters of Superior Oil.  The structure, which was designed by architect Claude Beelman, had stood vacant for over a decade when Balazs purchased it in 2000.  He left most of the original architectural details intact, including the two-story lobby area's stainless steel time zone clock which displays the times of 15 different countries and stands at over ten feet tall, the oil mining frieze located above the entrance doors, a pair of escalators (left over from when Union Bank of California occupied the building), the black and white marble flooring, and the original S-shaped door handles.  To that he added shag carpeting, an absolutely enormous digital wall hanging, a sunken lounge area, an outdoor fire pit, a 125 foot long couch designed by Vladimir Kagan, and a foosball table station situated next to the valet desk.  It's retro-modern decor at its finest!  The Standard's piece de resistance, though, is its 1,220 square foot Rooftop Bar, which features astro-turf, a heated swimming pool, outdoor sofas, a dance floor, numerous topiaries, vibrating waterbeds, movies which are projected onto the walls of neighboring buildings, red plastic "pod" gazebos, Verner Panton-designed furniture, a fab menu and a full bar.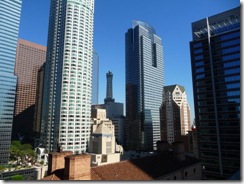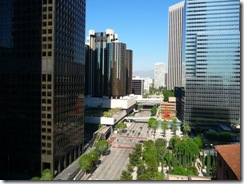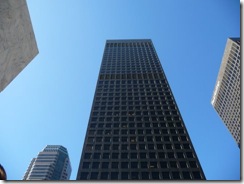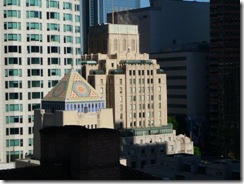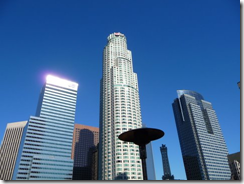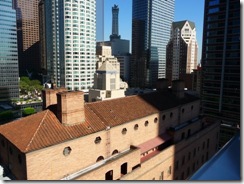 Oh, and did I mention the view?  Yes, the bar also features an absolutely breath-taking, awe-inspiring view of Downtown Los Angeles. 
So breath-taking and awe-inspiring, in fact, that it's almost impossible to do anything but stare out at the skyline while there.  The above photograph was taken of my friend Stephanie while at the bar and it perfectly encapsulates how one feels while visiting the place.  🙂   Of the hotel, Travel + Leisure Magazine said it is "Los Angeles like you have never seen it before."  My sentiments exactly!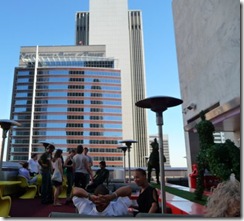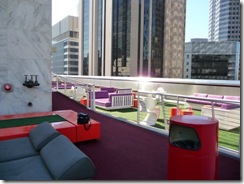 The Standard Rooftop Bar is such a unique spot that it became an almost immediate celebrity magnet.  Stars such as Owen Wilson, Charlize Theron, Leonardo DiCaprio, Tobey Maguire, Mark Wahlberg, Lara Flynn Boyle, Moby, Nicolas Cage, and Sophia Coppola have all been spotted hanging out there.  And I honestly can't recommend stalking the place enough!  Whether you're a native Angelino or a first-time visitor to Southern California, I can't think of a better place from which to enjoy the City of Angels.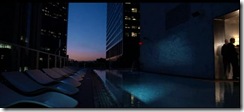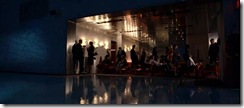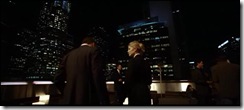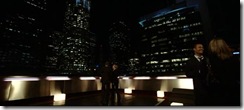 Due to its unique architecture and unparalleled views of the city, the Standard has become a frequent filming location.  In Fracture, the Standard's Rooftop Bar is featured very briefly as the spot where Willy Beachum (aka Ryan Gosling) meets up with Nikki Gardner (aka Rosamund Pike) after losing his court case against Ted Crawford (aka Anthony Hopkins).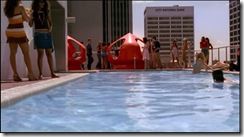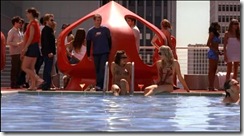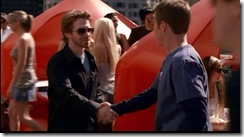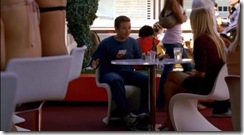 The bar was also featured in the Season 3 episode of Entourage entitled "Strange Days" as the spot where Eric Murphy (aka Kevin Connolly) meets up with Sloane's best friend Tori (aka Malin Akerman).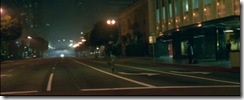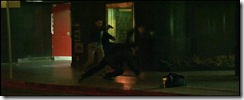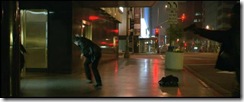 In Collateral, Jamie Foxx "borrows" a stranger's cell phone while out in front of the Standard's main entrance.  And last, but not least, the hotel was also where Robert Downey Jr. stayed in the 2005 movie Kiss Kiss Bang Bang, which I unfortunately don't own a copy of.
Until next time, Happy Stalking!  🙂
Stalk It: The Standard Hotel is located at 550 South Flower Street in Downtown Los Angeles.  You can visit their website here.
16734