Cole's Restaurant from "A Lot Like Love"
Feb 10th, 2010 | By
Lindsay
| Category:
Jennifer Aniston Locations
,
Movie Locations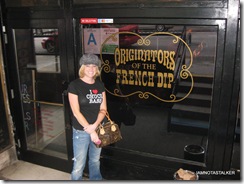 This past weekend I dragged my fiancé out to re-stalk Cole's Restaurant, a location that I originally blogged about way back in May of 2008.  I first learned about the old time watering hole while watching the DVD commentary for fave movie A Lot Like Love, during which one of the film's directors mentions that the New York bar scene featured at the beginning of the flick wasn't actually filmed on the East Coast at all, but at a historic little bar in Downtown Los Angeles named Cole's.  After doing a bit of online research I discovered that COUNTLESS movies had actually been filmed on location at the historic bar, so I, of course, immediately dragged my fiancé right out to stalk the place.  Sadly, though, upon arriving we were greeted by a sign announcing that the restaurant was closed for a massive renovation project.  🙁  And I have longed to stalk the place ever since.  So, since we were in the area this past weekend, I begged my fiancé to make a little pit stop there and, since he was hungry at the time, he happily obliged.  YAY!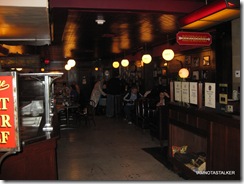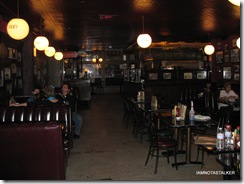 Cole's actually has a few other claims to fame besides being an oft-used filming location, including the fact that it is not only where the French Dip sandwich was first originated, but it is also the oldest continuously operating bar and restaurant in all of Los Angeles.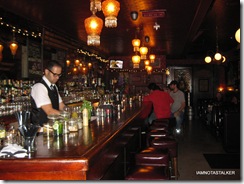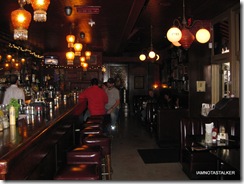 Cole's, which was originally known as Cole's P.E. Buffet, was first opened on December 8, 1908 by an entrepreneur named Harry Cole in what was once the main terminal of the Pacific Electric Building.  That very same year, Cole's main chef, a resourceful young man named Jack Garlinghouse, dipped the bread of a roast beef sandwich in Au Jus sauce in order to soften it for a customer who suffered from sore gums, and, thus, the French Dip sandwich was born.  Those sandwiches, and the restaurant itself, became extremely popular with the hundreds of thousands of commuters who traveled through the Pacific Electric Building terminal each day.  Twenty-five years later, in 1933, Cole's was still such a popular spot that on the day California nixed its ban on beer, the bar served up over 19,000 gallons of the stuff to its parched customers.  Yes, you read that right – 19,000 GALLONS in ONE day!  That same year, Harry Cole's son, Rawland, who was a bit of an entrepreneur himself, decided to start cashing checks out of the restaurant's back room and wound up giving out over $1,000,000 each month (and we're talking 1930's money!), which was a larger amount than any U.S. bank was giving out during that same time!  Cole's has also had a longtime celebrity following, attracting such notables as Mickey Cohen who was a regular there during the 70's and even had his own booth.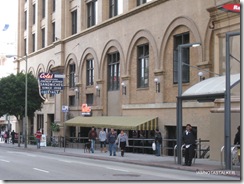 In 2007, Cole's was purchased by a Los Angeles area development company named 213 who subsequently began a year-long, $1.6 million restoration process on the historic restaurant, during which its 40-foot long mahogany bar, porcelain penny tile mosaic flooring, and antique Tiffany glass lamps were all brought back to their original glory.  The 213 company, which is headed by C.E.O. Cedd Moses, even added a "secret" bar in what was formerly Cole's storage room.  That secret bar is named "The Varnish" and it is so hidden, in fact, that I had absolutely no idea it was there until I read about it online after I got home.  🙁  For their restoration efforts of the legendary restaurant, 213 was awarded the Los Angeles Conservancy's Preservation Award.
Cole's specialty is, of course, its signature hand-carved, made-to-order French Dip sandwich which was originated on the premises one hundred and two years ago.  There's actually another L.A. area restaurant named Phillipe's also laying claim to that exact same feat and the dispute between the two establishments is almost as old as the sandwich itself.  But being that in 1974 the City of Los Angeles designated Cole's a Historical Landmark Site and a State Point of Historical Interest not only due to its significant location, but also to its culinary invention, I think it's safe to say that Cole's has won that battle.  🙂  Cole's French Dips can be constructed out of a variety of meats, including lamb, pastrami, turkey, and the typical roast beef.  They can also be adorned with extra meat, Swiss, cheddar, goat, or blue cheeses, and an "atomic pickle spear". I opted for a turkey French dip, sans the cheese and pickle, and I have to say it was absolutely A-MA-ZING!  The meat truly was hand-carved, right-off-the-turkey-type turkey and I loved every last bite of it.  What I loved more, though, was the historic aura of the place.  It was incredible to be sitting there, dining on my French dip, thinking about the fact that the very sandwich I was now eating had actually been created on the premises over a century ago.  Yes, I'll take my meal with a side of history, please.  😉  I think it goes without saying that I ABSOLUTELY LOVED Cole's and I honestly can't recommend stalking the place enough!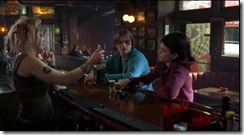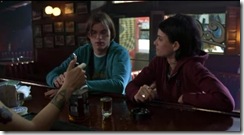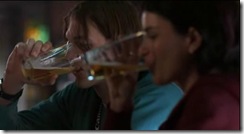 In A Lot Like Love, Cole's stood in for the New York bar where Oliver (aka Ashton Kutcher) and Emily (aka Amanda Peet) make a $50 bet that he won't be a successful married businessman in six years time.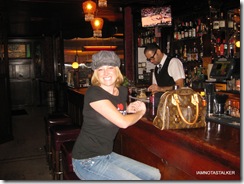 And I, of course, just had to eat lunch while sitting in the same spot where Ashton and Amanda sat in the flick.  🙂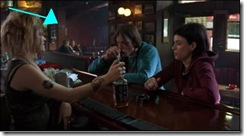 The side booth area that is visible to the left of Ashton in the above screen capture is no longer a part of Cole's.  It was closed off during the restaurant's recent remodel and is now a separately owned "secret" bar known as the Association.  Yes, there are two secret bars located on the Cole's premises!
The Association's unmarked front door is pictured above.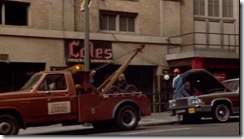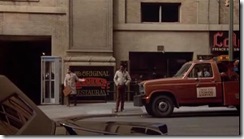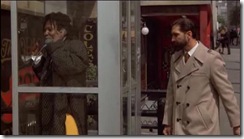 In Jumpin' Jack Flash – one of my all-time favorite movies EVER – Cole's once again stood in for a New York bar, this time as the place where Terri Dolittle (aka Whoopi Goldberg) gets kidnapped by a man in a tow truck while making a telephone call from a public phone booth.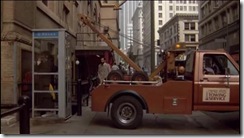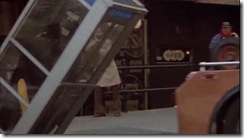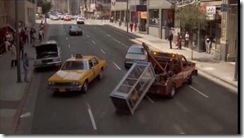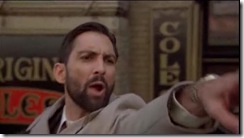 It is during this scene that Whoopi utters the infamous line "I am little black woman in a big silver box!"   LOL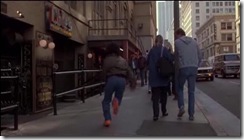 Towards the end of the movie, Whoopi once again runs by the restaurant on her way back to her office after escaping from the police.  Cole's is also talked about throughout the flick as the place where Whoopi and her pals hang out after work.  Ironically enough, back before my very first trip to the Big Apple, I spent HOURS using Google Street View to search New York for this location.  It wasn't until years later, when I stalked Cole's the first time after watching A Lot Like Love, that realized my mistake.  I can't believe I wasted so much time scouring New York for this location, when the whole time it was literally right in my own backyard!  😉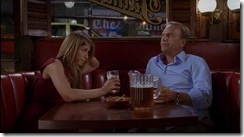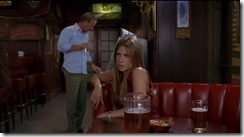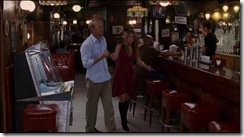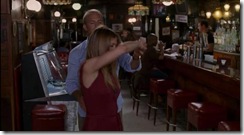 In Rumor Has It, Cole's stands in for the San Francisco bar named the Fillmore Pub, where Kevin Costner and my girl Jen Aniston share a dance.  Ironically enough, before I knew about Cole's, I actually spent quite a bit of time searching the San Francisco area for this spot!  Which means – you guessed it! – that I not only wasted countless hours searching for this location – not realizing it was the same place featured in Jumpin' Jack Flash – in New York, but in San Francisco, too.  LOL  Man, I'm such a blonde sometimes!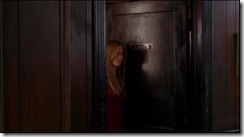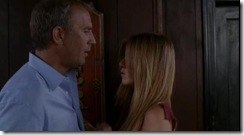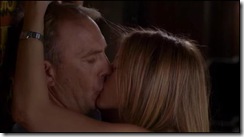 The scene where Kevin and Jen kiss outside of the ladies' room after their dance was really filmed in the bathroom area of Cole's, as well.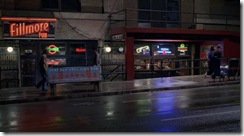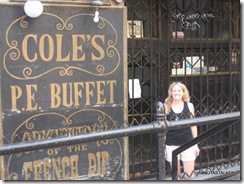 The exterior of the restaurant was also used in the filming of the scene, although they changed the signage to read "Fillmore Pub".  As you can see in the above photograph (which was taken during my first Cole's stalk) and screen capture, though, the signage used in the movie is an exact match to Cole's real life signage.  Love it!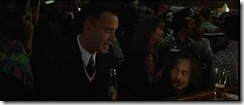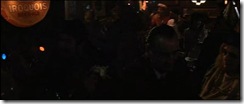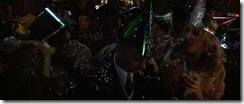 In Forrest Gump, Cole's yet again stood in for a New York watering hole.  It was used as the spot where Forrest and Lieutenant Dan spend New Year's Eve of 1971.  Sadly, though, not much of the bar is visible in that scene.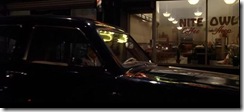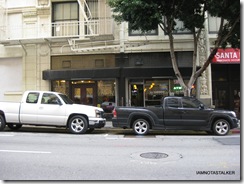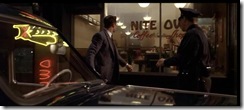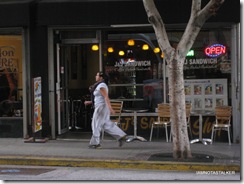 On a side note – Located directly across the street from Cole's is a little place named J &J Sandwich Shop, which is the restaurant which stood in for the Night Owl Cafe in fave movie L.A. Confidential.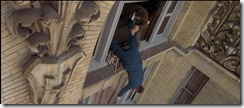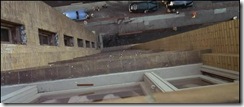 And located directly above Cole's is the ninth floor window from which Bud White (aka Russell Crowe) hung D.A. Ellis Loew (aka Ron Rifkin) in the same movie.
Cole's has also appeared in an episode of The X-Files, in numerous episodes of both Mad Men and NYPD Blue, and it flashed by very briefly in the 1991 movie Guilty By Suspicion. And, according to legend, the Terminal Bar from 1988's Who Framed Roger Rabbit, which was in actuality just a set, was based on Cole's.
Until next time, Happy Stalking!  🙂
Stalk It: Cole's is located at 118 East Sixth Street in Downtown Los Angeles.  You can visit their website here.
17140