Disneyland's Club 33
Feb 22nd, 2010 | By
Lindsay
| Category:
This and That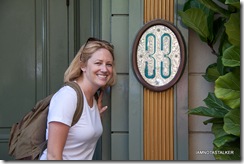 I must preface today's blog with an apology, as this is one post that is far too long overdue!  Well over six months ago – yes, I am talking about waaaaaaaaaay back in July of 2009 – my good friend and fellow stalker Kerry invited me to share in her birthday celebration at the Happiest Place on Earth, aka Disneyland.  But this wasn't just any ordinary birthday celebration as Kerry had magically secured us a reservation at the park's ultra-exclusive, members-only, virtually-impossible-to-get-into Club 33 restaurant.  For those non-Disney fanatics, unlike myself, Club 33 is the "secret", private, fine-dining establishment that Walt Disney had built inside of New Orleans Square.  To eat there one must either be a member (and there are only 487 of them at the present time) or know a member who would be willing to make them a reservation.  Like I said, it's virtually impossible to get in.  But, thankfully, Kerry doesn't know the meaning of the word impossible.  So when she called me up in early 2009 to tell me that she had made it a goal to spend her July 29th birthday at Club 33, I had no doubt she'd make it happen.  And, sure enough, she did!  Through a big-wig at ESPN whom she has known for years, she was able to secure a lunch reservation for 6 – Kerry and her husband, Jim, their friends Ken and Anita, who flew in from Washington for the occasion, and me and my fiancé.  And, let me tell you, I could NOT have been more excited as I had been dying to eat at Club 33 for just about as long as I can remember.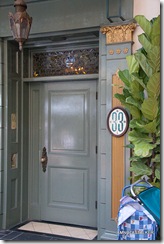 Walt Disney originally envisioned Club 33 as an elegant, but private sort of VIP lounge where he could entertain visiting dignitaries, movie stars, and Disneyland's corporate sponsors.   He was inspired to build the club after seeing similar such establishments at the 1964-1965 World's Fair.  Disney enlisted artist Dorothea Redmond to paint the original conceptual drawings of the club and then commissioned interior designer and former studio art director Emile Kuri to design and decorate the space.  Walt then traveled to New Orleans, along with his wife, Lillian, and designer Kuri, to purchase authentic Bayou-inspired decor and antiques to furnish his restaurant, which he dubbed Club 33.  There are varying reports as to how Walt came up with that name, the two most persistent being that the name was derived from the club's address – 33 Royal Street – and also that it was christened in honor of Disneyland's 33 original corporate sponsors.  No one has ever been able to say for sure, though, and the name remains one of the club's greatest mysteries.  Club 33 finally opened its doors in May of 1967.  Sadly, though, Walt never got to enjoy it, as he passed away five months prior to its completion.  His brainchild enjoyed immediate success, though, and fairly soon memberships were being offered.   As of 2007, the club had 487 registered members, all of whom belong either individually or through a corporation.  But, let me tell you, the cost of belonging is steep!  An individual membership has an initiation fee of $9,500 and annual dues of $3,175, while corporate memberships cost $5,925 in annual dues with a $20,000 initiation fee.  The only way a new membership opens up is when a current member drops out of the club, which rarely ever happens.  Rumor has it that people on the waiting list can expect to wait over 14 years before a spot becomes available!  Not kidding!  And sadly, the waiting list is currently at full capacity and is not accepting any new applicants.  Also not kidding!  And while not a filming location, because of its excellent food and shroud of secrecy, the club has long been a celebrity magnet.  Just a few of the stars who have dined there over the years include Barbra Streisand, Robert Wagner, Mickey Rooney, Sammy Hagar, Tom Hanks, Rita Wilson, Phoebe Cates, Fess Parker, Bernard Fox, Geena Davis, Mira Sorvino, Christopher Backus, Elton John, Arnold Schwarzenegger, Tommy Smothers, Michael Eisner, John Lasseter, Mike Ness (from the band Social Distortion), Shaquille O'Neal, Kobe Bryant, Kevin Kline, and Buddy Ebsen.  Club 33's most famous guest, though, has to be none other than the King of Pop himself, Michael Jackson, who was a frequent visitor.  🙂  The entrance to Club 33 (pictured above) consists of a non-descript grey door sandwiched between the Blue Bayou Restaurant and the Le Specialty Gourmet Shop.  One could easily walk right past it without knowing anything was there.  Save for a mirrored plate featuring the Club 33 logo and two tiny gold speaker boxes, the entrance is largely unmarked.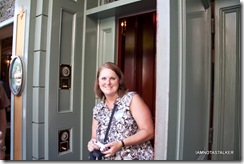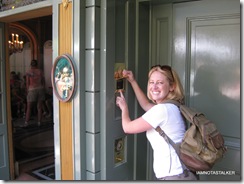 And, let me tell you, we were just about dying of excitement as we walked up to it!  🙂  To gain access to the club, one must press a button on the top gold speaker box located to the left of the front door and speak the name of the person who holds the reservation.  No sound will come back to greet you, but if your name is on the hostess' list, the grey door will magically open.  The whole thing is very hush-hush and reminded me of what a speakeasy must have been like back in the day.  🙂  Apparently at one time, members would simply slip their membership cards through a little slot located in the speaker box to gain access to the club, but that is no longer the case.   Pictured above are both me and Kerry at the front door.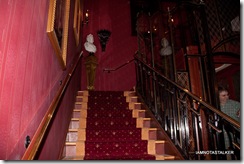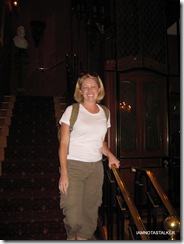 Just beyond the entrance door lies a tiny lobby area lobby whereupon one checks in and is given the option to either use the wraparound staircase to access the club's second floor . . .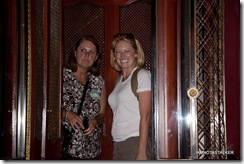 . . . or to take a ride in the famous antique glass elevator, which Walt had built in exact replication of one he had seen in a Parisian hotel.  Kerry and I, of course, opted to take the elevator.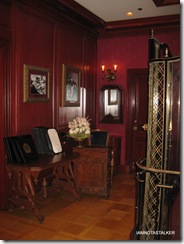 I just about died when we got up to the second floor as the place is absolutely beautiful inside.  Club 33 has a very old-Hollywood feel to it, with dark wood flooring, deep red walls, antique wall sconces, wooden chandeliers, and ornate detailing throughout.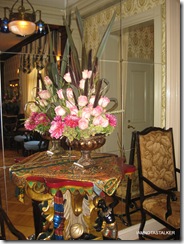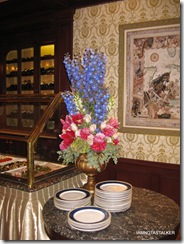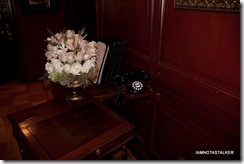 And there are arrangements of fresh flowers literally everywhere you look!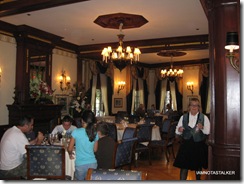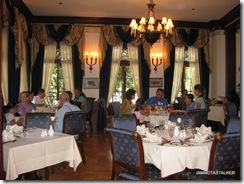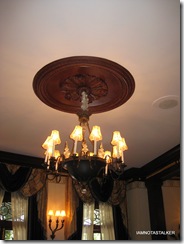 Once we reached the second level landing, the hostess led us to our table.  The club is made up of two eating areas, the first of which is known as the Main Dining Room and it features carved wooden chandeliers . . .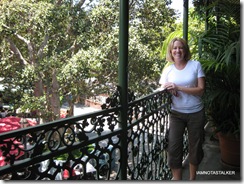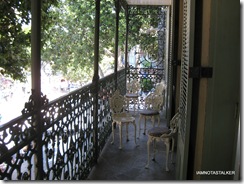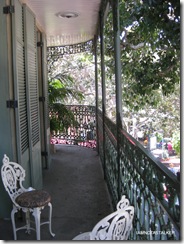 . . . and a private balcony area which overlooks New Orleans Square and the Rivers of America.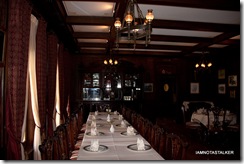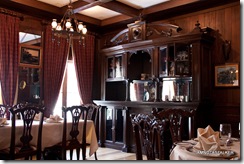 The second dining area is Club 33's legendary Trophy Room, which is where we got to eat.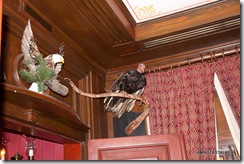 The Trophy Room is famous thanks to the fact that Walt originally envisioned it to have an array of animatronic creatures on display, all of whom would be able to hold conversations with his guests, thanks to the use of hidden microphones and an actor who would be voicing the animals from inside the confines of a hidden sound booth.  And while his plan never saw fruition, an animatronic vulture from Walt's original design is still on display in the Trophy Room to this day, although it sadly does not talk to the Club 33 patrons.  😉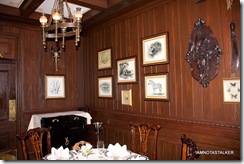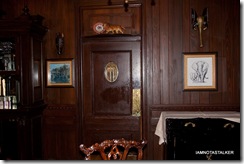 The Trophy Room is richly decorated with cypress wood walls,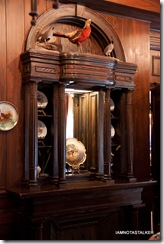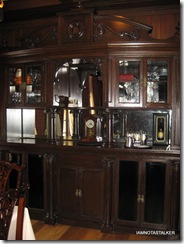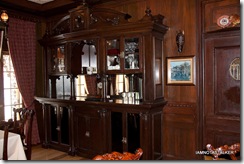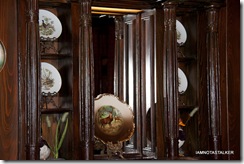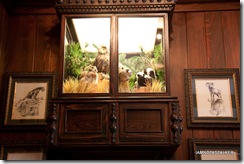 large and ornately carved display cases,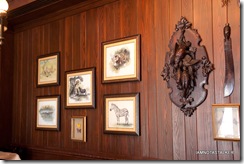 original Disneyland concept drawings,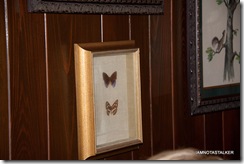 and a few pieces from Walt's wife Lillian's butterfly collection.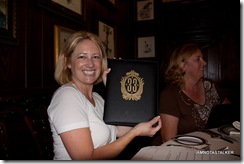 The 33 logo is present on pretty much everything at the club, from the menus,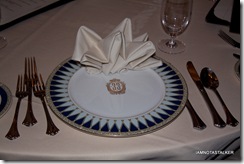 to the china,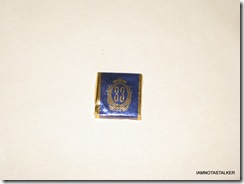 to the post-meal mints.  And, let me tell you, Kerry, Anita, and I pretty much wanted to take home anything and everything that featured that logo.  We even stuffed a few Club 33 cocktail napkins in our purses.  😉  Not kidding!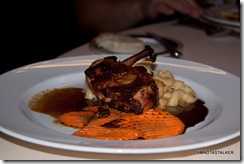 A meal at Club 33 costs about $100 per person when all is said and done, but along with a reservation comes free admission to both the Disneyland and California Adventure theme parks, so the meal pretty much pays for itself.  🙂  From what I hear, Club 33's lunch menus are changed seasonally, but usually consist of five different dining options, all of which cost the same amount.  I opted for the certified organic free range chicken with truffled mac & cheese.  And, let me tell you, it was A-MA-ZING!  Especially the mac & cheese!!!!!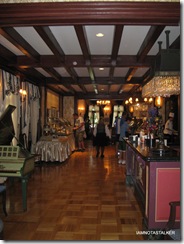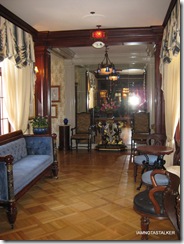 But before our meals were served, we were instructed to graze at the club's amazing buffet.  Pictured above is the hallway which leads to the buffet room . . .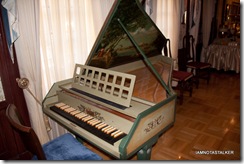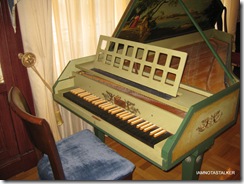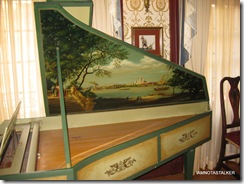 . . . which is where the famous harpsichord that was custom made for Lillian Disney is displayed.  The harpsichord, which is trimmed in real life gold leaf and features a Disney artisan hand-painted picture of New Orleans Harbor circa the Nineteenth Century, is in working order and may be played by guests of the club.  According to several of the staff members I spoke with, Elton John even played an impromptu performance on it once.  Love it!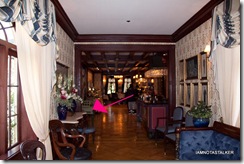 Also on display in the hallway is a table that appeared in the movie Mary Poppins, but unfortunately I didn't get a great picture of it.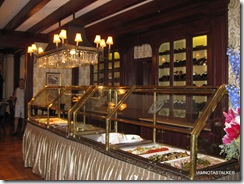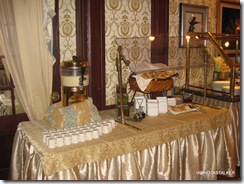 Club 33's extensive buffet consists of a salad bar, a fresh fruit and imported cheese bar, a shellfish and oyster bar, and a freshly baked bread and cold cuts bar.  And I swear I could have dined on just the buffet items and been happy as a clam!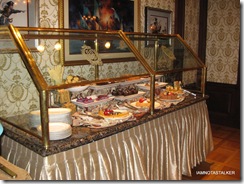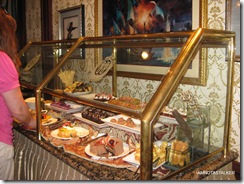 Oh, and did I mention there's also an all-you-can-eat dessert bar, as well?  Diners are even invited to partake in the desert bar before their meal is served, if they're so inclined.  LOVE IT!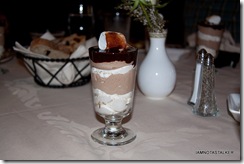 Club 33's most famous desert is its S'mores martini, which is, unfortunately, only available on certain days of the week.  And even when it is available, only a select few are made and once they run out, they run out.  So, when we arrived at the club, Kerry, Anita, and I immediately headed over to the desert bar to snatch up a martini.  Sadly, though, once there we discovered that we were dining on a non-martini day.  But being that this was Disneyland –  purveyor of the finest customer service in the world – once our waitress heard how disappointed we were over the lack of S'more martinis, she ran directly to the kitchen and had a batch made up especially for our table!  How incredibly cool is that????  And I have to say that they also were pretty A-MA-ZING!  In fact there wasn't a single item served at the club that wasn't A-MA-ZING!  I literally could have gorged myself there all day!  In fact, being that our meal took over two and a half hours from start to finish, by the time I had finished my desert and had carefully documented the entire place in photographs, I could have easily sat back down to do it all over again.  LOL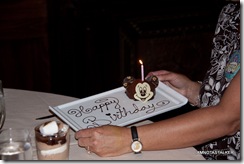 Oh, and because it was her birthday, Kerry even got a special Mickey Mouse desert.  🙂  Love it!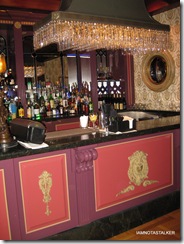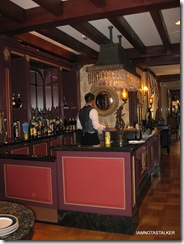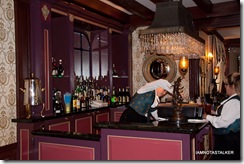 Club 33 also has a full bar and is, in fact, the ONLY place in Disneyland that serves alcohol.  So, I, of course, had to partake in a glass of champagne while there.  🙂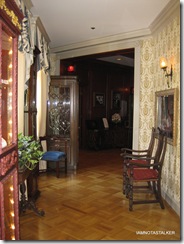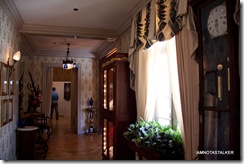 Just around the corner from the bar is the club's foyer area,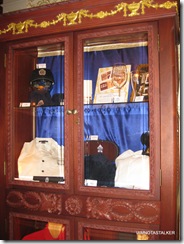 which features the famous Club 33 display case where various items featuring the Club 33 logo are for sale.  Said items can only be purchased at the club – or on eBay, of course – and because of that are pretty hot commodities.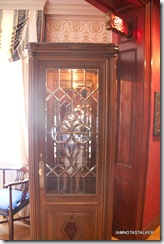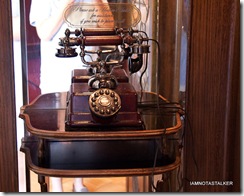 Also on display in the foyer is the antique glass phone booth which was used in the 1967 Disney movie The Happiest Millionaire.  The phone is in working order and is available for use by Club 33 guests.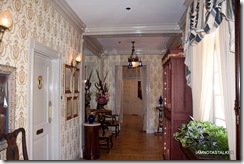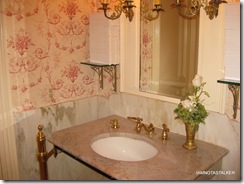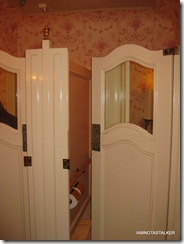 And, of course, I just had to take a few pictures of the women's restroom, as well.  😉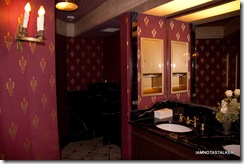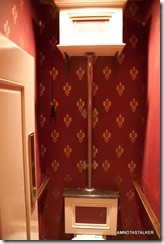 And yes, I sent my fiancé into the men's room with camera in hand, too!  🙂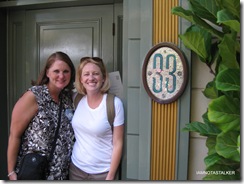 My experience at Club 33 was nothing short of magical and was a definite once-in-a-lifetime!  As the Disneyland Encyclopedia states, "There's never been a mention of Club 33 in any of the park's souvenir books, naturally, and while people may have heard of it and even more have unknowingly walked right by the entrance, only a very few will ever be able to say they've been inside."  Thanks to my good friend Kerry, I am now one of those very few.  🙂  Can't THANK YOU enough, Kerry!  🙂
Until next time, Happy Stalking!  🙂
Stalk It: Club 33 is located at 33 Royal Street, in between the Blue Bayou Restaurant and Le Gourmet Specialty Shop, in the New Orleans Square area of Disneyland.  Sadly, the club is private and not open to the public.  For further Club 33 reading, be sure to check out the unofficial Club 33 website.
17596