Sierra Towers – Brody Jenner's Building on "The Hills"
Mar 5th, 2010 | By
Lindsay
| Category:
The Hills Filming Locations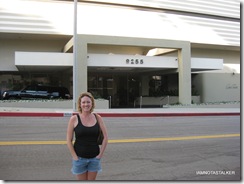 A few weeks ago, while out doing some stalking with my fiancé in West Hollywood, I made a little pit stop at the place where Brody Jenner is shown to reside on fave reality show The Hills, a West Hollywood building which is known as the Sierra Towers.   I found this location once again thanks to fellow stalker Virginie who, being that she also managed to track down Spencer and Heidi's new house and Kristin Cavallari's beach abode, has proven to possess some absolutely mad Hills stalking skills!  My hat is most definitely off to you, Virginie!  🙂  As us die hard Hills stalkers are well aware of, though, MTV has been known to pull the wool over its viewers eyes when it comes to the various cast residences shown on the series.  So, while the Sierra Towers building is definitely the place shown for the establishing shots of Brody's residence on The Hills, I can't say for certain that the reality star actually lives there.  According to this Los Angeles Times article, in March of 2007 Brody leased an apartment in the Villa Malibu complex in Malibu, so its quite possible he may still live there.  But regardless of whether Mr. Jenner is a resident of Sierra Towers or not almost seems to be entirely beside the point, since the building's registry reads like a who's who of Hollywood.  Pretty much anyone who's anyone in this town has called the place home at one time or another.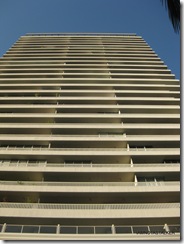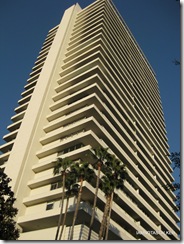 The 32-story Sierra Towers, which was built in 1964 by architect Jack A. Charney, originally consisted of apartments and was called the Spoon Apartment Building.  The complex was converted into condominium units at some point thereafter – I am unsure of the exact date –  and, due to its exclusivity, proximity to Hollywood, and many upscale amenities, became an almost immediate celebrity magnet.  In fact, so many notables currently live in the building that paparazzi are pretty much a constant presence there.  In recent years, the Sierra Towers has been given a new hipster image thanks to a savvy real estate agent named Russ Filice.  Just a few of the amenities that the building currently boasts include maids quarters, a ballroom, a catering kitchen, a gym and a spa with his and her locker rooms, a swimming pool, and a 24 hour support staff made up of porters, valets, doormen, and security guards.  And I can personally attest to the fact that the Sierra Towers security is pretty darn tight, as they were keeping a VERY close eye on my fiancé and I while we were snapping pictures of the place from across the street.  There are currently 148 separate units in the building, six to a floor, each of which features its own eight foot wide balcony, floor to ceiling windows, and sweeping views of the Los Angeles skyline.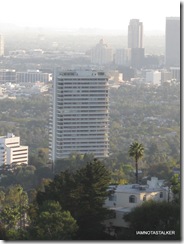 As you can see from the above photographs which were taken from a lookout point on North Doheny Drive, Sierra Towers is the tallest building in its vicinity, so its views are pretty much unparalleled.  Can you even imagine living in a place like that?  Sigh!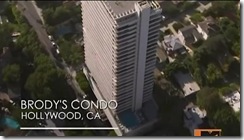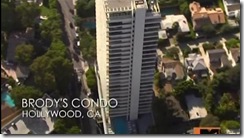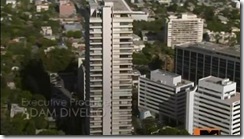 The exterior of the Sierra Towers building pops up pretty much weekly on The Hills,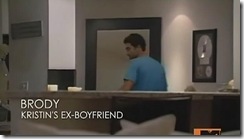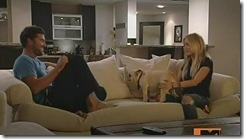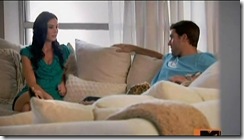 but if you compare the interior of Brody's apartment, which is shown above, to these photographs of a real life Sierra Towers unit, the two don't seem to match.  From what I've been able to discern by looking at photographs of various Sierra Towers units online, most of the condos boast floor to ceiling glass walls, a feature which Brody's apartment doesn't seem to have.  So, I am fairly certain that the interior shots of his residence were filmed at another location altogether.  Besides The Hills, the Sierra Towers building has also appeared in several episodes of the reality show Million Dollar Listing.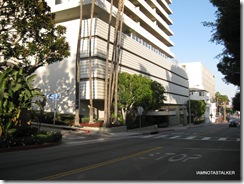 And now on to the Sierra's famous celebrity residents!  😉  Just a few of the notables who have called the building home over the years include Matthew Perry, Elton John (you can see pictures of his unit here), Kate Moss, Joan Collins, George Hamilton, David Janssen, Diahann Carroll, Nino Tempo, fashion designer Edith Flagg, Julian Burke, PJ Harvey, Peter Morton, Jim Morris, Rachel Zoe, Fred Durst, Evander Holyfield, David Geffen, Peter Lawford, Jack Webb, Lindsay Lohan, Vincent Gallo, Patty Duke, Rhonda Fleming, Donald Ayres, Michael Milken, Vickie Morgan, Sidney Poitier, Tawney Kitaen, Bill Shoemaker, and Cher.  Phew!  That's quite a list!  The building is so famous, in fact, that there is not only a Wikipedia page dedicated to it and its many famous residents, but a Facebook page, as well!  And being that in 2006 Variety Magazine proclaimed the building to be one of the most expensive in all of Los Angeles, costing a whopping $2,000 per square foot, you pretty much have to be a celebrity to live there!  You can see a more detailed list of the building's residents, both past and present, on my good friend and fellow stalker E.J.'s website, The Movieland Directory.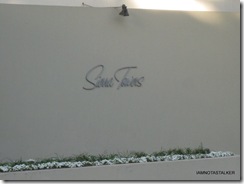 Big THANK YOU to Virginie for finding this location!  🙂
Until next time, Happy Stalking!  🙂
Stalk It: Sierra Towers, aka Brody Jenner's condo from The Hills, is located at 9255 Doheny Road in West Hollywood.  You can visit the building's website here.
18052