The (Possible) Cafe from Michael Jackson's "Beat It" Video
Mar 12th, 2010 | By
Lindsay
| Category:
Michael Jackson Locations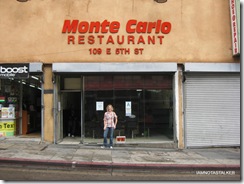 [UPDATE – The Monte Carlo Restaurant is NOT where "Beat It" was filmed.  The iconic video was actually shot at the Special Café, located just a few blocks away.  You can read all about it here.  Even though this post contains erroneous information, I am leaving it up as it chronicles an important part of the long, arduous journey my fellow stalkers and I embarked upon to track the locale down.]
For months now, it seems, Mike, from MovieShotsLA, and I have been trying to track down the diner which briefly appeared in Michael Jackson's iconic music video for his 1983 hit song "Beat It".  Being that the video was produced well over 25 years ago in a part of L.A. that is rapidly changing, this proved to be one rather difficult stalking venture.  Even though we knew that "Beat It" was filmed in its entirety in Los Angeles' Skid Row area, finding the exact locations used so long after the fact was literally like trying to locate a needle in a haystack.  At one point I even went so far as to email Bob Giraldi, who directed the video, to see if he could provide me with any location information, but he, unfortunately, never wrote back.  Not usually one to give up, I actually thought our hunt was pretty much dead in the water, until last week when I mentioned the quest to my friend and fellow stalked David who lives in Spain.  David is a huge, longtime MJ fan and I thought he might be able to provide some insider insight as to where the video was filmed.  And, as fate would have it, he did!  David mentioned that he had just purchased a book named Michael Jackson:  Before He Was King written by photographer Todd King.  At the very end of the book there is a photograph of MJ inside of the "Beat It" cafe, the caption of which states that it was taken at a real life diner on Fifth Street in what David said was the "Five Cents" area of Los Angeles.  Well, I mentioned that info to Mike while we were out stalking this past Friday and, after first stopping by the set of CSI: Miami and then the Academy Awards red carpet, the two of us immediately headed over to Downtown L.A. in search of that cafe!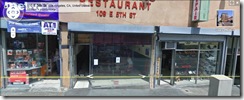 Even though Mike was born and raised in Los Angeles, he was unfamiliar with the area which David had described as being called "Five Cents".  I, too, had never heard that term used before.  Mike eventually called up one of his friends who works for the LAPD to see if he could point us in the direction of Five Cents, L.A., but he, too, was at a loss.  It was at that point that I figured out that something might have gotten lost in David's translation of the photo's caption and so I got to Googling on my blackberry.  As it turns out, the place the caption had been referring to is a small section of Fifth Street in Los Angeles' Skid Row, a part of town which has long been dubbed "The Nickel", or in other words five cents.  🙂   Once that little mystery was solved, Mike and I headed over to Skid Row and proceeded to walk around the area.  I should mention here that I have always been a bit of a skittish person.  I don't like venturing into "bad" or dangerous parts of town and I am literally afraid of my own shadow.  So, because it was already getting dark when we arrived in Skid Row, an area which can be a bit sketchy even during the day, I told Mike that as much as I wanted to find the cafe, we'd have to come back at a later date – preferably during daylight hours.   I was highly disappointed that we had to turn around after coming so close to locating the restaurant, so when I arrived home I immediately got to cyberstalking Skid Row.  Well, let me tell you, I just about had a heart attack when I saw the above pictured Google Street View image of the Monte Carlo Restaurant appear on my screen.  With its curved countertop and half green/half cream colored walls, I was fairly certain that I had found the "Beat It" cafe.  And, of course, the very next day I dragged my fiancé right out to stalk the place.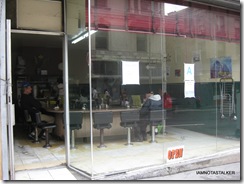 As soon as I walked through the doors of the Monte Carlo Restaurant, with my camera in hand, one of the patrons asked if I was visiting the place because it had been featured in "Beat It".  Well, let me tell you, I just about fell over!  I asked her how she knew it had been used in the video and she said it was pretty common knowledge in the neighborhood.  I couldn't believe that here I had spent MONTHS searching for the location and all the time it had been "common knowledge" to some.  She then called the owner over so that I could ask a few questions.  And while the owner hardly spoke English, she did confirm to me that Michael Jackson had filmed a video there "over twenty years ago".   Twenty-seven, to be exact.  The owner told me she has had the restaurant for over thirty years and that she was there the day filming took place, but said she didn't get to meet Michael.  🙁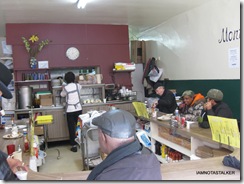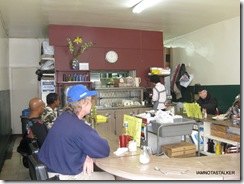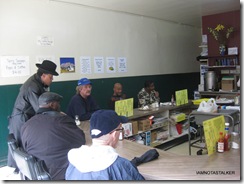 While I had always hoped that I would someday be able to track the "Beat It" cafe down, never in my wildest dreams did I EVER think that twenty seven-years later the place would still look EXACTLY the same.  So, you can imagine how floored I was to discover how little of the restaurant had actually been changed since 1983 when the video was filmed.  There are, of course, some differences, such as the fact that the front doors have changed, the counter has been cut in half lengthwise, and a false wall has been added to the back of the cafe, hiding the kitchen area.  Other than those minor alterations, though, the Monte Carlo Restaurant still looks almost exactly as it did in "Beat It".   YAY!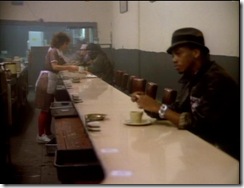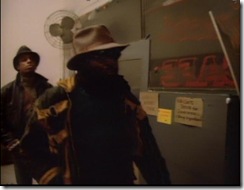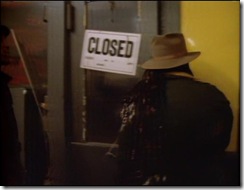 When I got home, though, and started to watch "Beat It" more closely, some doubts about the location were raised in my mind.  The video, or short film as Michael liked to call it, opens up in the diner where two gang members, while eating, hear word of a scuffle and immediately head out the door so that they can join in the fight.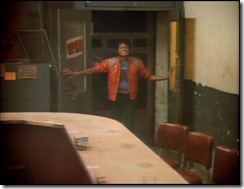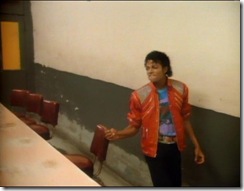 Later on in the video, Michael enters the diner, which is now empty, and does a little dance before the scene cuts to him getting jiggy with it in a pool hall.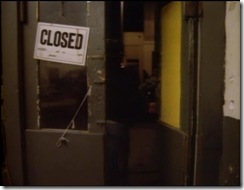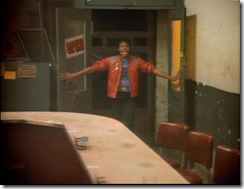 As you can see in the above screen captures, though, what started to confuse me was the fact that building which appears in the background when the gang members are shown exiting the cafe does not match the building which appears in the background when Michael is shown entering it.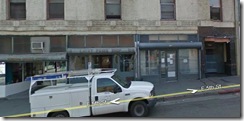 And neither building matches the one that is located across the street from the diner in real life.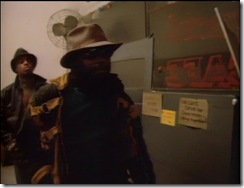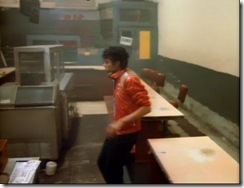 It also appears that the window which the gang members walk by on their way to the diner's front door is flat, while the window that appears behind Michael is popped out.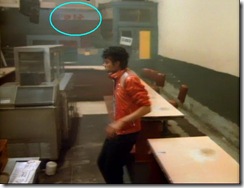 And, there is also an address number of "416" visible in the background behind Michael in the above screen capture, which doesn't match the 109 address number of the Monte Carlo Restaurant.  So now, it seems, I am even more thoroughly confused than I was before I tracked the place down.  LOL   I thought of a few different explanations, though, which might clear up the contradictions.  One – it might just be a coincidence that the Monte Carlo Restaurant bears such a strong resemblance to the "Beat It" cafe and the owner and patrons were simply lying to me about it being used in the video.  Although, I am not sure what reason the owner would have for lying, other than to drum up business, which seems unlikely to me.  If she really wanted to do that, why not just hang a sign in the window touting the restaurant's famous history?   Another option is that the Monte Carlo moved from one location on Fifth Street in Downtown L.A. to another and that the original dwelling was where the video was shot, which would account for both the change in address numbers and the difference in buildings located across the street.  That scenario also seems highly implausible, though.  Another explanation still – fellow stalker Chas from the ItsFilmedThere website recently tracked down the pool hall which appeared in "Beat It" [that will be Monday's post :)], which, as fate would have it, was also a cafe located on Fifth Street in Downtown Los Angeles, so it's entirely possible that photographer Todd King was mistakenly talking about that location when describing the photograph he had taken in the diner.  Which would mean that the diner might not actually be located on Fifth Street at all and that I am right back at square one.  I am really hoping that option is not true.  A fourth possibility is that part of the video was filmed at the actual Monte Carlo Restaurant and then the interior was later recreated on a soundstage for some re-shoots, which would explain the differing buildings seen in the background behind the gang members and Michael.  And yet another option still is that the owner of the Monte Carlo Restaurant was such a fan of MJ that she opened up a diner on the same street where "Beat It" was shot and then modeled her cafe after the one in the video.  But being that there wasn't a single solitary MJ photograph on the wall or a piece of MJ memorabilia in the place, that last scenario is also pretty doubtful.  And finally, it's entirely possible that director Bob Giraldi had set dressers add the "416" to the front window as decoration, but somehow that just doesn't seem likely. So, if I'm so unsure about the Monte Carlo Restaurant, why write this post at all, you ask?  Well, I just can't get past the fact that the restaurant looks so incredibly similar to the "Beat It" cafe or the fact that both the patrons and the owner told me that it was, in fact, the diner used in the video.  I am hoping that someone out there will know more about the filming of "Beat It" and will either be able to confirm where it was shot or at least point me in the right direction.  So, I am putting it to you, dear readers.  What are your thoughts on the matter?  Am I right to be in doubt or am I just seriously over-thinking the issue?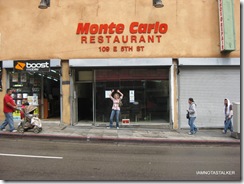 And whether the Monte Carlo Restaurant was the actual "Beat It" cafe or not, I just had to do a little MJ dance while there.  🙂
Until next time, Happy Stalking!  🙂
Stalk It: The Monte Carlo Restaurant, aka the probable "Beat It" cafe, is located at 109 East Fifth Street in Downtown Los Angeles.  The cafe is just on the outskirts of skid row, so while it is safe to stalk it during daylight hours, I can't really recommend going there at night.
18301