Marilyn Monroe's Former Doheny Drive Apartment Building
Mar 22nd, 2010 | By
Lindsay
| Category:
Celebrity Homes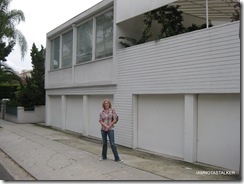 Another day, another Marilyn Monroe location.  🙂  Last month, fellow stalker and major Drew Barrymore aficionado Ashley, from The Drewseum website, tipped me off to The Marilyn Monroe Collection Blog which had just published a post about an apartment building where my girl had lived at two separate times during the 1950s and 1960s. Amazingly enough, for whatever reason, I had never heard of that particular apartment building in relation to Marilyn Monroe before and I immediately added the address to my list of must-see locations!    So, while were out in Hollywood doing some Oscar Weekend stalking earlier this month, I finally dragged my fiancé right over to Doheny Drive in Beverly Hills to stalk Marilyn's former residence.  YAY!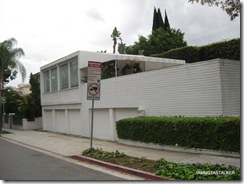 I was especially excited to stalk this particular former residence of Marilyn's because The Marilyn Monroe Collection Blog had posted a photograph of the actress which had been taken while she was parked in front of the building!  So darn cool!  As you can see in the photographs above, while there have definitely been some changes to the property since the picture of MM was taken – including the addition of garage doors and the removal of the vent-like structures above the carport area – the building is still very recognizable from the time when the actress lived there.  Love it!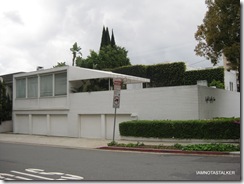 Marilyn first moved into the Doheny Drive apartment building, which had been constructed just one year prior, in 1953 and lived there for about a year before marrying baseball legend Joe DiMaggio on January 14, 1954.  The actress, who was already wildly popular at the time thanks to starring roles in both Niagara and Gentleman Prefer Blonds, lived in Unit #3 of the building, a one bedroom, one bathroom dwelling which measured a scant 648 square feet!  It is incredibly hard to imagine one of the world's most popular movie stars living in such tiny digs, but she must have liked the place because in April of 1961, after her divorce from playwright Arthur Miller was finalized, the actress left New York and once again leased the very same unit in the very same building.  She stayed there until March of 1962, at which point she moved into the Brentwood area home she had purchased a few months prior, the same home in which she would sadly pass away on the night of August 4th, 1962 (or in the early morning hours of August 5th, 1962, depending on which report you believe).   Marilyn's former apartment building is now a made up of individually owned condominium units.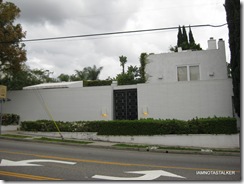 According to my buddy E.J. over at The Movieland Directory, Marilyn's former building, the front entrance of which is pictured above, is no stranger to celebrity.  Other stars who have lived on the premises include actor James Coburn, pinup girl Jeanne Carmen, French actress Bella Darvi, and actress Viola Mertz.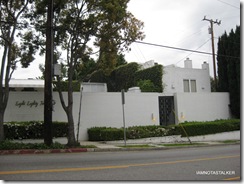 Big THANK YOU to Ashley from The Drewseum for tipping me off to this location!  🙂
Until next time, Happy Stalking!  🙂
Stalk It: Marilyn Monroe's former apartment building is located at 882 North Doheny Drive in Beverly Hills.  The actress lived in unit #3.
18495