Marilyn Monroe's Childhood Orphanage
Mar 23rd, 2010 | By
Lindsay
| Category:
Marilyn Monroe Locations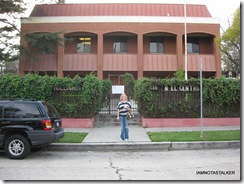 It's shaping up to be Marilyn Monroe week here at iamnotastalker, because here I am yet again blogging about yet another location relating to the late actress.  Thanks to the "Movie Star Homes and Notorious Crime Scenes" map that Mike, from MovieShotsLA, purchased for me while the two of us were out and about doing some Oscar Weekend stalking earlier this month, we were able to visit the famous Hollygrove Home for Children, the orphanage where a young girl named Norma Jeane Baker spent twenty-one formative months of her childhood.  For some particularly odd reason I had always been under the incorrect assumption that Marilyn's childhood orphanage was located in the Van Nuys area, so when I found it's Hollywood address on my new star map, I was absolutely elated and begged Mike to drive right over there so that we could stalk the place.  As fate would have it, Marilyn's former orphanage is located a scant seven blocks away from Tom Kelley's Photography Studio – the spot where she would later take her now infamous nude calendar photos in 1949 – which I blogged about on Friday.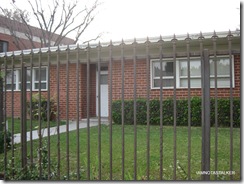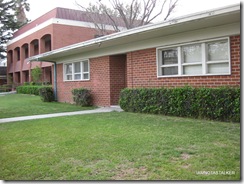 In December of 1934, Marilyn's mother Gladys, who had long suffered from mental illness, had a complete emotional breakdown and was committed to an asylum.  Her eight year old daughter, Norma Jeane Baker, was sent to live with Grace McKee, her mother's best friend, whom Marilyn soon nicknamed "Aunt Grace".  Aunt Grace cared for the young girl for about a year until she lost her job with Columbia Pictures and could no longer afford to do so.  On September 13, 1935, she was forced to bring Norma Jeane to the Los Angeles Orphans Home Society – Hollygrove's original name – where she became the orphanage's 3,463rd ward.  Marilyn stayed at Hollygrove on and off for a period of almost two years, during which time she was also shuttled between no less than nine different foster homes.  She left the orphanage for good on June 12, 1937, at which time she moved back in with Grace McKee where she remained for about a year before being shuttled off to yet another family member.   And while some Marilyn biographies stipulate that the star played up her sad upbringing as part of her Hollywood persona and did not really live in quite as many foster homes as she led people to believe, spending any part of one's childhood in an orphanage constitues a "Hard Knock Life" in my eyes.  It's amazing to think of what she was able to do with her life after surviving such a tumultous beginning.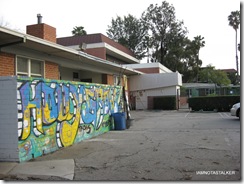 As legend has it, the window of Marilyn's orphanage dormitory, which she shared with 26 other girls, looked out upon the former RKO Studio's water tower and led to her dreams of someday becoming a world famous movie star.  One of my all-time favorite quotes from the actress reads, "I used to think as I looked at the Hollywood night, 'There must be thousands of girls sitting alone like me, dreaming of becoming a movie star.  But I'm not going to worry about them.  I'm dreaming the hardest.'"  Love it!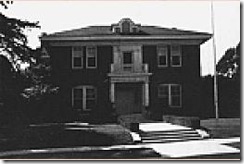 The Los Angeles Orphans Home Society, which changed its name to the Hollygrove Home For Children in 1957, was originally founded in 1880 in Chinatown and was L.A.'s very first orphanage.   It moved to its current location in Hollywood a few years later where it served as a home for displaced children for over 125 years.  In 2006, Hollygrove transitioned from a residential center for abandoned children to an "EMQ Families First Agency", which, as far as I've been able to discern, is an outpatient treatment center for young child abuse victims.  Sadly, as you can see in the above photographs, the property looks much different today than it did in the '30s when Marilyn lived there.  You can read a more detailed history of the former orphanage here.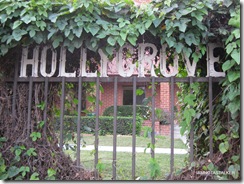 I am very happy to report that the old Hollygrove sign in still in place, though, which was incredibly exciting for me to see in person.
  If you look closely in the above photographs, you will see that someone even went so far as to spell out "Norma Jeane" on the bottom part of the Hollygrove letters.  So darn cool!  🙂  While we were stalking Marilyn's former orphanage, Mike rang the front buzzer to see if we might be allowed inside.  When I asked him what he was going to say to whomever picked up the phone, he joked, "I'm going to tell them that my name is Mike Monroe and that I'm interested in adopting a little blond girl."  LOL  LOVE IT!  I swear I was still cracking up over that statement hours later.  Sadly, though, Hollygrove's main office was already closed by the time we got there and no one answered our call, which is especially upsetting being that according to this L.A. Times  article there is actually a "hallway museum" inside of the former orphanage which features photographs of a young Marilyn.   Oh, what I wouldn't give to see those!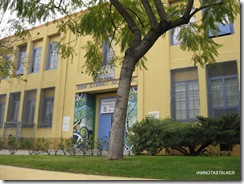 During Marilyn's stay at Hollygrove, she attended Vine Street Elementary School, which is located just a few blocks away from the former orphanage, so, of course, Mike and I just had to stalk that location as well.   Because school was in session at the time, though, we didn't get to take many photographs of the property while there.  🙁
Until next time, Happy Stalking!  🙂
Stalk It: Hollygrove, Marilyn Monroe's former orphanage, is located at 815 North El Centro Avenue in Hollywood.  Vine Street Elementary School is located at 955 North Vine Street, also in Hollywood.
18523