The Nite Owl Coffee Shop from "L.A. Confidential"
Mar 29th, 2010 | By
Lindsay
| Category:
Movie Locations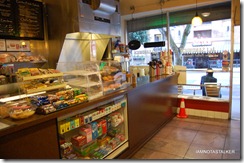 I have to apologize in advance for today's post as it is going to be a short one.  My best friend came to visit me this weekend and we spent all of Friday, Saturday, and Sunday doing wedding planning which, unfortunately, left me with no time for blogging.  🙁  I promise to write a more complete post tomorrow, but in the meantime, on with the stalking!  One location that I have known about for quite some time now, but, for whatever reason, had yet to stalk was J & J Sandwich Shop from fave movie L.A. Confidential.  In the 1997 flick the tiny restaurant stood in for the Nite Owl Coffee Shop, the 24 hour diner which was the site of the aptly named "Nite Owl Massacre", the investigation of which provided the movie's central plotline.  I first learned of the location from Mike, from MovieShotsLA, way back when, but didn't actually stalk the place until two weeks ago when the two of us walked by it while in Downtown Los Angeles trying to find the "Beat It" cafe.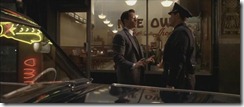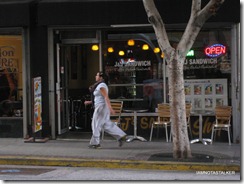 In real life, J&J Sandwich Shop is not actually a coffee shop at all, but more of a walk-up-style delicatessen.  And it, sadly, looks very different in person than it did in L.A. Confidential.   According to J&J's owner – a super nice woman who answered all of our silly questions about the filming and let us take as many pictures of the place as we wanted – set dressers completely remodeled the cafe's interior for the movie.  The restaurant actually had to be closed down for a total of three weeks for the filming, which included time for both dressing the set to look like a '50s diner and then subsequently putting it back to normal again after shooting had been completed.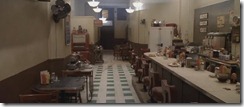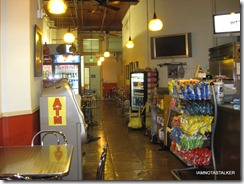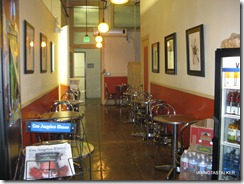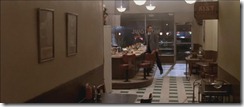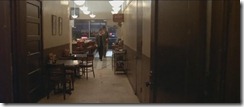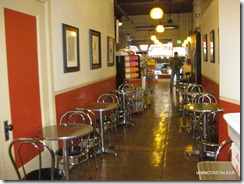 As you can see in the above screen captures and photographs, J&J Sandwich Shop is almost unrecognizable from it's appearance in L.A. Confidential.  Not only was the floor completely redone for the filming, but replacement light fixtures were also brought in, as were new tables and chairs, to make the place seem more '50s like.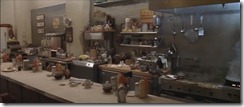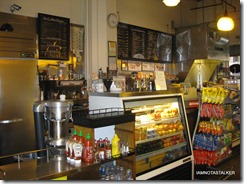 A rounded, sit-down countertop was also brought in to replace the restaurant's real life walk-up counter.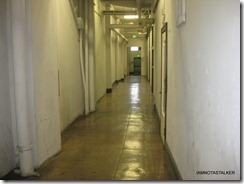 The restaurant's back hallway was also featured in L.A. Confidential, and, thankfully, looks pretty similar in person to how it appeared onscreen.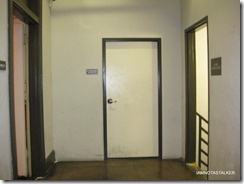 J&J's owner also told us that the restaurant's real life bathroom was also used in the movie, as the spot where most of the Nite Owl patrons were killed during the massacre.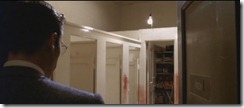 I am kicking myself right now for not sending Mike into the actual bathroom to take pictures, though.  🙁  I have no idea why, but I never even thought of it while we were there!  UGH!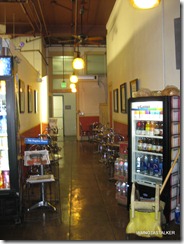 Even though J&J Sandwich Shop does not look at all like its onscreen counterpart, I still have to say that I'd recommend stalking the place just because its owner was so incredibly nice.  We didn't have time to actually eat there during our stalk – as I said, we were on a mission to find the "Beat It" cafe – but according to its Yelp reviews, the place serves up some great food, so it's looks like I'll have to go back there again soon.  Well, I told you it was going to be a short one today.  But, as I said, I will be back tomorrow with a normal post.
Until next time, Happy Stalking!  🙂
Stalk It: J&J Sandwich Shop, aka the Nite Owl Coffee Shop, is located at 119 East 6th Street, directly across from Cole's Restaurant.
18738