The "Glee" Vanity Fair Photo Shoot
Apr 7th, 2010 | By
Lindsay
| Category:
Glee Filming Locations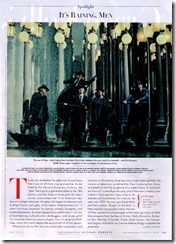 In early December of last year, I came across these Fan Sites Network photographs of the male stars of Glee – including my latest love, cutie Matthew Morrison – posing for an upcoming issue of Vanity Fair at the Urban Light display at the Los Angeles County Museum of Art and I just about died.  I absolutely COULD NOT WAIT for the article to be published so that I could stalk the display and blog about it.  I'm really not kidding – on January 1st, February 1st, and March 1st of this year, I literally ran to my local newsstand to check out the latest issue of the magazine to see if the Glee pics were in there.  Well, the photos – ahem – photo was finally published this past Thursday in the magazine's May issue and I have to say that I was sorely disappointed with it. I had whole-heartedly been expecting the Glee actors to garner a cover story or, at the very least, a full-fledged feature article, so, you can imagine my disappointment last Thursday upon discovering that the actual publication consisted of a single page.  Yes, you read that right – ONE single, solitary page.  In my never-to-be humble opinion ;), I have to say that Vanity Fair really dropped the ball on this one!  I mean, HELLO!  Glee is not only the biggest new show of the 2009 Fall television season and is finally returning to the airwaves after a FOUR MONTH hiatus, but it also recently won both a Golden Globe Award (for Best Television Series – Musical or Comedy) and a SAG Award (for Outstanding Performance by an Ensemble in a Comedy Series) along with countless other awards and nominations too numerous to list here – before its very first season had even been completed, no less!  Shouldn't that at least garner them more than a half page picture and tiny write-up buried all the way on page 181?  Shame on you, VF!  Not only that, but I wasn't exactly crazy about the sole photograph that did get published, either.  It is a pretty dark and dreary picture, especially considering that Glee is a show chock full of . . . well, glee!  But, even though I wasn't very happy about the finalized product, I still just HAD to stalk the place where the photo shoot took place.  So, this past weekend I dragged my fiancé out to Wilshire's Miracle Mile District and did just that.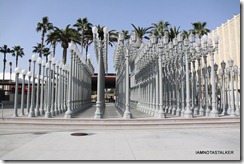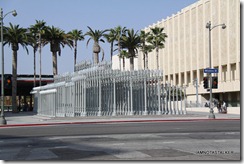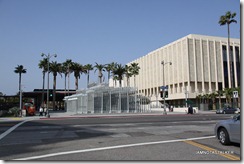 I've actually driven by the Urban Light display countless times over the past few years and have always found it a bit odd, to say the least.   As you can see in the above photographs, the large scale art installation consists of a group of grey-colored lights standing right smack dab in the middle of the Los Angeles County Museum of Art's central courtyard which is located along the heavily trafficked Wilshire Boulevard in Mid-Town L.A.  Trust me when I say that the whole thing looks very bizarre when driving by at 35 miles per hour.  And even though I've always admired the many vintage street lamps that are in still in use around the Los Angeles area, the Urban Light display always seemed out of place to me and I never had any interest in stopping my car to get a closer look.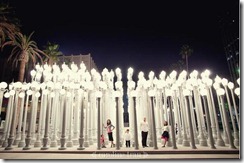 That is, until my good friend Renae sent me the above picture of her family taken earlier this year, which I thought was just about the coolest family photograph I had ever seen!   I absolutely loved, loved, loved it and, in turn, realized what an amazing display the Urban Light installation actually was.  I mean can you even imagine taking wedding photographs there??  They would be A-MA-ZING!
The Urban Light display, which is comprised of a group of 202 actual working 1920's and 1930's era Los Angeles street lamps that took over seven years to collect, was created by performance artist and sculptor Chris Burden in early 2008.  Burden is perhaps best known for his highly controversial performance pieces from the early 1970s, the most famous of which was entitled "Shoot" and involved an assistant actually shooting him in the arm while onstage.  Not surprisingly, he was made to see a therapist after that production.  😉  Burden also once had himself nailed to a Volkswagen Beetle during a show.   Needless to say, the guy's a bit out there.  According to this article which was written by Susan Freudenheim and appeared in the January 30th, 2008 issue of the Los Angeles Times, in recent years Burden has shifted his attention from performance art to "large-scale assemblage sculptures".   He first stumbled upon the vintage street lamps that would become the foundation of his "Urban Light" display in December of 2000 at the Rose Bowl Flea Market in Pasadena.  Even though he had no plan for them at the time, he immediately purchased a pair of the vintage lights for $1600.   An avid collector of a wide array of tchotchkes, Burden soon found himself in possession of 150 of the street lamps and used them to build a small scale display outside of his studio.  Eventually, a few big wigs at LACMA viewed the installation and knew it would be the perfect piece to stand in the middle of the new courtyard that was being built outside of the museum.  Andrew M. Gordon, a chairman on the LACMA board, donated the money to purchase the display, to which Burden had added 52 more lamps, and the rest, as they say, is history.  The installation's first lighting was on February 7, 2008 and coincided with the opening of the Broad Contemporary Art Museum at LACMA.  In a humorous side note, not only did each of the 202 lamps have to actually be installed per Los Angeles City Code, but they were also all inspected by the Bureau of Street Lighting.  No that's not a joke, Los Angeles actually has a Bureau of Street Lighting!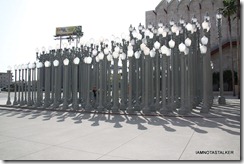 Seeing the Urban Light sculpture up close and personal is extremely jarring as the display is absolutely HUGE, much more so then it appears to be when simply driving by.  Burden designed the piece so that visitors could actually walk through each of the lights to experience what he describes as "architecture without walls".  And let me tell you, one can easily get lost in the middle of the installation, as I obviously did in the above photograph.  🙂  I honestly can't recommend stalking the Urban Light display enough.  It is an absolutely beautiful and truly unique place that everyone should see in person at least once.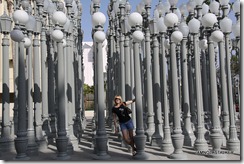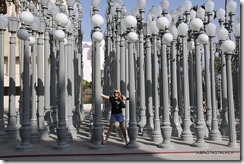 And, of course, I just had to pose in the exact spot where the Glee picture was taken, which is on the northwest corner of the installation.  🙂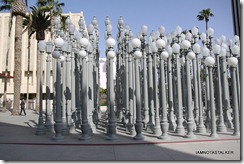 Note – The Glee photograph which appears in this post does not belong to me, but remains the sole property of photographer Michael Roberts and Vanity Fair Magazine.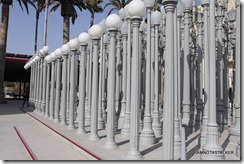 Until next time, Happy Stalking!  🙂
Stalk It: Chris Burden's "Urban Light" display, where the Glee guys' Vanity Fair photo shoot took place, is located at 5905 Wilshire Boulevard, in front of the Los Angeles County Museum of Art, in Mid-Town L.A.  The Glee boys posed in the display's northwest corner, which is pictured above.  The May issue of Vanity Fair, which features the Glee photograph, will be on sale throughout the end of April.  If you would like to check out a more in-depth photoshoot of the cast, pick up this month's Glamour.
19105