On Set With the "American Idol" Contestants
Apr 14th, 2010 | By
Lindsay
| Category:
Celebrity Sightings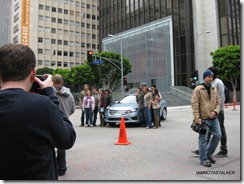 This past Sunday, while doing some stalking in Downtown L.A., my fiancé and I happened upon the current American Idol contestants filming a Ford commercial on the corner of South Hope Street and Wilshire Boulevard.  And even though I have yet to watch even one episode of the series this season, I begged my fiancé to pull the car over so that we could watch a bit of the filming.  And, wow, what a mistake that turned out to be!  As we made our way over to the set, camera in hand, an incredibly rude crew member walked up to us and said – and I am quoting here! – "If you take a picture of this, we will sue you!"   Being that we were standing on a public sidewalk in the middle of Downtown Los Angeles and that the Idol set was an open one (i.e. not closed to the public), I didn't see how we were committing an act that was sue-worthy.  Furthermore, I'm pretty sure that you need to know who someone is before you can actually sue them.  Was the guy planning on serving a summons to "the blond girl in the white jacket who was standing on the corner watching American Idol film in Downtown L.A. on Sunday, April 13th at approximately 11 a.m.?"  Don't think that would really fly in court of law.  😉  My fiancé pretty much told the guy to stick it, to which the crew member said, "O.K., then I am going to have to call the police!"  I am not kidding here!  He actually said that he was going to call the police and have us arrested!  For a second there, I thought we were being Punk'd!  It was at that point that I noticed a group of three paparazzi standing a few feet away from us, chatting with the two policemen who were on duty manning the set.  Being that the photogs not only weren't being arrested, but seemed to be having a very amicable conversation with the cops, I figured we were safe.  🙂  I'm telling you, though, not once in my ten years of living in Los Angeles have I ever experienced the type of rudeness I encountered on the Idol set.  Sure, some crews are not very friendly, some are even rude, but this one was in a whole different realm!  One of the crew members even went so far as to shove a paparazzi at one point!  Honestly, I've never seen anything like it!   Oh well, at the very least, it was entertaining to watch!  🙂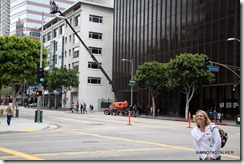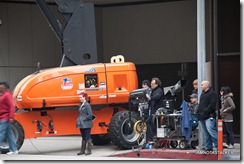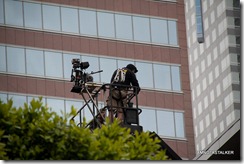 Now, I should explain here that if you tell the Grim Cheaper not to do something, he becomes pretty hell bent upon doing it.  So, even though neither one of us cared much about watching the Idols film their commercial or about taking photographs of them, the next thirty minutes of our day were spent doing exactly that.  My fiancé took as many pictures as he possibly could and, for once, it was me dragging him off a set instead of the other way around.  I was ready to leave after about five minutes of being there, actually, because there just wasn't a whole lot going on and because I didn't recognize any of the contestants.  In fact, I had a very hard time distinguishing who was a crewmember and who was an Idol, as did my fiancé, and he actually watches the show!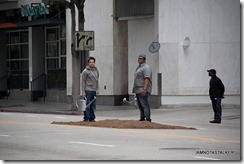 The Idol shoot basically consisted of four of the contestants (Michael Lynche, Lee Dewyze, Tim Urban, and Siobhan Magnus) watering a patch of dirt in the middle of a Downtown L.A. street.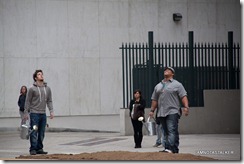 Then something happens – something that I am guessing is going to be added in digitally during post-production – causing them to all look upward.  And that was pretty much it.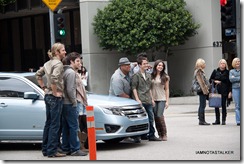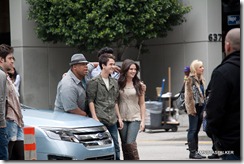 After doing about four takes of the above sequence, the Idols joined together in front of a Ford car to shoot some publicity stills for Fox.  And, let me tell you, the crew REALLY did not want anyone getting pictures of that!  Which begs the question, why didn't the producers just close the set?  Sure, it's more expensive permit-wise, but geez, it's a better way to go about things than getting your panties all in a twist and almost punching out a paparazzi!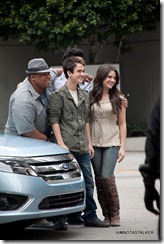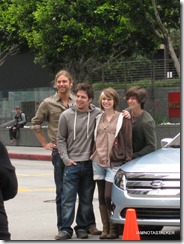 Oddly enough, only eight of the nine remaining Idols were on set on Sunday, including Casey James, Katie Stevens, Michael Lynche, Siobhan Magnus, Tim Urban, Aaron Kelly, Lee Dewyze, and Andrew Garcia.  For whatever reason, Crystal Bowersox was not in attendance.  Or, if she was, we didn't stick around long enough to see her.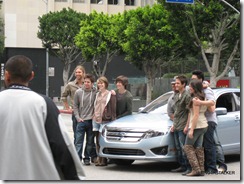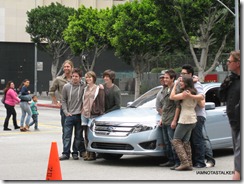 What struck me as odd about the whole thing was that the Idol contestants are virtual unknowns – relative newbies trying to make a name for themselves in the music industry.  You'd think that the studio would want to drum up as much publicity for them as possible, not steer free publicity away!  Ironically enough, one of the paparazzi told me that the only reason the photogs were there in the first place was because Ben Affleck was supposed to have been shooting a movie a block away.  When that shoot got cancelled due to early morning rain, the paps figured they might as well take some Idol pics since they were already in the area.  They said the pics were worthless now, but when the final winner is announced in a few weeks, they might bring in some money.  Oh, if those Idols only knew!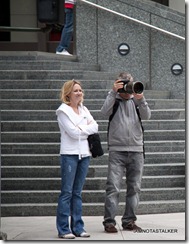 The one highlight of my time on the Idol set was hanging out with the paparazzi who were SO incredibly nice I almost couldn't believe it.  It has been my experience in L.A. that photogs are typically not very friendly people.  Most are downright despicable, actually. But the three who were on the Idol set were total sweethearts!   We had great conversations about which stars are nice, which aren't, our experiences living in L.A., and even the Michael Buble concert that I had just been to two nights prior.  🙂  The guy pictured above even let my fiancé, who has become very interested in photography as of late, test out his ultra-expensive camera.  The whole thing was a very pleasant surprise.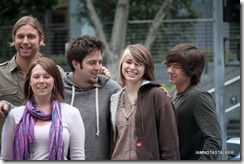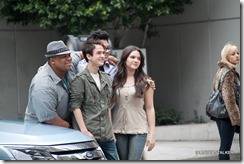 It's very sad to me that the Idol crew ruined something that is usually such a positive experience.  If that had been my first time stalking a film set, I might never have gone back.   So, to all of my fellow stalkers out there I say this – if you ever encounter a crew like this one, please, please don't let it deter you from visiting other film sets!  99.9% of the crews out there are very friendly and know that what they do is pretty darn special and that us so-called normal people, who aren't in the industry, are often fascinated by it and want to see it all firsthand and take pictures to show our friends back home.   As the saying goes, "Mean people suck", but I am very, very happy to report that in L.A. the number of nice crews far outweighs the mean ones!
Until next time, Happy Stalking!  🙂
Stalk It: The Idols filmed their Ford commercial at the intersection of South Hope Street and Wilshire Boulevard in Downtown Los Angeles.
19324