Sid & Dexter's Sports Bar from the "Happy Hour" episode of "The Office"
Apr 23rd, 2010 | By
Lindsay
| Category:
The Office Filming Locations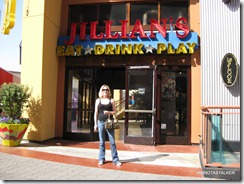 As I mentioned yesterday, one location that fellow stalker Lavonna was absolutely dying to stalk while she was in town last week was Sid & Dexter's Sports Bar, the arcade/restaurant which appeared in the Season 6 episode of The Office entitled "Happy Hour".  So, before her arrival, I called upon fellow stalker Owen for some help in tracking the place down, but, unfortunately, the two of us came up completely empty-handed.  My first instinct was that filming had taken place at one of the local branches of the popular Dave & Buster's restaurant chain, but after looking at photographs of all of the D&B's located in the L.A. area and comparing them to the screen captures of The Office that Lavonna had sent me, I couldn't find a match.  So, after a few hours of searching, Owen and I came to the unfortunate conclusion that Sid & Dexter's was most likely not a real location, but a set that had been built solely for the filming of the "Happy Hour" episode.  Lavonna was sorely disappointed over this discovery, as was I, because I knew how badly she wanted to stalk the place.  But then, this past Friday, while stalking Scranton Business Park, I had an inspired idea.  Because the security guard manning the front gate was so incredibly nice, I decided to ask her whether she knew where the "Happy Hour" episode had been filmed.  And, lo and behold, she did!  She told us that filming had taken place at a restaurant/arcade next to a bowling alley somewhere on Universal CityWalk.  And, let me tell you, I almost fell over when I heard that.  Usually when I meet crew members and ask them about locations, they have no recollection whatsoever about where a filming took place, even if they were actually on the set that particular day!  So, for the security guard to know where the "Happy Hour" episode was shot, when she had never actually been there was absolutely incredible to me!  Yay!  So, Lavonna, her daughter, Melissa, her friend, Debbie, and I immediately headed over to Universal CityWalk to try to track down Sid & Dexter's!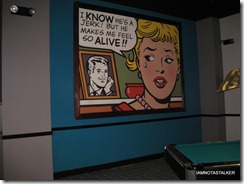 My initial plan of attack was to visit each and every restaurant located on Universal CityWalk until we found the right one.  Thankfully, though, that wasn't necessary.  Fairly immediately upon entering the outdoor shopping center, Lavonna spotted a sign for the chain restaurant Jillian's and thought it might be the right spot.  And, sure enough, it was!  In actuality, Sid & Dexter's Sports Bar is a restaurant/arcade/bowling alley/billiards bar named Jillian's.  Sadly, though, it has been completely remodeled since its onscreen appearance and no longer looks anything like it did when filming took place.  According to one of the super nice bartenders we spoke with, The Office filmed at Jillian's for an entire week, just after the place had closed its doors to the public to begin the remodel process.  As soon as filming wrapped, the ENTIRE place was completely gutted and the rebuilding began.   The single, solitary decor item that remains from the old design is the above pictured cartoon which is now hanging on a wall in the billiards room.  Such a bummer!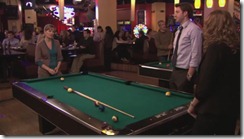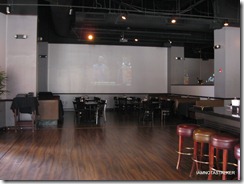 The Jillian's staff could NOT have been nicer, though, and took us on our own personal tour of the restaurant to show us where filming took place and to explain what the former layout used to look like.  As you can see in the above photograph and screen capture, the place is COMPLETELY unrecognizable from its Office appearance.  🙁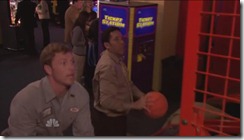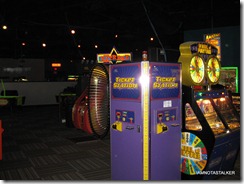 Thankfully, though, the ticket machines still look identical to how they appeared on the show, so, at least there's that.  🙂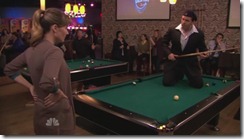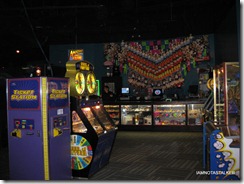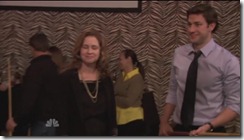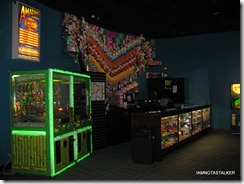 Lavonna had desperately wanted to see the zebra-print wall which appeared in the background throughout most of the "Happy Hour" episode.  Sadly, though, it had been thrown out during the remodel and that area was then transformed into the ticket redemption counter (pictured above).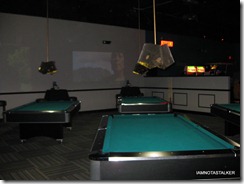 And while Jillian's still makes use of the actual pool tables which appeared in The Office, they have since been moved to a different part of the restaurant.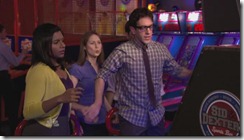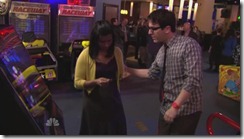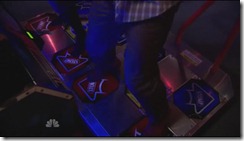 Lavonna also wanted to see the Whac-A-Mole arcade game that Dwight (aka Rainn Wilson) and Isabel (aka Kelen Coleman) played on the show, but the bartender informed us that that particular game was brought in by producers solely for the filming.  The dance machine that Andy (aka Ed Helms), Kelly (aka Ellie Kemper), Ryan (aka B.J. Novak), and the other Kelly (aka Mindy Kaling) played on, however, is a real game that can still be found at Jillian's.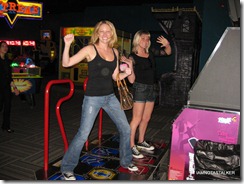 So, of course, Melissa and I just had to pose on it.  🙂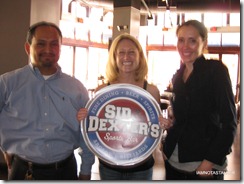 The bartender ended up asking Jillian's two general managers to come out so that we could ask them all sorts of silly questions about the filming of The Office, and, let me tell you, they could NOT have been nicer.  They talked to us for a good twenty minutes and when they heard how upset Lavonna was over not being able to see that zebra-print wall, they ended up giving her the above "Sid & Dexter's" sign which appeared in the "Happy Hour" episode!  How incredibly cool is that??  I mean, talk about the ultimate Office keepsake!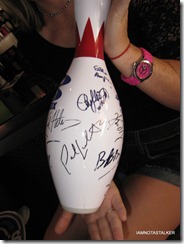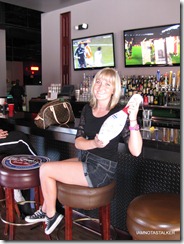 The managers also showed us a bowling pin that the entire Office cast had signed during the filming.  That's Melissa posing with it in the above picture.  So darn cool!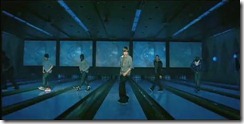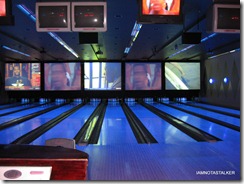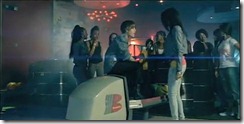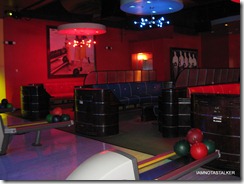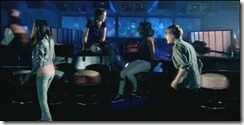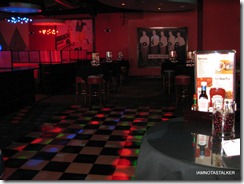 They also informed us that Justin Bieber had recently filmed his "Baby" video in the bowling alley located on Jillian's second level.  So, of course, we had to go stalk that, too.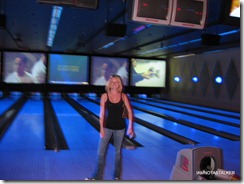 I am very happy to report that the bowling alley portion of the restaurant was not altered during the recent remodel and still looks EXACTLY the same as it did in the video.  Yay!
You can watch Justin's "Baby" video by clicking above.  I so love the line, "She had me going crazy, Oh I was starstruck, She woke me up daily, Don't need no Starbucks!"  LOL  Although, I don't think there's a guy in existence who could make it so that I didn't need Starbucks in the morning.  😉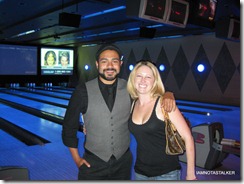 While we were stalking Jillian's bowling alley, we ran into another SUPER nice bartender named Rashid, who actually made a brief appearance in the background of the "Happy Hour" episode of The Office!  He was supposed to have a speaking role in the episode and producers even went so far as to make him shave his head for the part, but, sadly, as so often happens in Hollywood, his scene wound up on the cutting room floor.  🙁  We are hoping it will be featured in the "Deleted Scenes" section of The Office's yet-to-be-released Season 6 DVD set, though.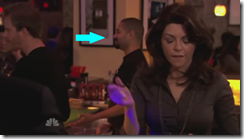 You can catch a glimpse of Rashid in the background behind the Sid & Dexter's manager in the above pictured screenshot.  So cool!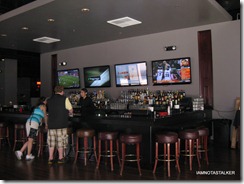 We had a blast hanging out at Jillian's and I honestly cannot recommend stalking the place enough, even though it no longer bears any sort of resemblance to Sid & Dexter's.  The staff truly could NOT have been nicer, the prices were very reasonable, the food was excellent, and the ambiance was lively and fun!  Jillian's is definitely a place I will be returning to again and again!
On a Justin Bieber side note – For those who have yet to see his first appearance on Chelsea Lately which aired back in December, you really must tune in!  The kid is absolutely adorable and HILARIOUS and truly holds his own against Chelsea, which is a pretty amazing feat for a 15-year old!
Until next time, Happy Stalking!  🙂
Stalk It: Jillian's, aka Sid & Dexter's Sports Bar from the "Happy Hour" episode of The Office, can be found at 1000 Universal Studios Boulevard, on Universal CityWalk, in Universal City.  The bowling alley where Justin Bieber filmed his "Baby" video can be found on the restaurant's second level.  You can visit the Jillian's website here.
19670