The Mary Tyler Moore TV Land Statue
May 6th, 2010 | By
Lindsay
| Category:
TV Locations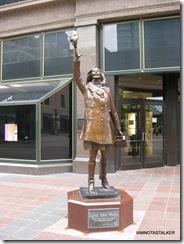 Well, I am still here with my family at the Mayo Clinic in Rochester, Minnesota.  After a bit of a battle, my dad's doctor finally agreed to reschedule some of his tests to yesterday afternoon.  The results showed nothing, though, which isn't that big of a surprise being that the tests the doctor scheduled were tests that my dad had already taken a multitude of times back in California.  I had really been expecting a team of Dr. House-style, think-outside-the-box-type doctors to consult on my dad's case, but, sadly, that's not really how things work at the Mayo.  We flew halfway across the U.S. for him to undergo a couple of tests that he had already taken in Los Angeles.  There is one more test scheduled for this morning, but the doctor is fairly certain that it won't show anything.  Ah well, at least we tried.  We're not really sure of our next step, but it might be to visit Stanford University Hospital in Northern California.  We're thankful, though, that we at least got to see quite a bit of the state of Minnesota during our trip, and I have to say that we all absolutely fell in love with the place!  My dad has even suggested that following my mom's retirement next year, the two of them spend a few months in Minneapolis/St. Paul and Stillwater – two cities that we never would have gotten to see if it weren't for some stalking sites located there.  😉  So, all is not lost.  Anyway, on with today's post . . .  One of the first things my mom did upon learning that my dad had been accepted as a patient of the Mayo Clinic in Minnesota, was research all of the famous filming that has taken place in the Great Lake State over the years.  And there has actually been quite a bit of it, including that of one of my very favorite movies of all time – 1996's Beautiful Girls, but more on that later.  I also enlisted the help of fellow stalker Owen to add to my Minnesota stalking itinerary and, between the three of us, we came up with quite an extensive list comprising of roughly 22 locales in all.  And, yes, my parents actually flew out to Minnesota a full day prior to my dad's check-in date at the Mayo, just so that I could do some stalking!  I know, I know – my parents are truly amazing!  Anyway, one of the locations that Owen brought to my attention was the famous street corner where Mary Tyler Moore threw her hat in the air during the opening credits of the hit television series The Mary Tyler Moore Show, which ran on CBS from 1970 through 1977. And, even though I had never actually seen even one episode of the series, I, of course, knew of the iconic hat-throwing scene during which newly-single career woman Mary Tyler Moore tossed her tam o'shanter (a wool bonnet-style hat of Scottish origins) up in the air in the middle of a street in Downtown Minneapolis.  The moment is so iconic in television history, in fact, that in 2002, the TV Land cable network erected an 8-foot tall bronze statue representing Mary in the exact spot where filming took place back in 1970.  So, of course, I just had to stalk it!
Mary's hat-throwing scene was actually ranked Number 2 on Entertainment Weekly's list of "The 100 Greatest Moments in Television".  The first was the assassination and funeral of President John F. Kennedy.  It's odd to me that two such diametrically opposing moments in TV history – one joyous, the other incredibly tragic – would be ranked as number 1 and number 2 on EW's list, but I digress.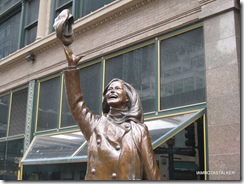 I cannot express how incredibly cool I think it is that the TV Land network created a statue to commemorate such an iconic moment in television history.  Oh, how I wish things like this were done more often!  Apparently, TV Land has even developed something called the Landmarks Initiative, an organization whose sole goal is to recognize legendary television characters by placing commemorative statues in the locations in which those characters are most closely associated. How fabulous is that?  Hopefully it's only a matter of time before there are bronze renderings of Ross, Rachel, Phoebe, Joey, Monica, and Chandler out in front of the Friends building in New York.  😉  Ironically, when Mary's statue was first announced, it stirred up quite a bit of controversy among certain individuals (who obviously had their underwear on too tight!) who complained that the City of Minneapolis should not be honoring a fictional television character.  But as Larry W. Jones, the General Manager and Executive Vice President of the TV Land network, stated, "The indelible impression of Mary releasing the tam is one of the most celebrated symbols of freedom in modern society.  By placing a statue in the original location where this image was captured, TV Land hopes this statue will remind passers-by of the freedom and optimism that Mary has come to represent."   So, take that, all of you naysayers!  😉  Despite the protests, the statue was finally erected on May 8, 2002 and both Mary Tyler Moore and the Mayor of Minneapolis were on hand for the unveiling.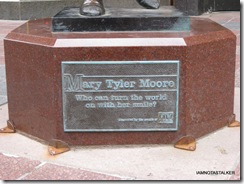 The TV Land statue was designed by a sculptor named Gwendolyn Gillen and was chosen out of nineteen other designs by a panel of artists, which included Mary Tyler Moore herself.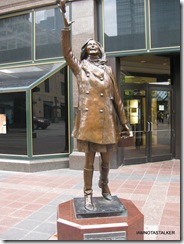 Amazingly enough, before the unveiling there was actually quite a bit of debate as to where the hat-throwing scene had taken place.  While The Mary Tyler Moore Show producers knew that the scene had been filmed somewhere on Nicollet Mall in Downtown Minneapolis, no one could seem to remember the exact spot where Mary stood, and because the area had changed so significantly in the almost four decades since filming took place, it was virtually impossible to determine.  Further complicating the matter was the fact that the department store which appeared in the background of the scene had been completely destroyed in the Minneapolis Thanksgiving Day Fire of 1982.  If only I had been blogging back in 2002, the TV Land executives could have called upon me and my fellow stalkers to determine Mary's hat-throwing location.  😉  The correct spot was finally found thanks to Rodney Homstad, an eagle-eyed former police officer who had worked on the production back in 1970.  You can read more about the search for the hat-throwing location here.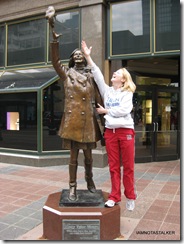 I honestly can't recommend stalking this location enough!  Even though I was not a fan of The Mary Tyler Moore Show, I could NOT have been more excited to see the TV Land statue in person and to pose for a few photographs with it.   🙂
You can watch The Mary Tyler Moore Show opening credits, which feature the famous hat-throwing scene, by clicking above.
A big THANK YOU to Owen for telling me about this location and to all of my fellow stalkers for all of the well-wishes and prayers you've been sending.  They have meant so much to me during these difficult past few days.  I will keep you all posted on what happens.   
Until next time, Happy Stalking!  🙂
Stalk It: The Mary Tyler Moore Show hat-throwing statue is located near the corner of 7th Street and Nicolette Mall, in front of Macy's department store, in Downtown Minneapolis, Minnesota.
19960