Bryant-Lake Bowl from "Beautiful Girls"
May 20th, 2010 | By
Lindsay
| Category:
Movie Locations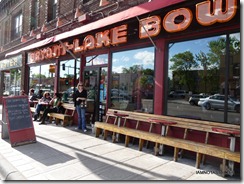 To appease my good friend and fellow stalker Mike, from MovieShotsLA, who has been on my case ALL WEEK about my constant Minnesota blogging, beginning tomorrow I will be returning to my old stomping grounds, so to speak, by writing about locales in the Los Angeles area.  Unfortunately for Mike, though, there are still quite a few North Star State locations in my backlog that I've yet to post about.  So, I guess I'll just have to intermix them with my L.A. locales from this point forward – otherwise Mike might very well stop reading my blog!  🙂  For today, though, I thought I'd do a post about Bryant- Lake Bowl, the combination restaurant/bar/bowling alley/live stage theatre that appeared in fave movie Beautiful Girls.  I found this location, of course, thanks to fellow stalker Owen and his Beautiful Girls master locations list.  Thank you, Owen!
From what I have been able to gather online, Bryant-Lake Bowl, which was originally just a bowling alley, has been a Minneapolis staple for ages upon ages, although I am unsure of the exact date that it first opened.  As fate would have it, though, in 1993, a woman named Kim Bartmann stopped in to bowl a few games and immediately decided she just had to buy the place.  She sought out the owner and begged him to sell to her, which he eventually did, and Kim quickly set about not only transforming they alley's former arcade room into an 85-seat live theatre venue, but also added a restaurant to the mix.  Sadly, though, this was yet another restaurant that I did not get a chance to eat at while in Minnesota because, as I've said before, there were just far too many locations and not enough time to properly stalk them all.  🙁  Which is quite a shame, too, as apparently the place serves up some killer grub!  Bryant-Lake Bowl's menu includes such savory items as asparagus risotto, pad thai, and cooked-to-order, organic, grass-fed, free-range bison hash!  Not your typical bowling alley fare, you say?  Well, that's exactly the point!  Kim wanted to give her patrons a gourmet restaurant experience in the unlikeliest of places.  The idea quickly caught on and Bryant-Lake Bowl is now THE place to be on Friday and Saturday nights.
Bryant-Lake Bowl is also something of a celebrity hotspot, as well.  According to one of the super nice servers I spoke with, Matt Dillon is a huge Bryant-Lake Bowl fan and dines there regularly whenever he is in town.  In fact, I am fairly certain that the only reason the restaurant was chosen as a location for Beautiful Girls was because of Matt Dillon's connection to the place.  According to online reviews, actor Josh Hartnett, who grew up in nearby St. Paul, is also a frequent patron of the bowling alley.
In Beautiful Girls, Bryant-Lake Bowl stood in for the restaurant where Paul Kirkwood's (aka Michael Rapaport's) former girlfriend Jan (aka Martha Plimpton) worked as a waitress.  In the very beginning of the movie, Paul shows up to the bowling alley in a moment of spontaneity to propose to Jan with a "champagne-colored" engagement ring, even though he knows that she has long since been dating someone else – a man whom Paul has dubbed "Victor, the Meat-Cutter".  Victor is a running joke throughout the movie due to the fact that Paul cannot comprehend how his ex-girlfriend Jan, a vegetarian, can act with such hypocrisy by dating a person who cuts meat for a living.  LOL
Filming took place both inside Bryant-Lake Bowl and on the sidewalk directly in front of the restaurant's main entrance. 
The Season 4 episode of Diners, Drive-ins, and Dives entitled "Totally Unexpected" was also filmed at Bryant-Lake Bowl, during which host Guy Fieri sampled the restaurant's Smoked Trout and Beet Salad with Green Goddess Dressing.  You can watch the episode by clicking above.
According to the waitress I spoke to, the bowling alley was also featured in the 1999 movie Grumpier Old Men, but I rented the flick last night and did not see the place anywhere.  I'm guessing that either the scene that was filmed there wound up on the cutting room floor or that the waitress mistakenly mixed up movie titles when telling me about which productions had been filmed on the premises. 
Big THANK YOU to Owen for finding this location!  🙂
Until next time, Happy Stalking!  🙂
Stalk It: Bryant-Lake Bowl is located at 810 West Lake Street in Minneapolis, Minnesota.  You can visit the official Bryant-Lake Bowl website here.
20427