The Los Angeles Flower Market from "Valentine's Day"
May 25th, 2010 | By
Lindsay
| Category:
Movie Locations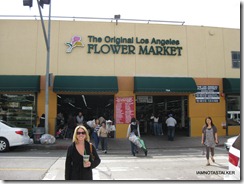 A few weeks ago, the Grim Cheaper and I headed out to the Original Los Angeles Flower Market in Downtown L.A. to find a florist for our upcoming wedding on August 21st.  For those who don't live in the area, the Flower Market and surrounding Flower District are something of a phenomenon, the likes of which I've never seen replicated anywhere else.  In fact, before moving to Southern California a little over a decade ago, I had no idea that anything like the Flower Market even existed!  The Flower District, which encompasses six blocks of storefronts housing over 200 individual florists, is the largest wholesale flower market in all of the United States.  In fact, in the entire world there is only one flower mart that is larger – the Aalsmeer Market in Holland.  The Los Angeles flower market concept was first conceived in the early 1900s, when area farmers would gather together at produce markets in Santa Monica and sell their foliage out of the backs of horse-drawn buggies.  In 1905, a carnation farmer named James Vawter opened up a dedicated flower market on Spring Street in Downtown Los Angeles, paving the way for others to follow suit, which they soon did.  In 1913, a group of Japanese-American growers opened up a larger flower warehouse, which they called the Southern California Flower Market, on Wall Street, just a few blocks from the mart's current location.  Shortly thereafter, a group of European farmers formed their own conglomerate on Winston Street called the American Florists' Exchange.  A few years later, the two groups joined together to become the Los Angeles Flower District, the name by which it is still known today.  And while the Flower Market does have a membership program, which boasts over 4,500 florists, wedding planners, and vendors, it is also open to the public on a daily basis.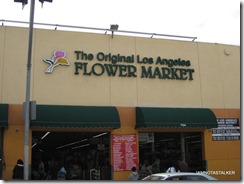 My first experience with the Flower Market was close to a decade ago, when a fellow actor named Alex and I were nominated to purchase a floral arrangement for our teacher on the opening night of a big performance.  Being new to the area, I had never heard of the Flower District and had just planned on heading to my local Von's to pick out an arrangement, but Alex quickly informed me that the only place to buy flowers in L.A. was at the Flower Market.  So, bright and early on the morning of our show, we headed Downtown and, let me tell you, I just about passed out over what was there.  I don't think I've ever seen so many flowers in one place in my entire life.  Florist after florist after florist, as far as the eye could see.  But it wasn't just the sheer amount of florists and flowers that stunned me, it was the beauty of the arrangements – each was like a work of art!  And the prices!  OMG the prices!  Even for non-members, the prices were so low, it was almost unbelievable!  We've all heard the old saying, "You get what you pay for", but I can assure you that isn't the case at the Flower Market.  Most arrangements – and I am talking HUGE, beautiful arrangements – can be purchased for around $20.  Not kidding!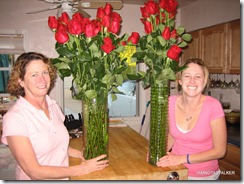 But the flowers that I drooled over most that day were some special roses called Ecuadorians, most of which were almost as tall as me!  Alex told me that Ecuadorian roses are grown in an extremely fertile area of Ecuador near the base of the Andes Mountains and that they can grow upwards of SIX FEET TALL!  I'm really not kidding!  You can see a photograph of some six foot tall Ecuadorians here – and while the picture looks absolutely ridiculous, I can assure you that, in person, the flowers are STUNNING!  Ever since I first laid eyes on those Ecuadorians that day at the Flower Mart, that was it for me!  The Grim Cheaper knew that going forward, Ecuadorian roses were the one and only way to my heart.  🙂  And, thankfully for him, at the Flower District they come cheap.  Ecuadorians can run upwards of $300 per dozen if purchased from a florist, but he bought the above pictured arrangements (which were "only" about 3 feet tall) for me and my mom one Valentine's Day a few years back for only $35 per dozen.  Anyone who's ever purchased roses on Valentine's Day knows that it's unheard of to pay that little for normal sized roses during that time of year, let alone HUGE ones.  🙂  I have to say that Alex was definitely right – the ONLY place to purchase flowers in L.A. is at the Flower Market!
And, even though I didn't really like the movie Valentine's Day, which premiered this past February, I was extremely excited to see the Flower Market make a brief appearance in it.  The Market shows up towards the beginning of the flick, in the scene in which florist Reed Bennett (aka Ashton Kutcher) is shown purchasing flowers for his shop on Valentine's Day morning.  
While there, he gives a television interview to sportscaster Kelvin Moore (aka Jamie Foxx), in which he states that one hundred and ten million roses are sold in the United States each year on Valentine's Day, sixty percent of which are produced right here in California.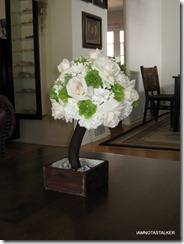 I honestly can't recommend stalking the Flower District enough.  Even if you aren't currently in the market for flowers, it is still a fabulous place to spend a morning or early afternoon.  Seeing all of the floral creations is almost like being in an art museum.  And the smell!  Oh, the smell!  For miles around, the air is filled with the fragrance of roses.  It is truly an amazing place.  And, if you do happen to be in the market for flowers, I can pretty much guarantee that you won't find a better deal anywhere else in Southern California!  And, for those who are into that sort of thing, the arrangements the Grim Cheaper and I picked out for our wedding are pictured above.  🙂 
Until next time, Happy Stalking!  🙂
Stalk It: The Original Los Angeles Flower Market from Valentine's Day is located at 754 Wall Street in Downtown Los Angeles.  The Market is open to the public for a $2 admission fee each Monday, Wednesday, and Friday starting at 8 a.m. and each Tuesday, Thursday, and Saturday starting at 6 a.m.  The Market is closed on Sundays.  If you are looking to buy flowers, though, I would suggest skipping the actual Market and instead visiting the myriad of independent flower shops in the surrounding area.
20530