The Former BaBalu Lounge – Where Michael Buble Got His Start
Jun 7th, 2010 | By
Lindsay
| Category:
Michael Buble Locations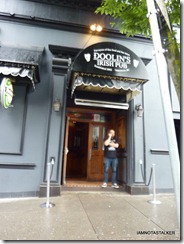 Another Michael Buble location that I found thanks to the book Michael Buble: The Biography, by Juliet Peel was BaBalu Lounge, the Downtown Vancouver nightclub where the cutie crooner performed regularly for two years before becoming famous.  And, let me tell you, once I heard about it, I became pretty hell-bent on the idea of grabbing a drink at the very spot where MB had honed his craft all those years ago.  As I quickly found out, though, the BaBalu Lounge is sadly no longer.  Apparently, the now-defunct club used to be located on the bottom floor of the Nelson-at-Granville Comfort Inn Hotel, but in 2001, a fire broke out on the top floor of the building and completely gutted the entire property, including Michael's former singing spot.  The building was eventually purchased by a real estate development company who renovated the entire property and a new restaurant named Doolin's Irish Pub subsequently opened in the former BaBalu space.  Such a bummer!  But even though BaBalu is no longer, I just had to stalk the hallowed ground where it once stood.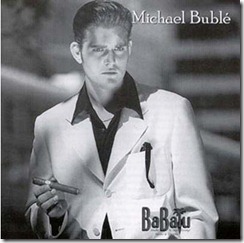 Especially since the club had played such an important role on Michael's road to fame.  In 2001, the singer even named his second independently produced album "BaBalu" (pictured above) in honor of the lounge where he had sung every Sunday and Monday night for over two years beginning in 1997.  Of MB's premiere album, titled "First Dance", biographer Juliet Peel states, "It made no impact whatsoever on the world at the time, but this, and the other two independent albums Michael brought out before he hit the big time, are now collectors' items.  Whole internet chains have been established trying to track them down (for a Buble fan, finding one of these records is equivalent to stumbling across a signed first edition of an early J.K. Rowling.)"   You're telling me, Juliet!  What I wouldn't give to own one of those albums!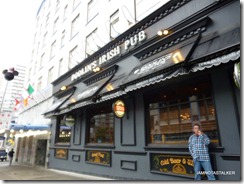 Michael's love of music was originally cultivated thanks to his beloved maternal grandfather, Mitch Santaga.  Mitch, who made his living as a plumber, not only first introduced Michael to the Standards, the songs that he would one day become famous for singing, but he also traded free plumbing services to local band-leaders in exchange for them allowing MB a chance to sing during their shows.  After he became famous, Michael, whom Mitch had long-before dubbed "Sunshine", said, "Isn't that hilarious?  He'd put in, like, a hot-water dispenser or something so that they would let me get up and sing."  Love it!  In 1997, Michael landed his first regular paying gig at BaBalu Lounge, where he performed along with the Smokin' Section band, for over two years.  He credits his years there as a major learning experience, saying of the patrons, "They came to meet a woman or get wasted, but I learned my craft.  It taught me how not to reek of desperation, how to step back and try to be charismatic and let them fall in love with me."  And fall in love with him they did.  Michael quickly garnered a very loyal local fan base of mostly women :), who would come to watch him sing every single time he set foot onstage.  After two shorts years at BaBalu, MB moved to Toronto with then-girlfriend Debbie Timuss.  In a fortuitous twist of fate, shortly after that move, Michael performed at a corporate event where a man named Michael Sweeney was sitting in the audience.  After the show, Sweeney introduced himself to Michael, who in turn gave him one of his self-produced albums.  Sweeney passed along that CD to his close friend, Canadian Prime Minister Brian Mulroney, who immediately hired the singer to perform at his daughter's upcoming wedding.  One of the guests at that wedding turned out to be none other than music-producing legend David Foster, who is perhaps better known by his nickname – "the hit-maker".  Foster was immediately taken with the with the Canadian crooner and had him move out to L.A. so that they could work together the very next week.  And, the rest, as they say, is history.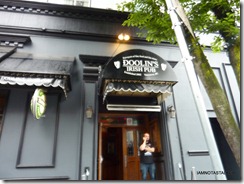 Unfortunately, because it was raining when we arrived at Doolin's Irish Pub, I opted to stay in the car and take pictures through the window instead of getting out to stalk the inside of the place.  From what I've read, though, it seems like a very cool place to hang out.
Until next time, Happy Stalking!  🙂
Stalk It: Doolin's Irish Pub, the site of the former BaBalu Nightclub, is located at 654 Nelson Street in Vancouver, British Columbia.  You can visit the Doolin's website here.
20872