Juno's House from "Juno"
Jun 24th, 2010 | By
Lindsay
| Category:
Movie Locations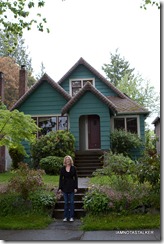 While I realize that most of my fellow stalkers are currently clamoring for me to put my Pacific Northwest blogging on hold in order to write about locales in the Southern California area, there are two more locations from the Academy Award-winning movie Juno that I wanted to blog about before doing so.  So, please bear with me for now, as I promise to get back to my L.A. roots first thing next week.  🙂  In the meantime, the second Juno location that I stalked while in Vancouver three weeks ago was the supposed Minnesota-area house where the flick's eponymous lead character, the lovable, but quirky Juno MacGuff (aka Ellen Page), lived with her equally lovable, but quirky parents, Mac (aka J.K. Simmons) and Brenda (aka Allison Janney).  I, of course, found this location yet again thanks to fellow stalker Owen who had, in turn, tracked it down thanks to this ever-informative Flikr page.  Thank you, Owen!  On a side note, I am quickly discovering the endless values of using Flikr as a stalking tool.  The site is an enormous treasure trove of location information that one can easily sift through using key word searches and I highly recommend it to anyone who is currently trying to track down an elusive locale.  But, as usual, I digress. 
 According to this fabulous February 2008 Vancouver Sun article about Juno filming locations in the area, two different homes actually stood in for the MacGuff residence in the movie – one property was used for all interior filming, while a different one entirely was used for all of the exterior scenes.  The article states that while scouting residences for his lead character in January of 2007, just one short month before filming began, director Ivan Reitman, along with Canadian location scout Neil Robertson, sought out an average-looking, middle-America-type home that had some "old-school" elements to it, like La-Z-Boy recliners and wood paneling.  Reitman found his perfect home (pictured above) in the Dunbar area of West Vancouver.  Unfortunately, though, upon closer inspection, the property's interior proved to be too small for the filming, so, the scenes involving Juno's kitchen, family room, and basement had to be shot at a different residence, which was also located in the Dunbar area, although I am not sure of exactly where.  The shooting of the interior scenes took a week to complete, during which time the owner, Yvonne Kolstee – along with her cat – had to relocate to a hotel.  And although one of Kolstee's lamps did make an appearance in the flick, for the most part her property was completely revamped for the filming.  According to the article, set-designers made her "multi-million dollar home in Dunbar look like a trailer".  Which begs the question, why not just build a set to film on?  Ah, I'll never understand the decision-making process behind choosing filming locations.  Anyway, the article also states that Kolstee used the money she made off of the filming to take not one, but two vacations to Mexico, along with trips to India and Singapore, as well.  Oh, when are location scouts going to come knocking on my door???  😉
I am very happy to report that the home which was used for the exterior of Juno's residence looks pretty much EXACTLY the same in person as it did onscreen in the movie.
The only notable difference is the fact that the tree from which Juno tried to hang herself using a few feet of Red Rope licorice in the beginning of the flick is not there in real life.  In actuality, that tree was a fake that was brought in solely for the filming.  The MacGuff residence is absolutely adorable in person and it's not very hard to see why producers chose to use it.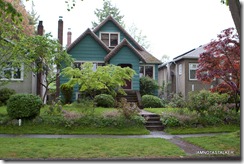 Big THANK YOU to Owen for finding this location!  🙂
Until next time, Happy Stalking!  🙂
Stalk It: Juno's house from the hit movie Juno is located at 4053 32 Avenue West in the Dunbar suburb of Vancouver, British Columbia.  Mark and Vanessa's house, which we, unfortunately, didn't have time to stalk, is located at 13926 23 Avenue in the city of Surrey, which is located about 30 miles southeast of Vancouver.
21368