The "Spanglish" House
Jul 1st, 2010 | By
Lindsay
| Category:
Movie Locations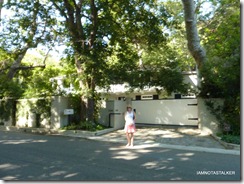 The Michael J. Fox Theatre in Burnaby, British Columbia, which I blogged about yesterday, was actually the very last Vancouver locale that I had logged away in my location library and, while I have a slew of Seattle area spots that I have yet to write about, I thought that for today I'd mix things up a bit by posting about a location that can be found right here in Southern California.  So enjoy!  A few weeks ago, fellow stalker Nick emailed me to let me know that he was in the process of trying to track down the residence belonging to John and Deborah Clasky (played by Adam Sandler and Tea Leoni, respectively) in the 2004 movie Spanglish.  I was extremely excited upon hearing about this endeavor as the Spanglish house is one that I've long been wanting to stalk.  Unfortunately, though, my father was in the hospital on the day that Nick emailed me, so I wasn't able to offer him much help in the hunt.  As it turns out, though, he didn't need my assistance, after all, because less than 24 hours later he emailed me back with an address!  Nick had read on IMDB's Spanglish filming locations page that some filming of the movie had taken place on Stone Canyon Road in Bel Air, so he immediately got to searching the area via Google Street View and, lo and behold, found the house!  YAY!  Thank you, Nick! 
So, since things have calmed down considerably regarding my dad's health in recent weeks (he just had his final surgery to implant the permanent nerve block device last Friday evening and is feeling great!), I was finally able to drag my fiancé out to stalk the Spanglish house this past Saturday afternoon.  Sadly, though, due to a large gate and massive amounts of foliage, not a whole lot of it is visible from the street.
I am happy to report, though, that what was visible looks much the same as it did in the movie.  🙂
And from the way the movie was shot, I am fairly certain that the real life interior of the house, which boasts 3 bedrooms, 5 bathrooms, and 4,295 square feet of living space, was used in the filming, as well.
And, as you can see in the above aerial image and screen capture, the home's real life backyard and pool area were also used in the flick.
.
And while not much of the property could be seen from the street, I must say that the Spanglish house was still very exciting for me to stalk because quite a few scenes from the movie were actually filmed out in front of the residence –
– most notably the scene in which Deborah Clasky and her housekeeper Flor Moreno (aka Paz Vega) engage in a spontaneous foot-race after dropping their kids off at the bus stop on the first day of school.
On a side note – I will not be publishing a new blog post tomorrow, Friday, July 2nd, as I have a bunch of wedding appointments scheduled on the day prior that, unfortunately, will leave me with very little time for blogging.  I'll be back Monday, though, and in the meantime I'd like to wish all of my fellow stalkers a very happy Fourth of July!  🙂
Big THANK YOU to Nick for finding this location!  🙂
Until next time, Happy Stalking!  🙂
Stalk It: The Clasky house from Spanglish is located at 1130 Stone Canyon Road in Bel Air.
21536