The Hungry Fox Restaurant from "The Office"
Jul 9th, 2010 | By
Lindsay
| Category:
The Office Filming Locations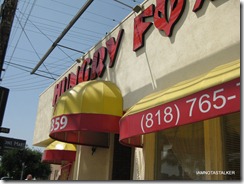 Another location that I stalked back in April while fellow stalker Lavonna and her daughter Melissa were in town was the Hungry Fox Restaurant, which appeared in the Season 3 episode of The Office titled "The Negotiation".  We found this location thanks to fellow stalker "Snidely Whiplash", who posted a comment on my site a while back that listed an entire slew of Office locales.  Snidely currently lives in the Valley, where most Office filming takes place, and often recognizes area locales when they pop up on the show.  So, thank you, Snidely!  Unfortunately though, because at the time I had never before seen an episode of The Office, when we went to stalk the Hungry Fox I had no idea what it was exactly that we were looking for – or looking at, for that matter.  To further complicate things, Lavonna was under the mistaken impression that the restaurant stood in for Poor Richard's Pub, the bar where Pam Beesly (aka Jenna Fischer) confessed to her ex-fiancé Roy Anderson (aka cutie David Denman, who also starred as hearing-impaired football player Brian Murphy in one of my very favorite movies – The Replacements) that she had cheated on him with Jim Halpert (aka John Krasinski) in the episode titled "Cocktails".  Because the Hungry Fox looks absolutely nothing like Poor Richard's, though, we figured we had gotten the location wrong.  It wasn't until I recently sat down to watch The Office on DVD that I figured out which particular episode and which particular scene the Hungry Fox had actually appeared in.
As it turns out, the Hungry Fox, which, according to the sign put up for the filming, serves up "Scranton's Best Breakfast" (LOVE IT!), stood in for the restaurant where Roy took his ex-fiancé Pam to talk about their recent break-up and his rather violent reaction to finding out that she and Jim had kissed.  The two say their final good-byes to each other at the restaurant and Roy also rather meaningfully states, "I don't get you, Pam", to which she replies, "I know."
Roy and Pam's good-bye scene was filmed at the table located immediately to the left of the Hungry Fox's front door (as you enter the restaurant), right next to the place's resident fish tank.  I have to say that the owner of the Hungry Fox was INCREDIBLY nice when we came in to stalk the place and told us that we were welcome to take as many pictures as we wanted, even though we weren't actually eating there.  Yay!  And from what I've read on Yelp, we really missed out by not eating there, as the place apparently serves up some fabulous grub!
As I mentioned above, none of us stalkers were entirely sure what scene exactly had been filmed at the Hungry Fox, so we all pretty much just took some random photographs of the place.  Whoopsie!  Looks like I'm just going to have to go back there in the near future!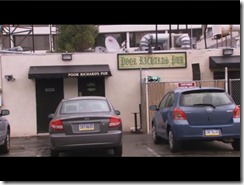 On a side note – After returning home, Lavonna did some cyber-stalking and found out that the bar which stood in for Poor Richard's Pub on The Office is actually a place called Pickwick's Pub in Woodland Hills.  Besides the "Cocktails" episode, Pickwick's also made an appearance in the Season 4 episode of The Office titled "Local Ad".  Thank you, Lavonna!  I will FOR SURE be stalking this one!  🙂
Big THANK YOU to Snidely Whiplash for finding this location!  🙂
Until next time, Happy Stalking!  🙂
Stalk It: The Hungry Fox restaurant from "The Negotiation" episode of The Office is located at 13359 Sherman Way in North Hollywood.
21699