Nate 'n Al's Delicatessen
Aug 18th, 2010 | By
Lindsay
| Category:
TV Locations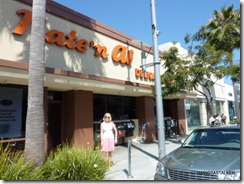 One location that I have been wanting to stalk for quite some time now is the historic Nate 'n Al Delicatessen in Beverly Hills, but because I don't get out to that area very often, the restaurant had remained an unchecked item on my extremely long "To-Stalk" list for over a year.  Until a couple of weeks ago, that is, when I finally dragged my fiancé to grab a bite to eat there after we had stalked Will Rogers Memorial Park from 90210, which is located nearby.  And I have to say that the place was definitely worth the wait!  Although rather pricey (despite what some online reviews might state), the landmark restaurant serves up some FABULOUS food.  And thanks to its huge deli counter, brown leather booths, and pastrami sandwiches stacked as high as the eye can see, eating there was like visiting a little slice of New York City right here in Southern California.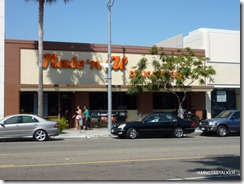 Nate 'n Al's has been a veritable institution in Beverly Hills ever since it first opened way back on May 24, 1945.  The deli was founded by Al Mendelson and Nate Reimer, who originally met while working at Boesky's Deli in Chicago.  The two entrepreneurs eventually decided to open their very own deli-style restaurant a few years later and figured LaLaLand was just the place to do so.  At the time of its founding, the restaurant was Beverly Hills' sole delicatessen and could only accommodate a scant 30 patrons.  It became such an immediate success, though, that it was later expanded to its current, larger size which can hold up to 120 diners. Nate retired just a few years after the restaurant's opening, but Al stayed on to helm the place and it is his ancestors who are still running it today.  And I am happy to report that the restaurant is still going strong.  According to this 2005 Daily News article, each year Nate 'n Al's serves up 130,000 matzo balls, 16,000 gallons of chicken noodle soup, and 80,000 pounds of corned beef!  As I stated above, the food is phenomenal, but it's also fairly expensive, so be prepared.   
Because of its fabulous food and laid-back attitude, Nate 'n Al's has long been a celebrity magnet.  You won't find any autographed pictures decorating the establishment's walls, though, because as founder Al Mendelson advised: "If you want them in the booths, keep them off the walls."  😉  Just a few of the stars who have been spotted there over the years include Max Mutchnick (one of the co-creators of Will & Grace), Lew Wasserman, Suzanne Pleshette, Tom Poston, Robert Wagner, Neil Diamond, Jon Voight, Doris Day, Nicollette Sheridan, Jay Leno, Roseanne Bar, Adam Sandler, Dick Van Dyke, Jack Nicholson, Dustin Hoffman, Jodie Foster, Nancy Sinatra, Courteney Cox, Rodney Dangerfield, Kareem Abdul Jabar, Tony Curtis, Sharon Osbourne, and Arnold Schwarzenegger.  Television host Larry King loves the place so much that he not only dines there every single morning (not kidding!), but he also purchased his house in Beverly Hills for the sole reason that it was within walking distance of the deli!  Love it!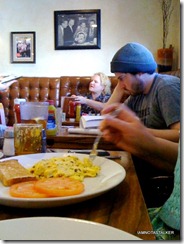 And while we didn't spot any celebs while dining there, fellow stalker Karen was lucky enough to be seated next to Jason Reitman on a recent visit to the deli.  Her daughter snapped the above photo of the Juno director on the down-low during their meal.  Love it!  Jason wasn't the only celeb that Karen and her daughter spotted at Nate 'n Al's that day, though – Larry King and Clint Howard were also dining at the time.  Lucky girls!  As Karen said, talk about "hitting a trifecta"!  From what I've heard, the best time to spot celebs at Nate 'n Al's is in the morning, which means I've gotta go back there sometime soon to grab some breakfast!
And the place is also a filming location!  In the Season 5 episode of Entourage titled "The All Out Fall Out", Nate 'n Al's is the spot where Vinnie Chase (aka Adrian Grenier) finds out from his business manager that he may need to file for bankruptcy.  The 1957 flick Pal Joey, which starred Frank Sinatra and Rita Hayworth, was also filmed at the historic restaurant. 
Until next time, Happy Stalking!  🙂
Stalk It: Nate 'n Al Delicatessen, from Entourage, is located at 414 North Beverly Boulevard in Beverly Hills.  You can visit the restaurant's official website here.
22398