The One&Only Palmilla Resort
Sep 2nd, 2010 | By
Lindsay
| Category:
90210 & Beverly Hills, 90210 Filming Locations
,
Jennifer Aniston Locations
,
The Hills Filming Locations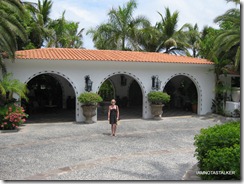 The Grim Cheaper and I just returned from our Cabo San Lucas honeymoon this past Tuesday evening and, let me tell you, we couldn't have been sadder to say good-bye to the place!  We had an amazing time in Mexico – relaxing, swimming, sunbathing, and, of course, stalking.  And while I have plans to publish a whole slew of posts about our recent wedding day, which of course incorporated some stalking and celebrity elements, I am currently waiting on the official pictures from our photographer, so I am going to have to put those columns on the back burner for now.  In the meantime, though, I thought I'd write about one of the locations I stalked while in Cabo San Lucas last week – the One&Only Palmilla Resort, which just so happens to be my girl Jennifer Aniston's very favorite vacation spot.
The One&Only Palmilla, which is Cabo San Lucas' oldest resort, was first built in 1956 by Don Abelardo Rodriguez, the son of then-Mexican president Abelardo Luis Rodriguez, and at the time was named simply the Palmilla Hotel.  The property originally boasted a scant 15 rooms and was so exclusive that it was only accessible via boat or private plane.  The completion of the Mexican Federal Highway in 1973 allowed easier access to the property, which only helped it to grow in popularity.  In 1984 the hotel expanded to include 50 rooms, ten years later it added the Jack Nicklaus-designed Palmilla Golf Club, and in 1996 the number of rooms expanded once again to 115.  In 2002, the resort shuttered its doors to begin a massive $90 million renovation and expansion project.  It re-opened as the One&Only Palmilla Resort in February of 2004 and remains one of the city's most sought after destinations.  The hotel is world-renowned for its service, which includes 24-hour personalized butler service for each guest, fresh fruit delivered daily to each room, twice daily maid service, and aromatherapy turndown service each night.
One&Only Palmilla has won such a staggering number of awards over the past six years that it would be virtually impossible to list them all here.  A few of them include: "The Gold List" in January 2010 from Conde Nast Traveler, "World's Best Hotels" in January 2010 from Travel + Leisure Magazine, and "Best Butler Service in Mexico" in July/August 2010 from Bridal Guide.  The place truly is one of a kind.  As you can see in the above photographs, there are little hidden hammock alcoves which can be found throughout the Palmilla's extensive property.  Next to the hammock is a sign which informs guests that if they require assistance, such as beverage service or an iPod pre-programmed with relaxation music, they only need push the little button located next to the hammock.  Sigh!  Now that's what I call the life!  Because of its luxuriousness and exclusivity, the hotel has long been a celebrity magnet.  Just a few of the stars who have checked in there over the years include Desi Arnaz, Lucille Ball, Bing Crosby, John Wayne, Dwight D. Eisenhower, Mario Lopez, Demi Moore, Ashton Kutcher, Celine Dion, Mandy Moore, Richard Gere, John Travolta, Dustin Hoffman, and Eva Longoria.  Giants quarterback Eli Manning tied the knot there in April of 2008, as did Oliver Hudson (Kate Hudson's brother) in June of 2006.  Kevin Jonas honeymooned there with his new wife Danielle Deleasa in December of 2009 and Christina Aguilera threw her bachelorette party there in 2005.  And, as I mentioned above, Jennifer Aniston is a frequent guest.  The actress loves the hotel so much, in fact, that she visits it several times a year.
Palmilla One&Only is an absolutely BEAUTIFUL place and it's not at all hard to see why Jen loves to vacation there.  The property is closed to the public, however, and you must have a lunch or dinner reservation to be allowed past the front gates.  I wasn't aware of that little caveat at the time, though, so when we showed up to stalk the place we were almost turned away.  The guard at the guard shack was incredibly nice, though – as were ALL of the One&Only employees – and he asked us to wait a moment while he called one of the hotel's restaurants to see if we could be seated immediately.  Thankfully, Breeze, the One&Only's outdoor lounge, had room and we were able to dine there.  And, let me tell you, the food was ABSOLUTELY incredible!  Like honestly, some of the best food I've ever had in my life.  I, of course, ordered a glass of champagne while there (hey, I was on my honeymoon!) and when the waiter arrived with a bottle of Veuve Clicquot to pour, I thought the Grim Cheaper was going to have a heart attack!  After the waiter left, GC tuned to me and said, "From now on, honey, please ask for the house 'sparking wine' instead of the 'champagne'."  LOL  Being that Veuve is my favorite, though, I wasn't complaining.  😉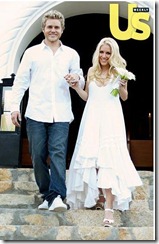 The hotel is also, of course, a filming location.  Heidi Montag and Spencer Pratt held their Mexican wedding ceremony at the resort's 50-year old chapel in November of 2008.  The event was covered exclusively by US Weekly Magazine, but unfortunately I could only find the above-pictured photograph of it online.
And, for whatever reason, The Hills's cameras failed to record the ceremony.  The only part of the wedding ever shown on the series was in the Season 4 episode titled "Mr. and Mrs. Pratt", in which Spencer and Heidi are shown watching a brief clip of their nuptials taken on a hand-held camera.
The Palmilla's tiny chapel, which was originally built in 1956, is absolutely adorable in person and plays host to numerous wedding ceremonies each year.
The hotel was also used extensively in the Season 5 episode of Beverly Hills, 90210 titled "Hazardous to your Health", where it stood in for the Punta Brava-area resort where Dylan McKay (aka Luke Perry) and Valerie Malone (aka Tiffany-Amber-Thiessen) set up a sting to win back Dylan's stolen fortune.
Due to the recent renovation, though, the hotel looks a bit different now than it did back in 1995 when 90210 was filmed.  Guests no longer drive up to the same entrance used by Dylan and Valerie – that area is still there, but it is now a walkway.
And while the shape of the pool is still the same, the area around it has been altered slightly.   As you can see in the above photographs, there is now a restaurant located off to the left hand side of the pool and a large "palapa" (the Spanish word for a thatched umbrella) which covers an outdoor bar has also been installed.  Thankfully, though, the hotel is still very recognizable from 90210.  The real life Los Cabos International Airport was also featured extensively in that episode, but unfortunately I did not take any photographs of it while I was there.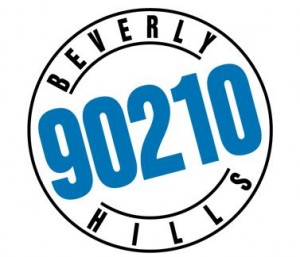 On a side note – Everyone from fellow stalkers to my mom to a high school friend who I haven't spoken to in over a decade has contacted me today to alert me to the fact that the date is 9-02-10!  Yes, it's officially 90210 day!  How I didn't realize this before is beyond me.  I mean, it should be a national holiday or something!  When I told my husband (that is SO weird to say!) the significance of today's date he asked me if Mike, from MovieShotsLA, and I were going to hold a seance or something.  And then he begged me not to make a pilgrimage to the 90210 house, as Jack, the owner, "already thinks you're weird enough!"  LOL  Anyway, just wanted to wish all of my fellow stalkers a VERY HAPPY 90210 day!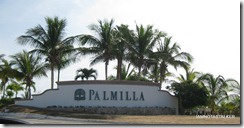 Until next time, Happy Stalking!  🙂
Stalk It: The One&Only Palmilla Resort is located at Km 7.5 Carretera Transpeninsular in San Jose Del Cabo, Mexico.  The hotel is private and not open to the public, but if you book a reservation for lunch or dinner at one of the property's three exceptional restaurants you will be granted access. You can visit the hotel's official website here.  Jennifer Aniston rented the One&Only Palmilla's private, 8,500 square foot Villa Cortez beach house for her recent 41st birthday party this past February.  The One&Only chapel, where Spencer and Heidi tied the knot, is located up the steps which lead away from the hotel's main entrance.
23032