Esperanza Resort
Sep 3rd, 2010 | By
Lindsay
| Category:
Movie Locations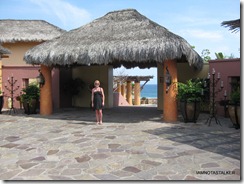 Another celebrity hot spot that my husband and I stalked while honeymooning in Cabo San Lucas last week was the world-famous Esperanza Resort hotel – a place my girl Jen A. has checked into frequently over the years.   The 17-acre property, which is a member of the Leading Hotels of the World, is consistently referred to as Cabo's most luxurious and exclusive resort.  The hotel is made up of only 57 rooms – fifty individual casitas and seven over-sized suites – so it truly offers its guests, many of whom are movie stars, the ultimate in privacy – and service.  Just a few of the amenities offered at the resort include a private beach, an award-winning spa with steam caves and waterfalls, an infinity pool overlooking the ocean, a yoga and Pilates studio where the classes are free, an art gallery, loaner iPods, and coconut-milk popsicles which are doled out regularly to those guests lying poolside.  Needless to say, the hotel, which is part of the exclusive Auberge Resort chain, has won countless awards over the years, including three of Travel + Leisure Magazine's 2010 "World's Best Awards" – #1 Resort, #1 Spa, and #1 Service for their Best in Mexico section.  It truly is a remarkable and absolutely beautiful place!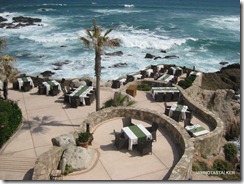 I absolutely fell in love with Esperanza's The Signature Restaurant, which is pictured above.  The restaurant is composed of three different levels of terraces, all of which overlook both the Pacific Ocean and the Sea of Cortez, and is breathtakingly beautiful.  I SO wanted to grab dinner there during our stay in Cabo, but the Grim Cheaper was having none of that.  🙁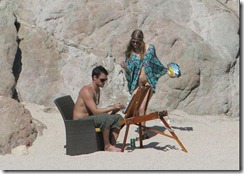 Esperanza's extensive celebrity guest list reads like a Who's Who of Hollywood.  Just a few of the stars who have been spotted there include Fergie and Josh Duhamel (the Esperanza was where the famous 2008 picture of Josh D. painting on the beach was taken), Chelsea Handler, Debra Messing, Courteney Cox and David Arquette, Sheryl Crow, Ashley Simpson and Pete Wentz, Jennie Garth, Usher, Owen Wilson, and Will and Jada Pinkett Smith.  In 2003, Elizabeth Berkley married Ralph Lauren's nephew, Greg, at the Esperanza.  That same year Gwyneth Paltrow and Chris Martin honeymooned there, as did Katherine Heigl and Josh Kelley in 2007.  And according to this Forbes.com article, the Esperanza gifted a free weekend stay to all of the 2002 Academy Award winners.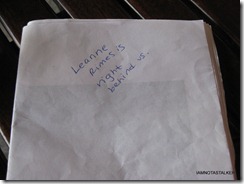 And as proof that visiting the hotel almost guarantees one a celeb sighting, while we were there my husband and I spotted LeAnn Rimes and Eddie Cibrian, who were in town to celebrate LeAnn's 28th birthday.  To clarify, I should say that I actually spotted the two stars – the Grim Cheaper was absolutely clueless.  He had gone to the restroom immediately upon our arrival at the hotel, while I grabbed a seat in the resort's outdoor lounge.  Shortly after I sat down, who should walk into the bar area but LeAnn Rimes followed by Eddie C.  I recognized the two of them immediately and just about had a heart attack I was so excited!  When the GC returned from the restroom, he told me that he wanted to head down to the beach right away to search for the rocks where Jennifer Aniston recently posed for the ad for her newly released perfume (the rocks were our sole reason for visiting the Esperanza and I will be blogging about them on Monday) and grab a drink afterwards.  I started making faces at him to alert him to the fact that we were in the presence of celebrities, but he remained clueless.  I finally grabbed some paper out of my purse and wrote the above-pictured note.  GC took one look at the note, glanced over towards LeAnn, and then said, "Oh OK.  Well, come on, let's go down to the beach."  LOL  Needless to say he was not at all impressed.  We stayed at the bar for a few more minutes while I debated about going up to LeAnn and Eddie to ask for a photograph, but I ultimately decided against it.  They were on vacation at an ultra-exclusive and ultra-private resort and I felt that it would be inappropriate to bother them.  And I was happy enough just to have seen them in person, anyway.  🙂  When we returned from the beach about an hour and a half later, we again spotted LeAnn and Eddie swimming and eating nachos at the resort's pool.  And I have to say that while I've never thought LeAnn was especially attractive in photographs, she is absolutely GORGEOUS in person.  I'd even go so far as to say that she was luminous.  Needless to say, seeing her was one of the highlights of my honeymoon.  🙂
And, of course, the Esperanza is also a filming location!  The hotel stood in for the Cabo San Lucas resort where Eddie (aka Ben Stiller) and Lila (aka Malin Ackerman) honeymooned in the 2007 movie The Heartbreak Kid.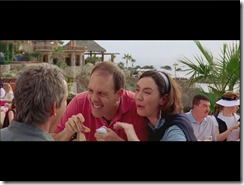 On a side note, one of my former acting teachers, Roy Jenkins (pictured above), played the role of Buzz in The Heartbreak Kid.  So darn cool!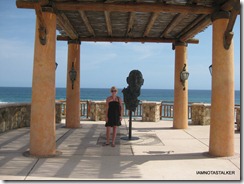 Until next time, Happy Stalking!  🙂
Stalk It: Esperanza: An Auberge Resort is located at Carretera Transpeninsular KM 7 in Cabo San Lucas, Mexico.  You can visit the hotel's official website here.
23070