The "Valentine's Day" Floral Shop
Oct 1st, 2010 | By
Lindsay
| Category:
Movie Locations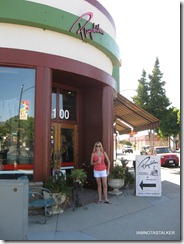 This past weekend I dragged my new husband out to stalk the Burbank storefront that stood in for Siena Bouquet & Cafe – the flower shop/coffee bar belonging to Reed Bennett (aka Ashton Kutcher) in the 2010 romantic comedy Valentine's Day.  And even though I didn't particularly like Valentine's Day all that much – in my eyes it came off as a very poorly executed Love Actually clone – I did absolutely fall in love with Reed's floral/coffee shop in the movie, mostly due to the fact that I am an absolute coffee fiend, as anyone who knows me even slightly well can attest to.  I mean, what a FABULOUS idea for a store – a florist with a built-in espresso bar!  I am of the opinion that there should be a built-in espresso bar in ALL kinds of stores – book shops, hair salons, nail salons, etc. etc. etc.  When I was in college, the local laundromat not only had an espresso bar, but a tanning booth AND an arcade!  Genius!  Needless to say it was the most popular laundromat in the entire area.  Half the time I would visit the place just to grab a latte, even if I didn't have clothes to wash.  Not kidding!  😉  But I digress.  The other reason I loved Reed's store so much was because of its colorful and funky decor, which was vaguely reminiscent of the Central Perk set on fave show Friends.  So, when Mike, from MovieShotsLA, told me that a friend of his had actually watched some of the flower shop scenes being filmed, I just about died as I had assumed that the interior of the store had just been a set.  I immediately added the address of the place to the top of my To-Stalk list and finally made it out there to see it in person this past weekend. 
At the time of the filming, the flower shop space was actually vacant, which gave the Valentine's Day producers the ability to completely take over the premises and extensively dress it in the exact way that they wanted.  Since that time, the space has been taken over by an extremely cool vintage clothing store named Playclothes, but I am very happy to report that the exterior still looks much the same in person as it did in the flick.
The interior, however, is another story. 
While the flooring, intricately designed ceilings, and wooden double front door have remained the same, the store is unfortunately not very recognizable from the movie.  And in real life, there is, of course, no on-site espresso bar.  🙁  The good news, though, is that Playclothes honestly has to be one of the coolest stores I've ever had the pleasure of shopping at.  I'm not at all into vintage clothing, mind you, but I am into costumes and I have to say that Playclothes had some of the best and most authentic on display that I've ever seen in my entire life!  The staff there was also incredibly nice and spent a LOT of time answering all of my silly little questions about the filming of Valentine's Day.
Walking around the vintage clothing shop made me realize that the time to choose this year's Halloween costume has long since arrived.  Unfortunately though, I am currently at a loss.  Ideas anyone?  The Grim Cheaper and I are always either a famous movie couple or a famous real life celebrity couple and this year I was thinking of dressing up as Sue Sylvester and Mr. Schuester from Glee, but the GC ixnayed that idea real fast!  So, I am currently open to ideas.  But please don't suggest anyone from Avatar as I am so not interested in covering myself with blue paint.  😉
The rear entrance to Playclothes, which can be reached off of North Fairview Street, was also used in Valentine's Day.
On a side note – My main man Michael Buble just released the music video for his new song "Hollywood", in which he does a SPOT ON imitation of Justin Beiber.  I actually thought it was the Biebs in the video when I first watched it.  HILARIOUS!  Anyway, the video was shot in its entirety on a movie lot and I spent quite a bit of yesterday trying to figure out which lot.  After wasting more than a few hours searching, I asked Mike, from MovieShotsLA, if he knew where the video was filmed and, sure enough, he did.  Turns out it's Universal!   The video shows off quite a bit of the newly rebuilt New York Street, which I have yet to see , so you all know what that means – I'll be draggin the Grim Cheaper out to stalk it very soon!  🙂
Big THANK YOU to Mike, from MovieShotsLA, for finding this location!  🙂
Until next time, Happy Stalking!  🙂
Stalk It: Playclothes vintage clothing store, aka the floral shop from Valentine's Day, is located at 3100 West Magnolia Boulevard in Burbank.  The back of the store is accessible from North Fairview Street.  You can visit the Playclothes website here.
24078