The "Black Sheep" House
Oct 19th, 2010 | By
Lindsay
| Category:
Movie Locations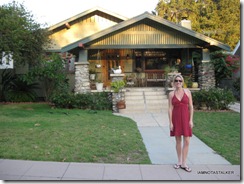 Another location that Mike, from MovieShotsLA, and I stalked last Monday afternoon was the supposed Buckley, Washington-area home where Mike Donnelly (aka Chris Farley) lived in the 1996 comedy Black Sheep.  Fellow stalker Owen tracked down this location – along with pretty much every other locale which appeared in the movie – quite a few months back and the place has been on my To-Stalk list ever since.  But because I rarely make it out to the Eagle Rock area, I had yet to visit the place – nor had I ever watched Black Sheep before.  So, after Mike and I stalked the house last Monday afternoon, I finally sat down to watch the movie.  And I have to say that I was very pleasantly surprised.  Even though I am a sucker for screwball comedies, for whatever reason I had not really expected to like the flick at all.  I ended up laughing all the way through it, though, especially during the scene in which Mike gets pulled over for driving seven miles per hour on the freeway.  LOL!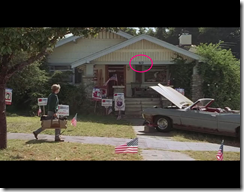 Owen found Mike Donnelly's home thanks to one of the Black Sheep crew members who remembered that the residence was located somewhere in Eagle Rock.  Even with that bit of information, though, I'm amazed that Owen was able to track the place down, because producers had installed a fake address number of 612 for the filming.   UGH!  I so hate it when they do that!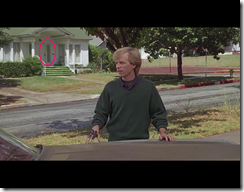 It takes a lot more than a simple change of address to fool us stalkers, though!  As you can see in the above screen capture, a home with a 4-digit address number was clearly visible in the background of one of the scenes filmed at the Donnelly residence.   Once Owen saw that four digit number, he knew that the Donnelly address had to be a fake.  He then immediately set about using Google Street View to search all of the blocks in Eagle Rock with four-digit addresses.  And sure enough, it wasn't long before he found the right house.  Yay!
In reality, the Donnelly residence, which features 3 bedrooms, 2 bathrooms, and 1,782 square feet of living space, is a lot cuter and far better maintained in person than it appeared in the film.
The house only actually appears twice in Black Sheep.  It first shows up in the scene in which Steve Dodds (aka David Spade) first goes to meet Mike Donnelly.  Later on in the movie, the house is featured briefly in the scene in which the two men discover that Governor Tracy (aka Christine Ebersole) has fixed the election.
I am fairly certain that the real life interior of the property was also used in that particular scene.
After watching Black Sheep earlier this week, I became obsessed with stalking the Governor's Mansion which appeared throughout the flick.  Sadly though, fellow stalker Chas, from ItsFilmedThere, informed me that, while Owen had also found this property, it was torn down quite some time ago and another home built in its place, which is absolutely mind-boggling to me!  How (or WHY!) someone would tear down such a large and stately piece of property just to build a new one is absolutely beyond me.  Chas and I were discussing it yesterday, though, and he came up with a possible explanation.  He thinks there quite possibly could have been a fire at the property, which would have forced the owners to demolish whatever was left standing and start anew.  I searched for property records on the home, though, to see if I could dig up any further information, but came up completely empty-handed.  UGH!  The only thing I can say for sure is that the Governor's Mansion from Black Sheep is no longer standing.
There is some good news, though!  For whatever reason, the mansion is still visible via certain angles on Bing Maps.  As you can see above, when the Bing aerial view is angled south, the image shows a vacant lot.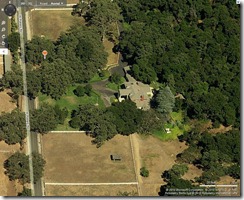 BUT when you angle the map east, the Governor's Mansion magically appears.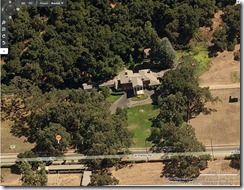 AND if you then switch back to the south view once again, the front of the home will sometimes show up.  So darn cool! 
Big THANK YOU to fellow stalker Owen for finding these locations!
Until next time, Happy Stalking!  🙂
Stalk It: Mike Donnelly's house from Black Sheep is located at 5158 Highland View Avenue in Eagle Rock.  The Governor's Mansion from the movie was formerly located at 874 West Potrero Road in Westlake Village, but has since been torn down and replaced with a new residence.
24677