The Griffith Park Merry Go Round from "The Mentalist"
Oct 21st, 2010 | By
Lindsay
| Category:
TV Locations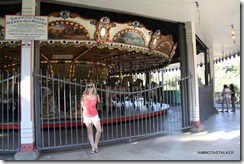 One location that I have wanted to stalk for almost two years now, ever since November of 2008 when it appeared in the Season One episode of The Mentalist titled "Seeing Red", was the merry go round where Patrick Jane (aka Simon Baker) lured murder suspect Travis Tennant (aka Noel Fisher).  The only problem was that I had absolutely NO idea whatsoever where to find it, as in my ten-plus years of living in Southern California the only merry go round that I had ever encountered was the one located on the Santa Monica Pier and it didn't look anything like the one that had appeared in The Mentalist.  So, I immediately called up Mike, from MovieShotsLA, and asked him if he knew where it was located.  Sure enough, he did!  As fate would have it, the merry go round is located right in the heart of L.A.'s Griffith Park and Mike used to ride it regularly when he was a kid!
The Griffith Park Merry Go Round is actually something of a Los Angeles landmark and I am extremely shocked that, up until its appearance on The Mentalist two years ago, I didn't even know of its existence.  The Merry Go Round was first built in 1926 by the Spillman Engineering Company and is currently the only full size Spillman carousel still in operation today.  It was originally commissioned by the Spreckels family, of the Spreckels Sugar Company, to be used at their San Diego theme park, the Mission Beach Amusement Center.  Sadly, the amusement center was shuttered in 1935 in the midst of the Great Depression and the Merry Go Round was subsequently moved to Balboa Park to be featured in the California Pacific International Exposition.  When the exposition ended in 1937, a man named Ross Davis purchased the carousel and transported it over 120 miles north to its new home in Griffith Park, where it is still in operation to this day, over seven decades later. 
The Griffith Park Carousel is comprised of 68 different hand-made horses, all of which "jump" – ie. move up and down – and boast tails made of authentic horse hair. 
The carousel also features a custom-built Stinson 165 Military Band Organ, which plays a library of over 1500 different songs.
And, incredibly enough, the Griffith Park Merry Go Round even served as the inspiration for one of the most famous landmarks in the entire world – Disneyland!  Yes, you read that right.  According to one of my very favorite stalking tomes, Hollywood Escapes: The Moviegoer's Guide to Exploring Southern California's Great Outdoors, Griffith Park historian Mike Eberts states, "Walt Disney brought his young daughters to the carousel and this is one of the places where he began to dream up the idea that would lead to Disneyland."  So incredibly cool!  The bench where Walt used to sit during those outings (which is pictured very poorly above) is still on display at the merry go round to this day.  And, according to the book Walt Disney: The Triumph of the American Imagination, Walt's daughter Diane "thought the inception [of Disneyland] took place during the Sunday afternoons when Walt picked the girls up from religious services – he never attended himself – and took them to the Griffith Park merry-go-round, where they would spend hours.  'He'd see families in the park,' Diane would later recall, 'and say, 'There's nothing for the parents to do . . . You've got to have a place where the whole family can have fun.'"  Further adding to the carousel's celebrity status is the fact that James Dean's very first acting job took place there!  It was a commercial for Pepsi Cola and, in it, the newbie actor was shown handing out bottles of the soft drink to teenagers who were riding the merry go round.  Such incredible history!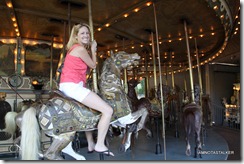 I, of course, had to take a ride on the carousel while I was there and it was so incredibly fun!  Being there brought me RIGHT BACK to my childhood when I used to ride the Edgewater Packing House Carousel on Monterey's Cannery Row each and every weekend.  In an odd coincidence, I just found out today that my childhood merry go round was also designed by the Spillman Engineering Company, but it is sadly no longer in operation publicly as it was purchased by a Vegas millionaire who had it installed in a room in his home!  Not kidding!  But I digress.
In the "Seeing Red" episode of The Mentalist, Patrick Jane hypnotizes a young murder suspect named Travis in order to lead him to a supposed Sacramento-area merry go round so that he can be captured by the CBI.
Mike clued me into the fact that the Merry Go Round was also featured at the very end of the 1988 comedy Twins, in the scene in which Julius and Vincent Benedict (aka Arnold Schwarzenegger and Danny DeVito, respectively) meet up with their wives, Marnie and Linda Mason (aka Kelly Preston and Chloe Webb, respectively), and their new twin children at a carousel in a park.
Once Mike told me about the Merry Go Round, I started noticing it popping up in all sorts of movies and television shows, including the Season 2 episode of CSI: New York titled "Zoo York", in which the body of a teenage debutante is found on the supposed Central Park carousel.
The Griffith Park Merry Go Round also showed up in the 1992 flick Buffy the Vampire Slayer, as the spot where Amylin (aka Paul Reubens) turned Grueller (aka Sasha Jensen) into a vampire.
And it also appeared briefly in the Season 1 episode of MacGyver titled "Every Time She Smiles" as a supposed Bulgaria-area merry go round.
And thank you to fellow stalker Eileen, who informed me that the carousel also appeared in the video for the Jessica Simpson/Nick Lachey song "Where You Are".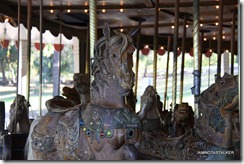 The Merry Go Round was also featured in the Sally Field-directed movie Beautiful, but I don't own that movie, so I was not able to make screen captures.
Big THANK YOU to Mike, from MovieShotsLA, for telling me about this location!  🙂
Until next time, Happy Stalking!  🙂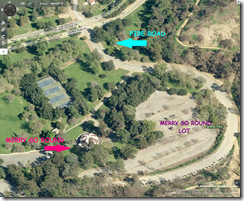 Stalk It: The Griffith Park Merry Go Round is located at 4730 Crystal Springs Drive, inside of Griffith Park, in the Los Feliz section of Los Angeles.  The Merry Go Round is open each Saturday and Sunday from 11 a.m. to 5 p.m.  During the summer months, it is also open on weekdays.  The Merry Go Round can be a bit tricky to find and is not entirely visible from the road.  The easiest way to get there is to take Los Feliz Boulevard to Crystal Springs Drive and head north.  Make a left onto Fire Road and park in the first lot that you come to.  The Merry Go Round is located just north of that lot.
24820