Mr. Bones Pumpkin Patch . . . A Second Time
Oct 26th, 2010 | By
Lindsay
| Category:
Celebrity Sightings
,
Haunted Hollywood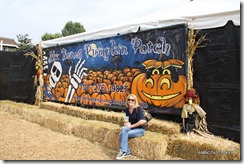 This past weekend, I dragged the Grim Cheaper out to one of my all time favorite Halloween-themed stalking locations – Mr. Bones Pumpkin Patch in West Hollywood.  The family owned and operated patch, which is located on a vacant plot of land on North Doheny Drive in between Keith and Harland Avenues, has been serving L.A.'s west side since 1986 and each year during the month of October is the place to see and be seen in Southern California.  And even though I've actually blogged about this location once before, way back in October of 2008, since it is a landmark Haunted Hollywood stalking venue, I thought it was only fitting that I write about it once again since we are just a few days away from Halloween. 
For whatever reason – I am guessing due mostly to its centralized location – the patch has been a celebrity magnet ever since its inception almost two and a half decades ago.  Anyone who's anyone stops by there during the month of October for a bit of Halloween fun.  Just a few of the stars who have been spotted there recently include Tobey Maguire and Jennifer Meyer, Gwen Stefani and Gavin Rossdale, Tori Spelling and Dean McDermott, The Girls Next Door's Holly Madison and Bridget Marquardt, Britney Spears, Marcia Cross, Scott Baio, Chris Noth, Sara Gilbert, Justin Chambers, Jessica Alba, Mark Wahlberg, Courteney Cox, Christina Aguilera, Laurence Fishburne, Halle Berry, Usher, Breckin Meyer, Dave Grohl, Victoria's Secret-model Alessandra Ambrosio, and Cougar Town's Busy Philipps.  I could literally go on and on here, but that gives you somewhat of an idea of the patch's extensive celebrity clientele.  Unfortunately, the GC and I did not see any stars while we were stalking the place this past Sunday, but we did run into Heidi Klum and Seal during our first visit there back in 2007 (the two are pictured above) and last year we missed both Tori Spelling and Gwen Stefani by mere minutes!  UGH!
And while I love Mr. Bones, I must admit that the Grim Cheaper isn't too crazy about the place thanks to the fact that they charge a $4 entrance fee for each adult (kids are $2).  That fee can later be applied to any pumpkins or Halloween merchandise that is purchased, but as the GC says, Mr. Bones has to be the only pumpkin patch on the planet that has a cover charge.  😉  Besides pumpkins, the patch also boasts plenty of activities to keep the kids (and those adults who want to join in on the fun) occupied, including a large pumpkin-shaped jump house, face painting, a super slide, a small straw maze, a petting zoo, and a pumpkin decorating station.  The patch also offers catered lunches of pizza, kosher hot dogs, and sausages.  And I can personally attest to the fact that the hot dogs there are fabulous.  😉
Mr. Bones also boasts quite a large paparazzi following.  The paps have been a fixture there pretty much ever since the place first opened.  As you can see in the above pictures, for a time Mr. Bones employees tried to thwart photographers' efforts by surrounding the property with large black-out curtains which blocked views of the patch from the street.  And each year it seemed that not only did those curtains grow taller and taller, but so did the paparazzo's ladders.
But this year things changed considerably.  I guess the patch has now resigned itself to the fact that as long as it is going to be there each year, so are the paparazzi, because they have now set up a cordoned off "press area" at the corner of the property in which the photogs are allowed to stand and take pictures.  A pumpkin patch with a cover charge and a press area?  Only in L.A., I swear!  SO LOVE IT!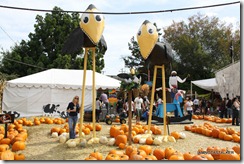 I honestly cannot recommend stalking Mr. Bones enough!  Be forewarned, though, its pumpkins do run on the expensive side – but, then again, you can't put a price tag on celebrity sightings now can you?  🙂 
Until next time, Happy Stalking!  🙂
Stalk It: Mr. Bones Pumpkin Patch is located at 702 North Doheny Drive in West Hollywood.  You can visit the official Mr. Bones website here.  The patch is open this year from October 2nd through the 31st.  Mr. Bones charges a cover fee of $4 per adult and $2 per child during the weekends.  That fee can later be applied to the cost of any pumpkins or Halloween merchandise that is purchased while there.
24941