The Fisher & Sons Funeral Home from "Six Feet Under"
Oct 29th, 2010 | By
Lindsay
| Category:
Haunted Hollywood
,
TV Locations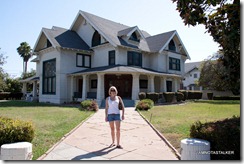 One location that I stalked well over a year ago, but for whatever reason have yet to blog about, is the Victorian-style residence which stood in for the supposed North Hollywood-area Fisher & Sons (and later Fisher-Diaz) Funeral Home on the immensely popular HBO series Six Feet Under.  Amazingly enough, up until yesterday morning, I had never seen even one episode of the show and, unfortunately, I have to say that after watching the pilot episode yesterday morning, I wasn't all that impressed with it.  It's a bit of an odd series.  The only part I enjoyed was one of the opening scenes in which David Fisher (aka a pre-Dexter Michael C. Hall) tells a supposedly grieving widower (played by Harper Roisman) that his wife is at peace now, to which the widower replies, "If there's any justice in the universe, she's shoveling sh*t in hell!"  LOL LOL LOL 
But while I didn't especially like the pilot, I did absolutely fall in love the main house featured in it.  In real life, the property is known as the Auguste Marquis Residence and it was originally built in the Queen Anne/Eastlake style (much like the "Thriller" house that I blogged about yesterday) in 1904 and is Los Angeles' 602nd historic cultural monument.  The dwelling, which currently houses the Filipino Federation of America, boasts 5 bedrooms, 2 bathrooms, a whopping 6,324 square feet of living space, and sits on over half an acre of land.  The home was originally built for a Swiss native named Auguste Rodolphe Marquis, who worked for Death Valley's Johnnie Consolidated Gold Mining Company, from which he made a considerable fortune.  The property was purchased shortly after the second World War by General Hilario Camino Moncado, a native of the Philippines and founder of the Filipino Federation.  His heirs still own the property to this day.
The Auguste Marquis Residence was featured each week as the home where the dysfunctional Fisher Family – siblings David, Nate (aka Peter Krause), and Claire (aka Lauren Ambrose) and their mother Ruth (aka Frances Conroy) –  lived and operated their mortuary business on Six Feet Under, which ran from 2001 through 2005.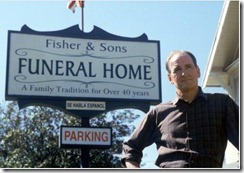 In real life, the Fisher & Sons Funeral Home sign is, of course, not there.
And while the home was mostly just used for establishing shots, some occasional filming was also done onsite there throughout the series five year-run, as was the case with the pilot episode, screen captures of which are pictured above.
The interior of the Fisher home was a set that was built on a soundstage at the Columbia/Sunset Gower Studios in Hollywood and, from what I've been able to discern online, looks nothing like the interior of the actual Auguste Marquis Residence.  A short film named Good Night was also filmed on location at the Six Feet Under funeral home in September of 2009 and Don Cunanan, the set photographer, snapped some pictures of the filming, in which you can see some of the residence's real life interior.  You can take a look at those photographs here.
On a coincidental side note – I was floored to spot Mountain View Cemetery, which I just blogged about this past Tuesday, featured quite extensively in the pilot episode of Six Feet Under, as the site of the funeral of Nathaniel Samuel Fisher (aka Richard Jenkins).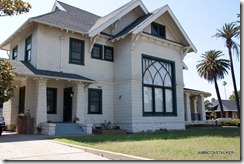 And I'd like to wish all of my fellow stalkers a VERY happy Halloween!  Hope your holiday is fun and candy-filled!
Until next time, Happy Stalking!  🙂
Stalk It: The Filipino Federation of America – aka Fisher & Sons funeral home from Six Feet Under – is located at 2302 West 25th Street in the West Adams District of Los Angeles.
25135