Halloween 2010 at the Hotel Santa Barbara
Nov 2nd, 2010 | By
Lindsay
| Category:
Haunted Hollywood
,
This and That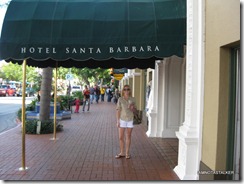 As I mentioned last week, this past Saturday morning the Grim Cheaper and I headed up north to the Central Coast of California to spend Halloween with our good friends who live in Santa Barbara, or the "American Riviera" as the seaside city is colloquially known.  For those who have never visited the area during Halloween, I must say that there is just simply no place better to spend the holiday.  For whatever, Santa Barbara has got some MAJOR Halloween spirit.  Downtown State Street turns into one big Halloween fest each and every October 31st, during which everyone – and I do mean everyone – dresses up for the occasion.  It's an absolute blast and if you EVER have the opportunity, I HIGHLY recommend spending at least one Halloween there!
At one point in the evening, we even witnessed a flash mob dancing to "Michael Jackson's Thriller", in which ALL of the participants were dressed like Zombies.  So darn cool!  But I digress.
Anyway, as I always do when planning a vacation, I set out to find a hotel to stay at that had some sort of Hollywood history or cinematic significance.  And find one, I did!  While doing some cyberstalking I came across an article on the Santa Barbara Conference & Visitors Bureau website titled "Movie Tourism is a Natural in 'Hollywood North'".  Besides doling out some fabulous area filming location information, the article also stated that in the 1920s the Hotel Santa Barbara, a place where I have actually always wanted to stay, was "the getaway for many of Hollywood's brightest stars", including actors Leo Carrillo, Clark Gable, and Carole Lombard.  So, I immediately booked the GC and I a room there.
The 84-room, Mediterranean-style property, which was originally named "The Saint Barbara Hotel", was established in 1916 and was one of the first hotels built by famed Santa Barbara hotelier Neal Callahan.  The original hotel building was destroyed during the June 29, 1925 earthquake and was rebuilt by Callahan the following year.  From the very beginning, the upscale hotel enjoyed a loyal following, housing vacationing starlets and wealthy tourists alike.  According to this October 2000 Los Angeles Times article, during Prohibition the property even boasted a hidden gambling room on its premises, where alcohol was indeed still served.  And while in later years the hotel degraded a bit in stature, it underwent an extensive $4 million renovation and restoration project in 1997 and is once again a popular upscale vacation venue.
The hotel was very reasonably priced by Santa Barbara standards (most hotels in the seaside city are exorbitantly expensive and not very well maintained), especially considering the place's centralized downtown location.  Lots of freebies, such as bottled water in the room, wireless internet, and a continental breakfast, were also included.  Our room, while small, was extremely cozy and very nicely appointed.
And it also boasted a fabulous view of Downtown State Street and the Santa Barbara Mountains.  And even thought the staff there couldn't tell me much about the history of the place nor about any of its celebrity clientele during the heyday of Hollywood, I honestly can't recommend the Hotel Santa Barbara enough!  I've stayed in quite a few different hotels in the area over the years and not only was the Hotel Santa Barbara one of the nicest, it was also one of the least expensive, which, of course, pleased the Grim Cheaper to no end.  🙂
As always, the GC and I looked to Hollywood for our costume inspiration this year and decided to dress up as Ferris Bueller (aka Matthew Broderick) and Sloane Peterson (aka Mia Sara) from fave movie Ferris Bueller's Day Off.  My mom, whose help we enlisted to make Ferris' leopard print vest, was convinced that no one would recognize us being that the movie is almost two and a half decades old.  I, however, knew that would not be the case.  I mean, hello!  Ferris and Sloane are iconic!  How could people NOT know who we were!  And sure enough, I was right – people recognized us pretty much everywhere we went that night.  🙂  Well, a few did refer to us as Ferris and "Simone", but hey, that's close enough.  😉
Until next time, Happy Stalking!  🙂
Stalk It: Hotel Santa Barbara is located at 533 State Street in the heart of Downtown Santa Barbara.  You can visit the hotel's official website here.
25246