Gas Works Park from "10 Things I Hate About You"
Nov 19th, 2010 | By
Lindsay
| Category:
Movie Locations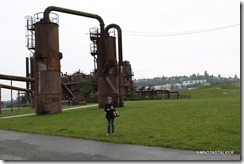 Another location that I stalked while visiting the Pacific Northwest this past May – and yes, there are still quite a few of them that I have yet to blog about – was Seattle's famously unique Gas Works Park, the spot where Patrick Verona (aka Heath Ledger) took Kat Stratford (aka Julia Stiles) to play a game of paintball in the 1999 movie 10 Things I Hate About You.  I found this location, as well as countless other 10 Things I Hate About You locations, from fellow stalker Owen, who has managed to compile a mind-bogglingly massive list of Seattle-area filming locales over the past few years.  And I can honestly say that Gas Works Park is easily the most interesting and unique of all of the locations that I stalked while vacationing in Washington State.  Actually, come to think of it, the park is quite possibly the most unique and interesting of all the locations I have ever visited in my entire stalking career!  The place is truly incredible. 
Gas Works Park, as the name implies, was originally a gasification plant established by the Seattle Gas Company in 1906 to manufacture gas from coal.   The plant was one of Seattle's main sources of power until 1956 when the city began using natural, instead of "town" – or synthetically produced – gas, at which point the plant was shuttered.  In 1962, the City of Seattle purchased the property for a cool $1,340,000 with the intention of turning the space into a public park.  Enter award-winning landscape architect Richard Haag who was brought in to transform the area into a place of recreation and beauty, which he indeed did, later winning the American Society of Landscape Architects Presidents Award Design of Excellence for the project.  In an unprecedented move, because the property was the only gasification plant still in existence in the U.S., Haag decided to preserve the seemingly-ugly and utilitarian equipment and incorporate them into his park design.  And while a park that features old gas generator towers and rusted boiler rooms might not sound appealing, what Haag left us with is a truly stunning mix of industry and nature.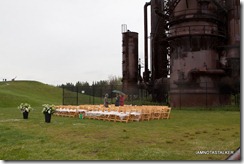 So stunning, in fact, that it has become a popular Seattle wedding venue, as unlikely as that might seem.  As you can see in the above photograph, one was even being set up while we were stalking the place.
Part of what makes the 20.5-acre park, which is both a Seattle City Landmark and a Washington State Landmark, so spectacular is its amazing views of Lake Union, Downtown Seattle, and the Space Needle.
And, as fellow stalker Kerry pointed out, the park also boasts a perfect water-side view of the Sleepless in Seattle houseboat.  So incredibly cool!
Thanks to the park's unique architecture, it should come as no surprise that filmmakers have returned there time and time again to shoot various productions.  In 10 Things I Hate About You, Patrick takes Kat to Gas Works Park to play paintball after she sneaks him out of detention and it is there that the couple shares their first kiss.  In real life, the park does not actually feature a paintball area, though.
You can watch the 10 Things I Hate About You paintball scene by clicking above.
In the 1992 movie Singles, Gas Works Park is the location where Linda Powell (aka The Closer's Kyra Sedgwick) says yes to Steve Dunne's (aka Campbell Scott's) marriage proposal.
In the 1989 movie Three Fugitives, the park is the spot where Ned Perry's (aka Martin Short's) daughter, Meg (aka Sarah Rowland Doroff), speaks for the first time.
Gas Works Park was also featured twice on the reality television series The Amazing Race.  It first appeared as the finish line for the final competition in Season 3 and was later used as the starting point in the very first competition in Season 10 (pictured above).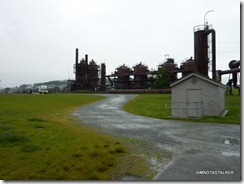 Big THANK YOU to fellow stalker Owen for telling me about this location and to fellow stalker Kerry and her husband Jim for taking me there. 
Until next time, Happy Stalking! 

Stalk It: Gas Works Park, from 10 Things I Hate About You, is located at 2101 North Northlake Way in Seattle, Washington.  The area where the paintball scene was filmed is denoted with a pink "X" in the above aerial view.  The park is open daily from 6 a.m. to 10 p.m.  You can visit the official Gas Works Park website here.
26159