Paramount Studios as a Wedding Venue
Nov 30th, 2010 | By
Lindsay
| Category:
My Movie-Themed Wedding
,
This and That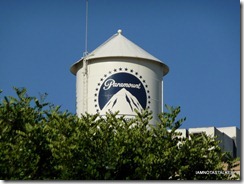 Well, I guess it is finally about time that I start blogging about my wedding, but I can't very well do that without first writing about the place where I got almost all of my wedding planning inspiration – the Studios at Paramount Pictures in Hollywood.  When Mike, from MovieShotsLA, and I embarked on our very first VIP tour of the historic lot back in September of 2008, our fabulous tour guide, Ian, who sadly no longer works at the studio, mentioned that sections of Paramount could be rented out for parties, weddings, and other special events.  And even though at that point in time I already knew without a doubt where I wanted to get married, the thought of tying the knot at Hollywood's oldest continuously operating studio definitely piqued my interest.  Especially once Ian told us that it was possible to rent out the New York Street backlot area, which is quite possibly my very favorite place in all of Southern California.  So, pretty much immediately after the Grim Cheaper proposed, I called up the Paramount Studios Special Events Department and scheduled a tour of the lot's various event venues.  And, let me tell you, it was an amazing experience!  The special events tours are actually very similar to the VIP Tours in that all of the same areas of the studio are shown.  The main difference, however, is that the event tours are private, so ours consisted of only four people – my two parents, the Grim Cheaper, and me – which was absolutely INCREDIBLE!  The special events coordinator who we dealt with, a super nice man named Craig who I believe no longer works for Paramount, was extremely knowledgeable about the history of the lot and where various filming had taken place over the years, so the entire two-hour affair pretty much became a private, walking tour of the lot which was customized just for me!  And, as you can imagine, I absolutely loved every single minute of it!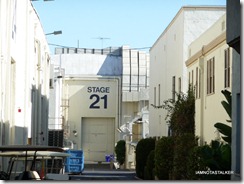 Events at Paramount can pretty much be held in any section of the 65-acre lot, making the party possibilities absolutely endless.  Available venues include empty soundstages, each of which can hold up to 1,500 guests and can be completely decorated and customized based on each particular event;
the B-Tank, which is a 914,023 gallon water tank that can be filled and dressed to resemble any sort of water setting one can imagine; 
any of the studio's park areas, including Production Park;
and Lucy Park, which I've blogged about previously;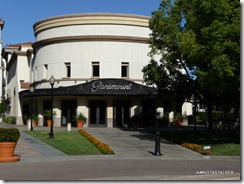 any of the lot's theatres, including the historic Paramount Theatre;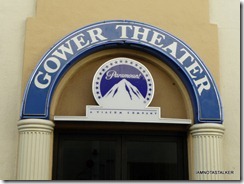 and the smaller Gower Theatre;
the famous Bronson Gate and water fountain area, which can accommodate up to 500 people;
and, of course, New York Street. 
As luck would have it, a huge breast-cancer awareness fundraiser was being set up in the New York Street section of the lot during our tour, so we were actually able to see firsthand what an event in that space would look like.  And I have to say that it was absolutely AMAZING!  I honestly don't think I've ever been more inspired in my life than I was when I set foot onto New York Street that day and witnessed the extravaganza pictured above.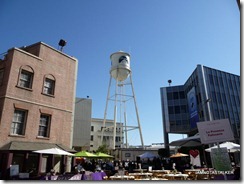 Because the fundraising event incorporated three of the things that I love most in this world – New York, Hollywood, and filmmaking – I was completely in awe of the whole thing and my brain immediately started working on overload.  All of sudden, idea after idea started pouring into my head and it was at that moment that I decided that the Grim Cheaper and I would be having a movie-themed wedding.  Which in retrospect really seems like a no-brainer, but for whatever reason, up until we visited Paramount, the thought had never occured to me.
The most inspired wedding idea that came to me while at Paramount was that we could name each of the reception tables after various movies that had been filmed on New York Street and that, upon arrival, each guest would be given a card with a movie line written on it.  Each line would correspond to one of the tables and our guests would have to figure out which movie their particular line came from in order to find where they would be sitting during the reception.  And even though we didn't end up getting married on New York Street, we did use that idea for our tables and our guests absolutely LOVED it, but more on that in a future post.
Even though I absolutely loved the idea of getting married on New York Street, the GC and I ultimately decided against it.  As my best friend Kylee said after viewing the above pictures of the breast cancer fundraiser, a wedding – especially one as small as ours (we only invited 80 people) – would wind up getting lost in the spectacle of the space.  The venue is much better suited for a party – a ten-year anniversary party, perhaps

– rather than a wedding ceremony.  Oh, and there was also the little matter of cost!  Renting New York Street will run you $12,500, which may sound like a lot, but is, amazingly enough, a fairly average venue rental rate for the L.A. area.  (According to msn.com, Los Angeles is one of the most expensive cities in the US to get married!)  The New York Street backlot area measures a whopping five acres and can accommodate up to 5,000 people and while it, according to the Paramount Special Events website, can now be customized to suit smaller groups, that wasn't actually the case when we were thinking about getting married there.  Even though we only wanted to utilize a small portion of New York Street, we would have been required to rent the entire five acres, which is actually fine – I expected that.  What I didn't expect, though, and what we were not told until we received the actual proposal, was that we would also have to pay to light the entire backlot as well – at a cost of $12,000!!!! – even if we were, in actuality, only going to light a small section of it.  And, mind you, that $12,000 only covered "washing" the street in light, so that the space wouldn't be pitch black during the reception.  If we wanted any sort of specialty lighting, that would, of course, be an additional cost.  There was also a fee of $3,500 just to power the event.  I'm not kidding!  And because Paramount hires only in-house employees for its events, you also have to pay union wages for absolutely everyone who works it  – from the lighting technicians to the catering staff to the parking attendants.  Besides paying union wages, you also have to adhere to union regulations, the most maddening of which was the fact that every employee must be paid for a minimum of six hours of work, whether they worked a full six hours or not.  So, while I knew that getting married at Paramount would be pricey, I had no idea it would be as exorbitant at it actually was.  Our proposal came to a whopping $41,000 for a pretty bare bones wedding – no open bar, no appetizers, no specialty food.  The GC literally almost choked when that email came through!  And keep in mind that that $41,000 did not include a DJ, a photographer, ceremony musicians, a dance floor, flowers, or the mashed potato bar that I had my heart set on.  As the old saying goes, though, you get what you pay for, and a party at Paramount would have, no doubt, been nothing short of incredible!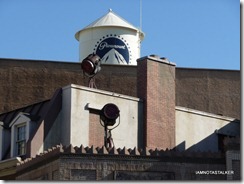 Even though we did not ultimately choose to tie the knot at Paramount, I am so incredibly thankful that we considered it.  Our wedding would have been a very different event had we not.  And now at least I know where I want to hold our ten-year anniversary party. 

Until next time, Happy Stalking! 

Stalk It: Paramount Studios is located at 5555 Melrose Avenue in Hollywood.  If you are interested in hosting an event on the lot, you can visit the studio's special events page here or you can call (323)956-8398.
26336