The Paramount Studios Tour . . . A Second Time
Nov 11th, 2010 | By
Lindsay
| Category:
Celebrity Sightings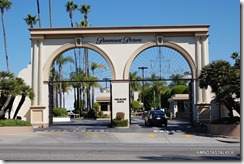 Brace yourselves, my fellow stalkers, 'cause today's post is going to be a long one!  Back in September, Mike, from MovieShotsLA, and I set out on our second VIP Tour of the Studios at Paramount Pictures in Hollywood.  We embarked on our first Paramount tour just over two years ago, in September of 2008, and I can honestly say that, for me, it was love at first sight!  As I've mentioned previously on this blog, the Paramount tour is hands down my absolute FAVORITE studio tour in all of Hollywood.  I love the place so much, in fact, that the Grim Cheaper and I seriously considered getting married there.  Well, I should say that I seriously considered getting married there – the GC was against the idea from the start, as he didn't think a movie studio would be an appropriate venue for a wedding.  And while I can definitely see his point – the 62-acre lot is better suited to host a party rather than a wedding ceremony – because the place has such an incredibly rich cinematic history – it has been at its current location since 1926 and is the only major studio still located in Hollywood – for a movie-lover like myself, there is no more hallowed ground.  So, when Mike called me up in early September to ask if I wanted to go on another tour of the place, I jumped at the chance.
As they say, no two studio tours are ever the same and I am very happy to report that that was definitely the case with Paramount.  After paying for our tickets in the Studio Store, our small group of eight was given a brief history of the 84-year old lot before boarding a golf cart to begin the two-hour tour.  Our first stop was the corner of Avenue A and 3rd Street, just southwest of Stage 23, where the ending scene of the final episode of fave show The Hills was filmed, which I blogged about back in September.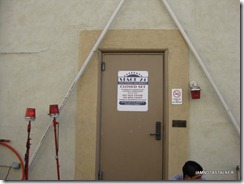 Just beyond The Hills finale location is Stage 24, which was home to fellow stalker Owen's all-time favorite sitcom Family Ties from 1982 to 1989.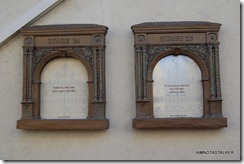 Each individual soundstage at Paramount boasts a large plaque which lists all of the major productions which have been filmed on the premises.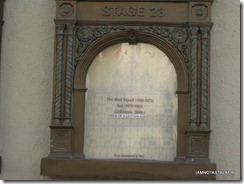 And, as you can see in the above photograph, Stage 23's plaque is somewhat unique.  According to our tour guide, actor Ray Romano was (jokingly) a bit bent out of shape that his new sitcom Men of a Certain Age wasn't considered by Paramount to be a "major" enough production to be named on the plaque, so he took matters into his own hands and, using a label maker, printed out the name of the show and stuck it onto the sign himself.  LOL LOL LOL  Love it!
As always, the tour made a stop at Lucy Park – a small landscaped area named in honor of actress/producer Lucille Ball, former owner of the now-defunct Desilu Studios which was purchased by Paramount in 1968 and now makes up the western portion of the lot.  Lucy had the park built as an exact replica of the backyard of her Beverly Hills home so that she could take publicity photographs there with her children without ever having to leave the lot. 
The above-pictured facade, which runs along the northern side of Lucy Park, is an exact replica of the exterior of Lucy's New York City apartment building, which she had constructed for the same purpose.  We also learned that it was none other than Lucy, and her husband Desi Arnaz, who invented the live audience/three camera system that situational comedies still use for filming to this day.  Apparently, Lucy much preferred acting before a live studio audience, which, at the time, was not common practice when shooting television shows.  So, she and her husband came up with the idea of setting up the stage in the format of a theatre, with an open fourth wall facing the audience, and using multiple cameras to film each scene from different angles.  That very system has been in use ever since.  The powerhouse couple was also responsible for inventing what is known today as a "re-run".
My favorite part of Lucy Park has to be its large central tree which was used in the Season 2 episode of The Brady Bunch titled "Where There's Smoke" as the spot where Greg Brady (aka Barry Williams) smoked his very first cigarette.
You can watch that scene by clicking above.
According to our tour guide, Lucy Park was also used for the Season 2 episode of Glee titled "Grilled Cheesus", for the close-up shot of Finn Hudson (aka Cory Monteith) cheering after scoring a winning touchdown.
Our next stop was the studio's Gower Street entrance, which stood in for the entrance to the fictional Woltz International Pictures lot in the 1972 film The Godfather.  That entrance and guard shack have, sadly, since been remodeled.
We then made our way over to Stage 31, which is the spot where the Joel McHale television series Community is filmed.  It was extremely cool to see that particular stage, as it is one of the only stages on the lot that has a "dressed" exterior.  As you can see in the above photographs, the facade of the fictional Greendale Community College Library has been constructed around the exterior of the building.  So incredibly cool!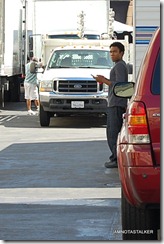 We also spotted Donald Glover, who plays Troy Barnes on the show, while we were there.
Up next was New York Street – my VERY favorite section of the lot and the spot where the Grim Cheaper and I were thinking about getting married.  "Street" is actually a bit of a misnomer, though, being that the area measures a whopping five acres, is shaped like a square, and features numerous sections and blocks which were built to resemble different sections of New York, including Brooklyn, Greenwich Village, Washington Square, the Financial District, the Upper East Side, the Lower East Side, SoHo, a typical brownstone neighborhood, and, ironically enough, Chicago.  Each time I walk through New York Street, I truly feel as if I am actually in the Big Apple.  It's amazing!  Even small details like mailboxes and payphones (pictured above) are so realistic that someone on a tour once put a letter inside one of the fake boxes thinking it was real.  🙂
The Washington Square section of New York Street is featured regularly on the new TNT series Rizzoli & Isles, as the home of Detective Jane Rizzoli (aka Angie Harmon).
Washington Square also appeared in the Season 7 episode of Seinfeld titled "The Rye", in the scene in which Jerry Seinfeld tries to throw a loaf of rye bread up to George Constanza (aka Jason Alexander) who is waiting on the third floor of his girlfriend's parents' apartment building. 
The Boston Police Station from Rizzoli & Isles can also be found on New York Street, in the Brooklyn section.
The jazz club from Spiderman 3 is located in the SoHo section of New York Street and is what is referred to as a "practical set", meaning that it is not just a facade, but also has an interior area which can be used for filming.
Pink's 2008 Video Music Awards performance of "So What (I'm Still A Rock Star)" was also filmed on New York Street in the SoHo area.
While walking through the Chicago area of New York Street, our tour guide pointed out the above-pictured building called the "Tin Shed" which he said serves as the dance studio for the cast of Glee.  So incredibly cool!
At the time we visited the lot, the Chicago section of New York Street was dressed for the filming of the yet-to-be-released television series Happy Endings, which stars Elisha Cuthbert.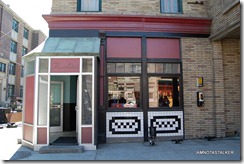 The facade pictured above, which is located at the corner of H Avenue and the Chicago section of New York Street, is being used as the exterior of Rosalita's Bar, the Happy Endings' characters' main hang-out.
That very same facade was also used as the five-and-dime store where Holly Golightly (aka Audrey Hepburn) and Paul 'Fred' Varjak (aka George Peppard) stole Halloween masks in fave movie Breakfast at Tiffany's.  So, I, of course, just had to take a picture standing in the doorway!
We also got to see the interior set of Rosalita's while we were on the tour and it actually reminds me a lot of Grayson's bar from fave show Cougar Town.  We weren't allowed to take any photographs of it, unfortunately, but you can see what the bar looks like in the above screen captures, which I got off of IMDB. 
Our next stop was the place I had been waiting all morning to see – Stage 14, where fave show Glee is filmed!
Amazingly enough, our timing could NOT have been more perfect, because right when we arrived at the stage several of the stars drove by on golf carts!  We first spotted Harry Shum Jr. (pictured above) who plays dancer Mike Chang on the show.  He was on a golf cart with Jenna Ushkowitz (aka Tina Cohen-Chang), who we unfortunately did not get a photograph of.
Immediately after that, a cart carrying Amber Riley (aka Mercedes Jones), Mark Salling (aka Noah 'Puck' Puckerman), and Chord Overstreet (aka Sam Evans) drove by.  We also spotted Dianna Agron (aka Quinn Fabray) and Lea Michelle (aka Rachel Berry), but unfortunately we did not get photographs of either of them.  Before spotting the Glee stars, our tour guide had warned us that the cast wasn't known to be all that friendly or even particularly nice on the lot.  According to him, they have all apparently gotten a bit too big for their britches in recent months.  And, sadly, our experience definitely reflected that sentiment.  When the actors drove by, our small tour group was the only group of people around.  We did not in any way go crazy or walk up to them when we spotted them, but just politely stood in our places and waved.  And I am sad to say that not a one of them waved back or even managed to crack a smile.  In fact, as you can see in the above photographs, Amber Riley looked as if she wanted to throttle us!  I'm telling you, if looks could kill, our entire tour group would have been dead!  LOL  Mark Salling was the only one of the bunch who had a smile on his face, but it was definitely not directed towards us.  He was speaking with Chord Overstreet the entire time and did not so much as even look our way.  The whole thing was HIGHLY disappointing and only got worse two weeks later when I spotted Lea Michele while taking the Paramount tour once again with fellow stalker Lavonna and her friends, but I'll save that story for a future post.  🙂
Our next stop was the Paramount Medical Services building, the back side of which (where you can see the lattice in the above photograph) was supposedly used as Charlie's (aka Kelly McGillis') porch in the movie Top Gun. 
The final stop on our tour was the famous 516-seat Paramount Theatre, which has played host to several Hollywood premieres and premiere after-parties over the years and has also been the site of some filming, as well.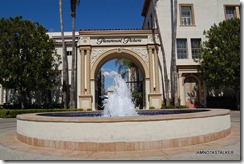 Just outside of the theatre is the famous Paramount water fountain;
Forest Gump's bench from the movie of the same name;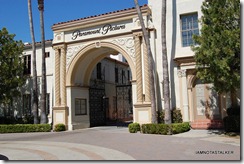 and the Bronson Gate – the studio's former entrance, which was where Norma Desmond (aka Gloria Swanson) entered the lot in the 1950 movie Sunset Boulevard.  Legend has it that rubbing one's hands on the gate while uttering Norma's famous line, "I'm ready for my close-up Mr. DeMille", will bring luck in the movie industry.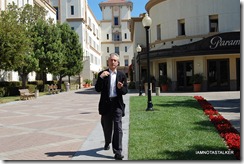 And with that our tour was over.  But just as we were hopping back on our golf cart to head back to the studio store to make our departure, I spotted one of my mom's all-time favorite actors – David Strathairn – who was nice enough to smile and wave at us after he realized that we had recognized him.  🙂  So incredibly cool!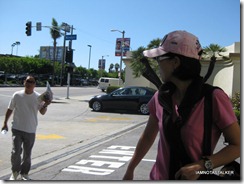 And while leaving through the lot's main gate who should drive past us but Glee star Jenna Ushkowitz.  You can just barely see her in the black car in the above photograph.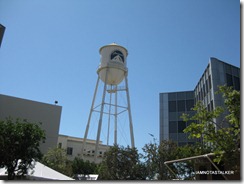 I honestly cannot recommend stalking the Paramount lot enough!  It is, in my never-to-be-humble opinion, the best studio tour in existence and I absolutely cannot wait to go on it again!
Until next time, Happy Stalking!  🙂
Stalk It: Paramount Studios is located at 5555 Melrose Avenue in Hollywood.  Tours are given Monday through Friday at 10 a.m., 11 a.m., 1 p.m., and 2 p.m. and cost $40 per person.  Reservations can be made by calling (323)956-1777.  Parking for the tour costs $7 per car.  I recommend booking your tour at least a week in advance, as they tend to sell out quickly.  You can find out more information about the Paramount Studios Tour here.
25723