La Quinta Resort & Club
Dec 9th, 2010 | By
Lindsay
| Category:
Michael Jackson Locations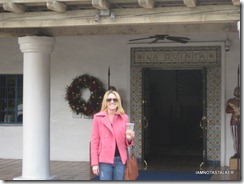 Brace yourselves, my fellow stalkers, 'cause today's post is going to be a long one!  As I mentioned yesterday, the Grim Cheaper and I spent this past weekend in Palm Springs and we came to do so thanks to an extremely serendipitous course of events.  Last Wednesday night, I was curled up on my couch reading the December issue of fave publication Los Angeles Magazine when I came across an advertisement for La Quinta Resort & Club which stated that Frank Capra had written the screenplay for It's A Wonderful Life while staying at the legendary hotel.  In honor of the iconic movie, the resort was featuring an It's a Wonderful Life-themed Christmas celebration each night throughout the month of December.  I, of course, just about had a heart attack upon reading those words and immediately informed the GC that we would be making a trip out to the desert in the coming weeks.  Well, not five minutes later, my mom called to inform me that she and my father were heading to Palm Springs for the weekend and that she had booked a room at . . . you guessed it – La Quinta Resort!  Talk about the stars aligning!  She asked if the GC and I would like to join them for the weekend and I started packing my bags pretty much right then and there. 

The resort, which was originally named Hotel La Quinta meaning "country retreat", was first opened in 1926 by Walter H. Morgan, heir to the Morgan Oyster Company fortune.  Morgan had moved from his native San Francisco to the Palm Springs area in 1921 after purchasing 1,400 acres of land in what was then known as "Happy Hollow".  He decided to use that land to build an intimate and exclusive hotel where his rich and famous friends could be pampered while escaping the hustle and bustle of the city.  He enlisted Pasadena-area architect Gordon Kaufman, who is most famous for constructing the Santa Anita Racetrack in Arcadia and the L.A. Times Building in Downtown Los Angeles, to design the hotel, which was to be modeled after a Spanish hacienda.  The retreat, which consisted of 20 individual casitas, a restaurant, a lobby, and a nine-hole golf course (the Coachella Valley's first golf course, in fact!) was constructed at a cost of a whopping $150,000.  The resort officially opened to the public in January of 1927 – although Morgan had hosted a select group of his friends there in December of the previous year – and became enormously popular over the next decade and a half, mostly due to word of mouth among Los Angeles' elite, and counted such stars as Greta Garbo, Clark Gable, Ginger Rogers, Bette Davis, Robert Montgomery, and Erroll Flynn as its guests.  World War II sadly took its toll on the hotel, though, thanks to gas rationing which prevented people from traveling long distances.  In 1942, the property closed its doors at which point the US Army took over and the Army Tank and Army Air Corps Division made use of the premises.  After the war ended, the resort was sold and once again became a popular getaway for the rich and famous, as it remains to this day.  A private airstrip even had to built on the property to accommodate those guests traveling by air.  In 1982, the City of La Quinta was incorporated, becoming one of only two cities on the West Coast to be named in honor of a hotel.  The other?  Beverly Hills, which became incorporated in 1914 and was named after the Pink Palace, aka the Beverly Hills Hotel.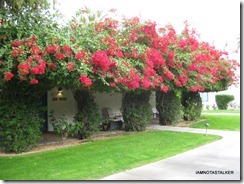 Today, La Quinta Resort & Club, which is a part of the Waldorf-Astoria Collection of hotels, is an absolutely BEAUTIFUL retreat consisting of 796 different rooms and suites, most of which are individual single-story dwellings or "casitas" situated around sprawling courtyards and pools.  And even though the resort is staggeringly HUGE – besides having 796 rooms, it also currently boasts 23 tennis courts, 4 restaurants, a 23,000-square foot spa, 41 pools, 53 Jacuzzis, and 5 golf courses – somehow the property has managed to maintain an intimate, small hotel-feel.  Because the rooms are spread across a vast 45 acres of land, the grounds are extremely quiet and private.  So private, in fact, that it almost felt as if my parents, the GC, and I were the only people on the property the entire weekend.  So love it!
Upon check-in, we were given a booklet which not only detailed the hotel's legendary history, but also listed many of the luminaries who have stayed there over the years.  It was at that moment that I knew that La Quinta was my kind of place! 

  Just a few of the stars who have vacationed there at one time or another include Drew Barrymore, Danny DeVito, Jim Belushi, Annette Bening, Sean Connery, Clint Eastwood, Kevin Costner, Simon Cowell, Casey Kasem, Diane Keaton, Ben Kingsley, Ginger Rogers (who got married on the property in 1953), Harvey Keitel, Britney Spears, Christina Aguilera, Ray Charles, Harry Connick Jr., Neil Diamond, Cyndi Lauper, Justin Timberlake, Al Pacino, Matthew Perry, Tom Hanks, Katherine Hepburn, Adam Sandler, Katie Holmes, Gregory Hines, Shirley Temple, Mark Wahlberg, and Bruce Willis.  I could literally go on and on and on!  Several presidents have also checked into the hotel over the years, including George W. Bush, Bill Clinton, Gerald Ford, Dwight Eisenhower, Ronald Reagan, and Calvin Coolidge.  And numerous sports stars have also stayed there, including Andre Agassi, Mikhail Baryshnikov, Roger Clemens, Roger Federer, Wayne Gretzky, Ken Griffey Jr., Magic Johnson, Joe Montana, Bruce Jenner, Michael Jordan, Jack Nicklaus, and Arnold Palmer.  I was most excited to find out, though, that the King of Pop himself, Michael Jackson, had once visited the hotel!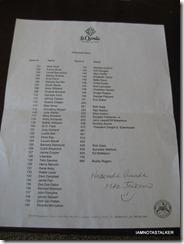 Well, let me tell you, once I heard that MJ had vacationed there, I became ABSOLUTELY OBSESSED with finding out exactly which room he had stayed in.  So, I immediately sought out the resort's concierge and ended up speaking with a woman who literally could NOT have been nicer.  Truth be told, though, EVERYONE at the hotel was INCREDIBLY nice!  Anyway, the concierge told me that she was fairly certain the hotel had a detailed list of what particular rooms various celebrities had stayed in over the years and that she would try to track it down for me.  And track it down she did!  And even though Michael Jackson was not named on the list, due to the fact that it hadn't been updated in quite a few years, the concierge did some research and managed to find out exactly where he had stayed during his visit – Room 735, otherwise known as Hacienda Grande.  YAY!
So, I, of course, immediately dragged my parents right on over to stalk it.  According to the concierge, Hacienda Grande is the resort's largest room and boasts its own living room with a fireplace, an entertainment center, a dining room, kitchen area, a separate master bedroom, a private pool, a  private Jacuzzi, a carport, and a private walled patio.  Oh, how I wish we could have seen the inside of it! 
The concierge also told us that Britney Spears had stayed in Room 225 – El Presidente – while at the resort.  El Presidente is the resort's presidential suite and it consists of a one-bedroom casita AND a one-bedroom guest house, along with a parlor room, a dining room, a kitchen area, two bathrooms, a fireplace, and a private patio, pool, and spa.  Actors Jerry Lewis and Cliff Robertson have also stayed in Room 225 in the past.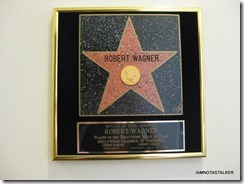 The concierge also told me that in each room where a celebrity has stayed, the hotel has put a replica of that celebrity's star from the Hollywood Walk of Fame on display.  How incredibly cool is that?  (And yes, you can call up and ask to stay in the "Drew Barrymore" or "Mark Wahlberg" room, for example.)  My mom happened to book Casita Number 936 for our stay and I just about died upon opening the front door and seeing the above-pictured star on the wall.  As it turns out, Robert Wagner had once stayed in our room!  SO INCREDIBLY COOL!  Especially since my grandma had gifted me with his autobiography Pieces of my Heart: A Life last Christmas and I absolutely LOVED it.
Casita 936 was absolutely gorgeous and consisted of a king bed and a queen-sized sleeper sofa, a fireplace, a HUGE bathroom . . .
. . . and an absolutely ENOURMOUS private walled patio which boasted gorgeous pool and mountain views.  I seriously did not want to leave!
As I mentioned at the beginning of this post, Frank Capra wrote It's A Wonderful Life while staying at the resort.  The legendary director/screenwriter first came to La Quinta in the late 1920s while writing the screenplay for It Happened One Night.  After the movie won a staggering five Academy Awards, including Best Picture, Best Director, Best Actor, Best Actress, and Best Screenplay, Capra became superstitious, calling the hotel his "Shangri-La for script-writing", and returned there to pen many of his subsequent screenplays, including Mr. Smith Goes to Washington, Mr. Deeds Goes to Town, Lost Horizon, You Can't Take It With You, and, of course, It's A Wonderful Life.  Frank, and his wife Lucille, always stayed in the same room while vacationing at the resort – Suite 136 in the San Anselmo Casita – and their room is now marked with both a memorial placard and a memorial bench.  According to one of the staff members that I spoke with, the very typewriter that Frank used to write those famous scripts is still on display inside of the room!  So incredibly cool!  The staff member even offered to take me on a tour of Frank's former casita and to show me the typewriter, but when he radioed to get a set of keys brought to him, was told it was occupied.  Such a bummer!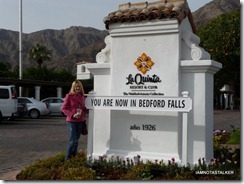 As you can see in the above picture, the theme of the resort's month-long winter celebration is apparent as soon as one sets foot on the property! 
As you turn into the resort's long, palm tree-lined driveway, you are immediately greeted with a large saying "You are now in Bedford Falls", which looks EXACTLY like the sign that was featured in the movie It's A Wonderful Life.  So incredibly cool!
The resort's Plaza area is awash with Christmas decorations . . .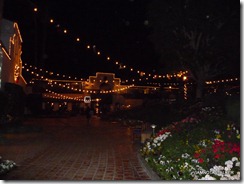 . . . which, thanks to thousands of Tivoli lights, only gets more spectacular at night!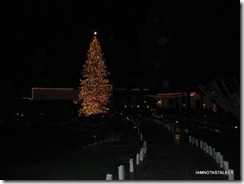 The pathway leading to the Plaza is decorated with hundreds of candle-lit luminarias, as you can see in the above photograph.
And there is also a HUGE, 43-foot white fir tree flanking the front of the property.
Best of all, though, is the fact that the hotel projects It's A Wonderful Life onto the wall of the Plaza's Salon de Fiesta each evening!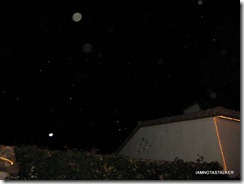 Oh, and the front of the resort is also rigged to "snow" each night, which you can kind of see in the above photograph.  SO INCREDIBLY COOL!
Legend has it that Irving Berlin also penned the song "I'm Dreaming of a White Christmas" while staying at the historic hotel and, as fate would have it, we happened to walk to into the lobby on Saturday night while some carolers were singing that very song.  I cannot tell you how cool it was to be sitting in front of the resort's roaring fireplace, hearing Berlin's famous words being sung while looking out at the very landscape that inspired them!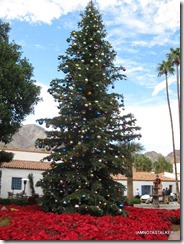 I am fairly certain this goes without saying, but I honestly cannot recommend stalking La Quinta Resort & Club enough!  It is a truly magical, truly unique place and I loved every minute of being there!
Until next time, Happy Stalking! 

Stalk It: La Quinta Resort & Club is located at 49-499 Eisenhower Drive in La Quinta.  You can visit the hotel's official website here.  Frank Capra stayed in Room 136 in the San Anselmo Casita, Robert Wagner stayed in Room 936, Britney Spears stayed in Room 225 – El Presidente – and Michael Jackson stayed in Room 735 – Hacienda Grande.
26650