The Avalon Hotel – The Former Beverly Carlton Where Marilyn Monroe Once Lived
Jan 11th, 2011 | By
Lindsay
| Category:
Marilyn Monroe Locations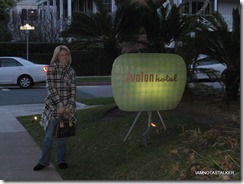 Another location that the Grim Cheaper and I stalked while in the Beverly Hills area two weekends ago was the historic Avalon Hotel, where my girl Marilyn Monroe once lived for a period of about three years back in the 1950's.  During that time, the property was a residential motel known as the Beverly Carlton that was first opened in 1948 and was designed by legendary graphic designer Alvin Lustig.  And while the hotel was actually considered to be a moderately priced accommodation for its time, besides Marilyn, such stars as Mae West, Lucille Ball, and Desi Arnaz often stayed there.  In the 70s and 80s the hotel became rundown, underwent several remodels, and was transformed into both a retirement home and an apartment complex.  In 1998, property developer Brad Korzen purchased it and enlisted his now-wife, Kelly Wearstler of KWID Designs, to give the place an extensive reboot.  In doing so, Wearstler and her team researched the original design elements of the hotel, which they obtained from photographs taken by famed photographer Julius Shulman for a 1948 Forum Magazine article, and it was those original designs that ended up serving as the inspiration for the entire remodel. 
The result is that the property looks VERY much the same today as it did back in the 1950's when Marilyn lived there!  Love it! 
I first learned about the Avalon a few years back when Cold Case star Kathryn Morris posed for an InStyle Magazine photo shoot on the hotel grounds.  I became quite obsessed with the Avalon Hotel sign pictured above, but had assumed it was a fake that had been created for the shoot.  Looking back, why I never thought to Google the terms "Avalon Hotel" is absolutely beyond me, but as they say hindsight is 20/20.   Then last Christmas, I was flipping through Southwest Airline's Spirit Magazine while on the plane ride home from visiting my grandmother in Reno, when I happened upon an article about the Avalon and noticed a picture of that same unique sign from the InStyle photographs.  Well, I just about fell over upon realizing that the Avalon was in fact a real life hotel and immediately added its address to my ever-growing To-Stalk list.  It wasn't until much later, though, while doing some cyber-stalking on the internet, that I discovered that my girl Marilyn had once called the place home.  So incredibly cool!
According to the super nice desk clerk that we spoke with while stalking the place, MM actually lived at the Beverly Carlton during several different periods of her life – first in 1948 and then again in 1951 through 1952, for a total of about three years time.  The hotel is comprised of three different buildings – the Olympic, the Beverly, and the Canon – and the desk clerk informed us that Marilyn lived in Room 305 of the Beverly building, which is pictured above, although I have read some conflicting reports online, so I am not sure if that information is entirely accurate.  What is for certain, though, is that during her tenure at the hotel, Marilyn rented a one-room studio apartment, which you ">can see a photograph of here.  The starlet posed for numerous photo shoots while living on the premises – both inside of her actual studio and next to the hotel's hour glass-shaped pool.  You can see many of the photographs from those particular shoots here.  I cannot tell you how cool it was to look through those pictures and see Marilyn standing in a location that still looks EXACTLY the same today as it did when she posed there almost six decades ago.
Celebrities who have been spotted at the Avalon in more recent years include Jacinda Barrett, Leonardo DiCaprio, Jessica Biel, Justin Timberlake, Guy Pearce, Eva Longoria, William Baldwin, Selma Blair, Jonah Hill, Kate Hudson, Ryan Phillipe, Abbie Cornish, Terrance Howard, Tilda Swinton, Superbad's Christopher Mintz-Plasse, Grey's Anatomy's Jessica Capshaw, Numb3rs' David Krumholtz, House, M.D.'s Jennifer Morrison and Jesse Spencer, Entourage's Kevin Connolly, sisters Hilary and Haylie Duff, and 90210's Shenae Grimes, Michael Steger, and Ryan Eggold.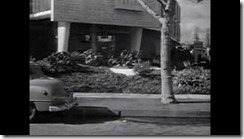 The front desk clerk also let us know that in the Season 4 episode of I Love Lucy titled "L.A. At Last", the Avalon stood in for the Beverly Palms Hotel where Lucy Ricardo (aka Lucille Ball), Ricky Ricardo (aka Desi Arnaz), Ethel Mertz (aka Vivian Vance), and Fred Mertz (aka William Frawley) stayed while vacationing in Los Angeles.  Lucy and Ricky's hotel room set from that episode is now on display at the Lucille Ball-Desi Arnaz Center in Jamestown, New York, which I think is just about the coolest thing ever!
The Season 5 episode of Kathy Griffin: My Life on the D-List titled "Paris is My New BFF", in which Paris Hilton guest-starred, was filmed on location at the Avalon's pool area. 
And 90210 star Jessica Lowndes recently posed for Zooey Magazine's October 2010 issue at the Avalon, which you can see photographs of here.  You can also watch a behind-the-scenes video of the shoot by clicking above.
Until next time, Happy Stalking! 

Stalk It: The Avalon Hotel, aka the former Beverly Carlton Hotel where Marilyn Monroe used to live, is located at 9400 West Olympic Boulevard in Beverly Hills.  Marilyn Monroe lived in the hotel's Beverly Building, the entrance of which is located at 412 South Beverly Drive.  You can visit the hotel's official website here.
27873