The "Swingers" Apartment Building
Jan 19th, 2011 | By
Lindsay
| Category:
Movie Locations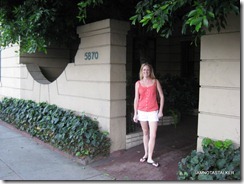 One location that I stalked quite a few months back, but for whatever reason have yet to blog about is the Los Feliz apartment building where Mike (aka Jon Favreau) lived in the 1996 comedy Swingers.  I had actually been wanting to stalk this location for quite some time, ever since reading on the IMDB trivia page for Swingers that Jon Favreau had lived there while writing the screenplay for the movie and during the actual filming.  IMDB even had the address of the building – 5874 Franklin Avenue in Los Feliz – listed on  its Swingers filming locations page, but when my husband and I showed up to stalk the place we discovered that such an address did not actually exist.  At first I thought that the Swingers building had quite possibly been torn down, but, as it turns out, the information posted on IMDB was actually incorrect.  While looking for the apartment numbered 5874, I noticed the building located at 5870 Franklin Avenue and thought it looked very similar to where Mike had lived in Swingers, so my husband and I ventured over there for a closer look.  And amazingly enough we found our answer in a very cool way while doing so!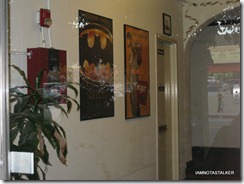 As it turns out, and as you can see in the above photograph, there is a Swingers poster hanging on the wall of the building's lobby, which we spotted while peeking in through the front windows.  Once I saw that poster, I knew we had to be in the right place!  So incredibly cool!  I am not sure why there is also a Batman poster displayed in the lobby, being that Batman was filmed in its entirety in England, but I am guessing that maybe someone involved in the production had lived in the building at one time or another.
In real life, the Swingers apartment building is named Chateau Marcella and it was originally built in 1928.  Due to the building's detailing and character, I assumed it was mostly likely a historic structure of some sort, but sadly I could find absolutely no information about it online.  Like nothing, nada, zip.  Not even a single Yelp report stating whether or not it was a nice place to live!
But I am happy to report that the building looks very much the same today as it did back in 1996 when Swingers was filmed.
Not only did Jon Favreau live at the Chateau Marcella while Swingers was being filmed, but his real life apartment even stood in for Mike's apartment in the flick!  Which makes sense because according to some of the behind-the-scenes information that I have found about the movie online, the Swingers' shoot was a very low budget one.  So, I am guessing that to cut down on costs, Jon decided to use his own apartment for the filming instead of paying to rent out a location for days on end.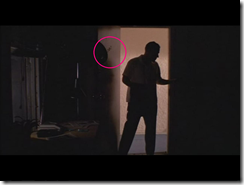 I believe that the filming of Swingers took place inside of apartment 382, as in the scene in which Mike comes home after first meeting Lorraine (aka Heather Graham), he opens his front door and a number is just barely visible.  I believe that number is 382, but don't quote me on that as it is very hard to make out.  According to IMDB's trivia page for Swingers, actor Adam Scott also lived at Chateau Marcella during the time that Swingers was being filmed.
The apartment also boasts a fabulous view of the Hollywood sign. 

Until next time, Happy Stalking! 

Stalk It: Chateau Marcella, aka the Swingers apartment building and actor Jon Favreau's former home, is located at 5870 Franklin Avenue in Los Feliz.  The 101 Coffee Shop, where Mike and his friends hung out in the movie, is located just a few blocks west of the apartment building at 6145 Franklin Avenue.
28173