David's Bungalow from "Beverly Hills, 90210"
Jan 21st, 2011 | By
Lindsay
| Category:
90210 & Beverly Hills, 90210 Filming Locations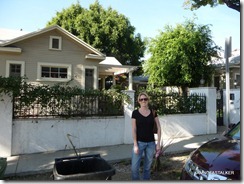 This past Tuesday night, Geoff, from the 90210locations website, asked for my help in tracking down the blue and white bungalow where Carly Reynolds (aka Hilary Swank) – and in later years David Silver (aka Brian Austin Green), Dylan McKay (aka Luke Perry), and Noah Hunter (aka Vincent Young) – lived during Season 8 of fave show Beverly Hills, 90210.  Now as I have mentioned a few times before on this site, I stopped watching 90210 after Season 4 when my girl Shannen Doherty left the series, but Geoff sent me a screen capture of the bungalow in the hopes that I could track the place down anyway.  Randomly enough, Mike, from MovieShotsLA, had just loaned me several of his DVDs of the older seasons of the show with the instruction that I should start watching the series over again from the beginning.   One of the seasons he loaned me just happened to be Season 8, so after I received Geoff's email, I immediately popped in the first DVD and started scanning through it looking for clues to the location of Carly's bungalow.  And, thanks to a little help from Mike, I was able to find the place almost immediately.
Mike clued me into the fact that every shot of the bungalow shown on the series seemed to have been taken at an odd, sideways angle.  And scanning through the Season 8 episodes, I realized that I could literally not find one single establishing shot that had been taken of the house head on. 
That paired with the fact that the home seemed to be situated at an angle perpendicular to that of its front gate led Mike to believe that the property did not actually face the street. 
He had also noticed that in both the episodes "Pride and Prejudice" and "Toil and Trouble" there was a house that looked like a mirror image of Carly's located in very close proximity and directly across the street from it.  All of these little "clues" added together led him to believe that Carly's residence was not actually a house at all, but what is commonly referred to in Los Angeles as a "bungalow court" apartment complex.  So, armed with that information from Mike and after scanning through quite a few Season 8 episodes of the show, I immediately starting searching through Google for addresses of different bungalow court apartments.  And thankfully quite a few came up, almost all of which were in the Hollywood area.  I then looked at all of those addresses using Bing aerial views.  Because Carly's house had a very unique roofline I thought it would be fairly easy to spot from above and, thankfully, it was!  One of the addresses that had come up on Google was for a bungalow court located at 1554 North Serrano Avenue.  And while that complex wasn't where Carly lived on 90210, I did notice that there were quite a few other bungalow courts located on that very same street.  And, magically, one was Carly's!  YAY!  So, I immediately dragged my dad out to stalk the place yesterday afternoon.
Carly and David's bungalow court apartment complex is actually something of a historic property and was designed by architect A.B. Crist in 1919.  It is a SUPER cute and picturesque little grouping of homes and it is not at all hard to see why producers chose to use it on Beverly Hills, 90210.
Unfortunately, there is a large tree that is now situated in front of Carly's bungalow which considerably blocks the view of it from the street.
But the bungalow located directly across from it is very visible and, as you can see in the above photographs, looks exactly like Carly and David's home.  Like Geoff said to me after I told him I had found the place, I guess I am going to have to start watching all of the later seasons of the show now. 

On a side note – I just wanted to let all of my fellow stalkers know that Bing Maps has recently added a "Streetside" feature to its site and it is A-MA-ZING!  In fact, I think it is safe to say that I am absolutely in love with it!  The imaging is one hundred times better than that of Google Street View, not to mention one hundred times faster.  If you are trying to track a location down, I honestly cannot recommend using it enough!
Big THANK YO U to Mike, from MovieShotsLA, for helping me find this location!
Until next time, Happy Stalking! 

Stalk It: David Silver's bungalow  – aka Carly Reynold's bungalow – from the later seasons of Beverly Hills, 90210 is located at 1547 North Serrano Avenue in Hollywood.
28221