Donna Martin's House from the B.Y.O.B. Episode of "Beverly Hills, 90210"
Jan 25th, 2011 | By
Lindsay
| Category:
90210 & Beverly Hills, 90210 Filming Locations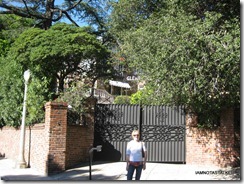 One location that I have been wanting to stalk for just about as long as I can remember now is the mansion where Donna Martin (aka Tori Spelling) lived in the Season 1 episode of fave show Beverly Hills, 90210 titled "B.Y.O.B".  For whatever reason, though, I could just NOT seem to track the place down.  Over the past few months I had managed to contact a few of the crew members who had worked on the episode and even a few of the actors who had appeared in it, all of whom told me that they did not recognize the screen capture of the house that I had sent them and that the property where filming took place was located somewhere in the Valley.  One of the crew members also told me that he was 99.9% certain that the establishing shot of the mansion which appeared in the episode had been a stock photograph and that no actual filming had taken place there.  This news pained me to hear as, because stock photographs are most often purchased from stock location libraries, it meant that the chances of tracking the place down were slim to none.  So, imagine my surprise last Friday when I received a tweet from Geoff, from the 90210locations website, informing me that he had somehow managed to find the mansion!  Let me tell you, I just about died of excitement and dragged the Grim Cheaper right on out to stalk the place the very next day!  Thank you, Geoff!!
Sadly, while I am VERY happy to report that the mansion still looks almost EXACTLY the same today as it did when it appeared on Beverly Hills, 90210 over two decades ago, the property is gated and is not very visible from the street. 

  The house, which was originally built in 1926, is definitely beautiful, though, and absolutely GINORMOUS!  In real life, it boasts 5 bedrooms, 3 bathrooms, and 8,260 square feet of living space.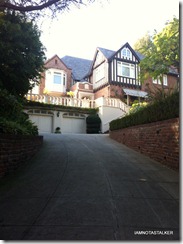 As fate would have it, when Mike, from MovieShotsLA, went to stalk the home later that very same day, the gate happened to be open and he was able to take the above photograph which matches the screen capture from the "B.Y.O.B." episode perfectly!  So incredibly cool!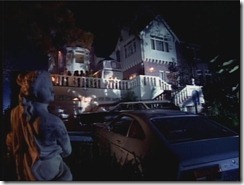 The mansion pictured above was actually only used as Donna's residence in the "B.Y.O.B." episode of Beverly Hills, 90210.  In later episodes, two different properties stood in for her home – one located at 18515 Wells Drive in Encino, which I blogged about back in November of 2008, and another located at 1060 Brooklawn Drive in Bel Air, which in real life is owned by Barron Hilton, Paris' grandfather, and which was also used as the Colby mansion on the television series The Colbys.  In the "B.Y.O.B" episode, Donna throws a massive party at the mansion while her parents are out of town, during which Steve Sanders (aka Ian Ziering) spikes Brandon Walsh's (aka Jason Priestley's) drink – aka his "mucho 'mahvelous' mango margarita".
As I mentioned above though, all of the actual filming of "B.Y.O.B." took place at a different residence (pictured above), which, according to all of the crew members and actors that I spoke with, is located somewhere in the Valley, most likely Encino.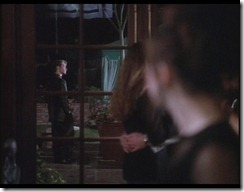 While I was scanning through the "B.Y.O.B" episode to make screen captures for today's post, I noticed something a bit coincidental.  In the scene in which Brenda Walsh (aka my girl Shannen Doherty) spots her brother Brandon standing in Donna's backyard, a green awning-type structure is visible in the background. 
0-
Well, as it just so happens, there is a very similar looking – and very similarly situated – green awning-type structure in the backyard of the home located at 18515 Wells Drive in Encino, the very same dwelling which stood in for the Martin residence during the later years of the show.  The brick patio flooring of the Wells Drive home also matches that of the home from "B.Y.O.B".  Wouldn't it be ironic if the property used as Donna's house in the "B.Y.O.B." episode from Season 1 was the very same property which ended up being used as her home nine years later during Seasons 9 and 10?  Without more close-up images of the backyard, it is impossible to tell either way, but nevertheless I found the whole thing very interesting!
Big THANK YOU to Geoff, from 90210Locations, for finding this location and to Mike, from MovieShotsLA, for snapping the incredible photograph of it which appears in this post! 

Until next time, Happy Stalking! 

Stalk It: Donna Martin's house from the first season of Beverly Hills, 90210 is located at 2405 Glendower Avenue in Los Feliz.
28383