The "Kill Bill" Church
Jan 27th, 2011 | By
Lindsay
| Category:
Movie Locations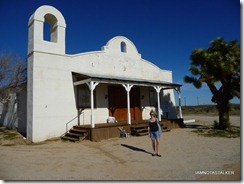 One location that my dad and I visited while stalking in the Lancaster and Palmdale areas last week was the Sanctuary Adventist Church which was used prominently in the 2003 and 2004 Quentin Tarantino movies Kill Bill: Volume 1 and Kill Bill: Volume 2.  And although I have never actually seen either of the Kill Bill flicks, I was dying to stalk the church because, thanks to fave book Hollywood Escapes: The Moviegoer's Guide to Exploring Southern California's Great Outdoors, I found out that it also had a very small, blink-and-you'll-miss-it cameo in the 2002 Britney Spears movie Crossroads, in which I was an extra.  I should mention here that if you are planning to spend a day stalking in Palmdale – and I do HIGHLY recommend doing so – I suggest you print out maps of each and every location that you are wanting to visit before heading out the door.  I failed to do so and had planned on using my navigation system to lead me to each locale, but, let me tell you, that did NOT pan out very well.  At most points during our journey, my navigator had no idea where on earth we were – more than once it told me I was driving on a road that didn't exist!  LOL – and a few times it even took us on routes through dirt roads that wound up at dead ends.  And while Palmdale and Lancaster are not exactly desolate – there's even a Starbucks there! – most of the filming locations in that area are pretty far removed from civilization.  I suggest that you not make a stalking journey out there alone and that you arrive with a full tank of gas and a car that is in good working order.
The Sanctuary Adventist Church, which up until recently was known as the Calvary Baptist Church, is an actual working religious facility that, sadly, does not appear to currently be in the best of shape.  The tiny Spanish-style chapel definitely has a Southwestern feel to it and it is not very hard to see why Quentin Tarantino chose to use it as the site of the wedding day massacre in his two-part action flick.  Especially with that lone Joshua tree that stands in front of it and gives the church a very picturesque, very cinematic feel.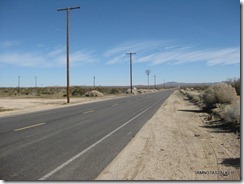 As you can see in the above photograph, the church is also located on a very desolate and very remote stretch of desert road, which gives it a very non-L.A., non-California feel.  In fact it is hard to believe that the place is located just a scant sixty miles away from the hustle and bustle that is Los Angeles.
In Crossroads, the church stood in for the supposed Arizona-area Native American souvenir stand that Lucy (aka Britney Spears), Kit (aka Zoe Saldana), Mimi (aka Taryn Manning), and Ben (aka Anson Mount) stop at during their journey from Louisiana to California.  It is while at the stand that Lucy asks her friends for advice on whether she should show up at her estranged mother's house unannounced or call her beforehand.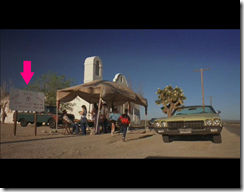 Ironically enough, even though the church is supposed to be a roadside souvenir stand in the movie, for whatever reason producers decided to leave the Calvary Baptist Church sign up during the filming.
In Kill Bill: Volume 1 and 2, the Sanctuary Adventist Church stood in for the supposed El Paso, Texas-area Two Pines Wedding Chapel where the Deadly Viper Assassination Team (aka Vivica A. Fox, Lucy Liu, Daryl Hannah, Michael Madsen, and David Carradine) attempt to kill "the Bride" (aka Uma Thurman).
I am fairly certain that the real life interior of the church, which you can see a photograph of here, was also used in the production of both films.
The church has also been featured in numerous other productions, as well.  In fact, the intersection of 198th Street East and East Avenue G, where the church is located, is quite a famous little stretch of land.  In the 1981 movie True Confessions, the Sanctuary Adventist Church is where Detective Tom Spellacy (aka Robert Duvall) visits his brother Father Des Spellacy (aka Robert DeNiro).
The 1999 Jean-Claude Van Damme action flick Dessert Heat (which, for some reason, is also named Inferno), was filmed almost in its entirety in both the former High Vista Diner and the sundries store located directly across the street from the Sanctuary Adventist Church.  The church is visible in the background throughout the vast majority of the movie. 
Jubal  Early (aka Pat Morita) is also shown ringing the church bell at one point in the movie, although that bell is no longer there in real life.
In Desert Heat, the High Vista Diner is where both Rhonda Reynolds (aka Gabrielle Fitzpatrick) and Dottie Matthews (aka Jaime Pressly) worked.  In real life, the place was not a real working restaurant, but, much like Four Aces and Club Ed, was solely built for use as a filming location.  Sadly though, the structure was torn down back in early 2008 and is now nothing more than a dirt lot.  You can see a photograph of what it used to look like here and here.
Right next to the former High Vista Diner location is another vacant building which stood in for the Elis Emporium Sundries and Surplus store in Desert Heat.  And while that structure is still currently standing, I am not sure for how long that will be the case.
As you can in the above photographs, the building does not look to be in the best of shape, although it is apparently still available for filming.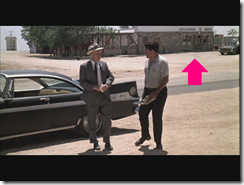 The Elis Emporium structure was also visible in the background of the opening scene of True Confessions and I do believe that it was a real working grocery store at one point in time.
The little motel that Henry Howard (aka Robert Symonds) and his wife (aka Priscilla Pointer) owned in Desert Heat used to be located directly behind the Elis Emporium building, but it has also since been torn down.
In Nurse Betty, the High Vista Café stood in for the supposed Williams, Arizona-area Canyon Ranch Bar where Betty (aka Renee Zellweger), and later Wesley (aka Chris Rock) and Charlie (aka Morgan Freeman), stop while making their way towards California.
I am fairly certain that the interior of the Canyon Ranch Bar was filmed elsewhere though, as it looks nothing like the interior of the diner from Desert Heat and also appears to be quite a bit larger than the former High Vista Diner building.  My guess is that the interior Canyon Ranch Bar scenes were filmed on a soundstage somewhere in Hollywood.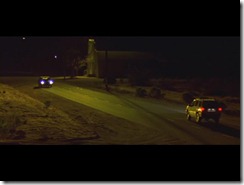 The Kill Bill church is also just barely visible in the background of Nurse Betty in the scene in which Charlie and Wesley arrive at the Canyon Ranch Bar.
Until next time, Happy Stalking! 

Stalk It: The Sanctuary Adventist Church, aka the Kill Bill church, is located at the intersection of 198th Street East and East Avenue G in Lancaster.  The High Vista Diner was formerly located directly across the street from the church at the southeast corner of 198th Street East and East Avenue G.  The Elis Emporium Sundries and Surplus Store from Desert Heat is located at the southwest corner of 198th Street East and East Avenue G.
28533